Your Guide To An Extraordinary Long Weekend In Rome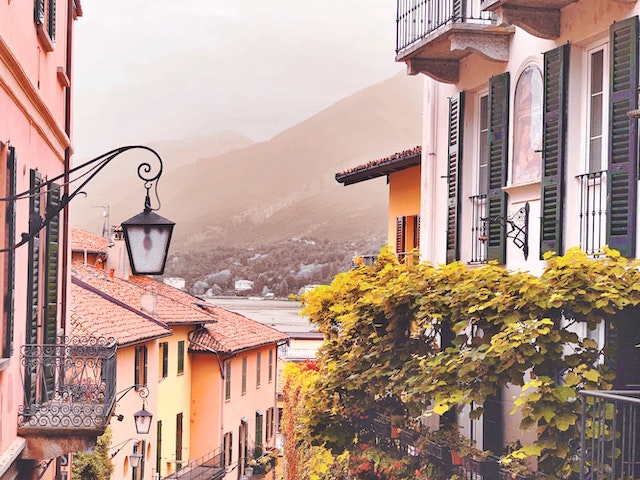 I decided to travel to Rome, because I had never been to Italy and I figured the capital was the best place to start. During my three full days in Rome, I hit all the major sites and ate at some amazing restaurants. If you need any ideas about how to spend a weekend in Rome both touring the city and eating, definitely check out my itinerary I broke down in detail here. Here are my tips for an extraordinary long weekend in Rome.
Your Guide To An Extraordinary Long Weekend In Rome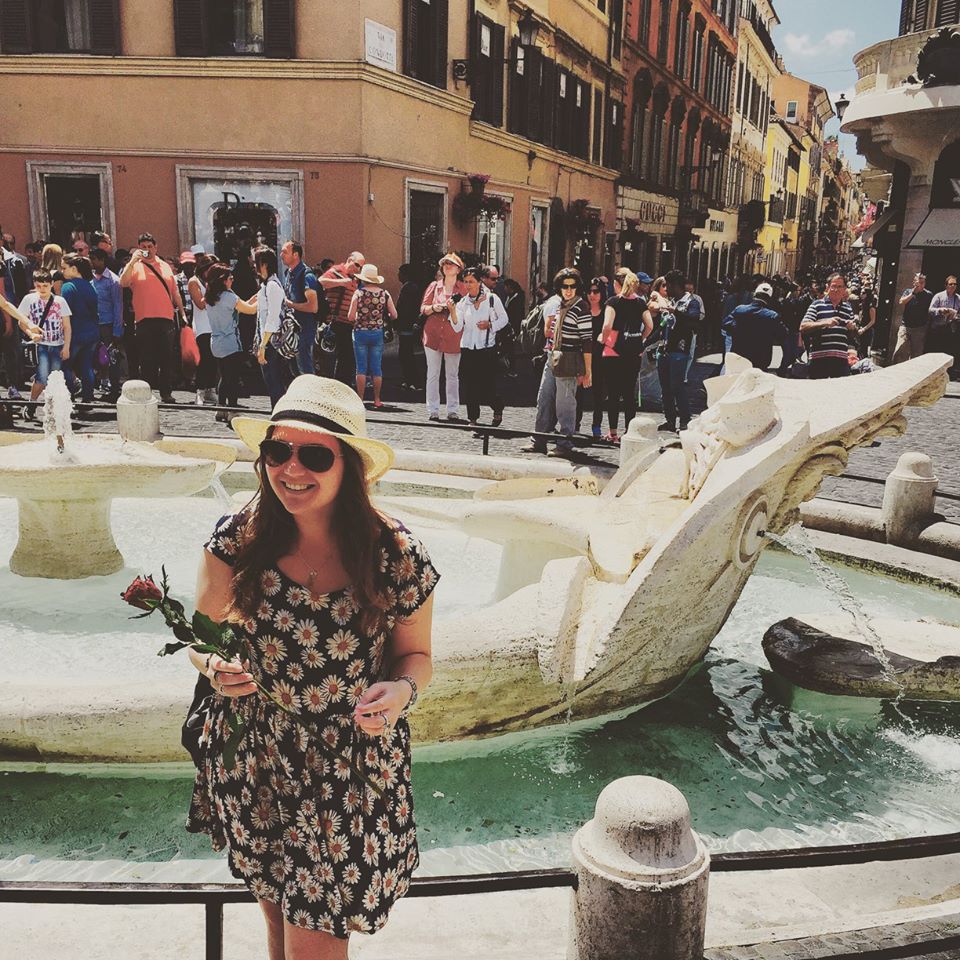 Day 1: Friday
I was a little nervous before starting my trip. I am used to traveling alone, but not staying with a stranger. Homestay is a company that provides accommodations in cities all over the world with locals. All of the hosts go through a verification process, but I couldn't help thinking the whole thing would be a little awkward.
After searching through hosts on Homestay, taking location and room quality into account, Diana, my travel buddy, and I finally decided on Rochelle, who lived in an apartment in the center of Rome. Though we couldn't tell exactly what the apartment looked like from the pictures, the location was perfect.
Rochelle contacted me about a week before our trip to tell me which shuttle to take to get from the airport to her apartment: SitBus, the only shuttle that stops near the Vatican as opposed to going all the way to Termini Station. Once we landed we easily found the correct bus to take. As promised Rochelle met us at the bus stop in order to walk us to her home.
The apartment was a one minute walk away from Piazza Navona, on a narrow cobblestone street. The area was gorgeous and very typically Roman. The three floor walk up was a bit tedious with our suitcases, but we managed. I was pleasantly surprised when I walked into the apartment. The pictures definitely did not do it justice. It was small, but old and pretty. The ceilings were latched and the view from our bedroom was an amazing lookout onto the narrow streets below. Rochelle was so welcoming and told us immediately to help ourselves to whatever we needed.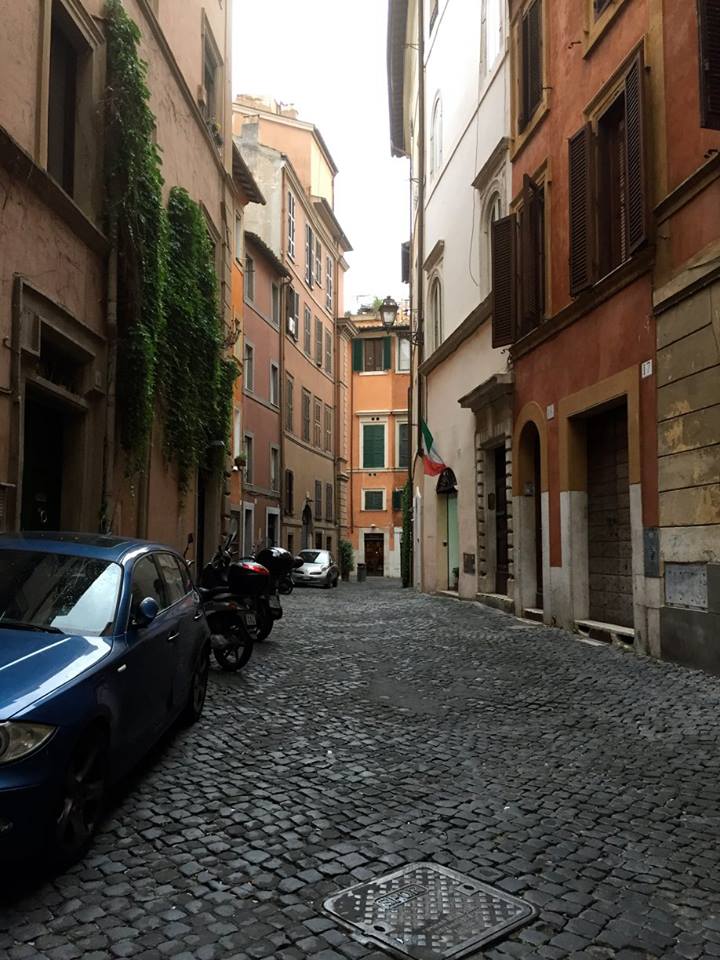 Rochelle offered to cook us dinner, but Diana and I wanted to explore our new neighborhood. Between Piazza Navona and Campo de Fiori, we found a small hole-in-the-wall restaurant, called Ditirambo. We started off with a caprese salad and each had pasta for dinner. Diana ordered rabbit ragu and I had the popular cacio e pepe, cheese and pepper. It was definitely a great introduction to real Italian food and made me excited for the carbs ahead.
Day 2: Saturday
We set our alarm for 7:30am so that we could get an early start on the day and try to beat some of the lines at the popular sites. Rochelle had provided us towels, so we each showered. Although we had brought our own, she also had shampoo, conditioner, and soap that we could have borrowed if necessary. After showering, we ate the amazing breakfast Rochelle had prepared: Italian coffee, yogurt, and various kinds of pastries.
After breakfast, we set off for St. Peter's Basilica. Along the way we passed the Castel Sant'Angelo and took some pictures, opting not to go inside. We arrived at St. Peter's Basilica around 9am and already the line was circled around the square. But it moved quickly, and we were at the security check in about 25 minutes.
Once inside, we went to the cupola first.. It was 5 euros to walk up, and 7 to ride the elevator. We opted to splurge on the extra two euros and it was definitely worth it. The views were incredible, I definitely recommend going to the top if you ever go.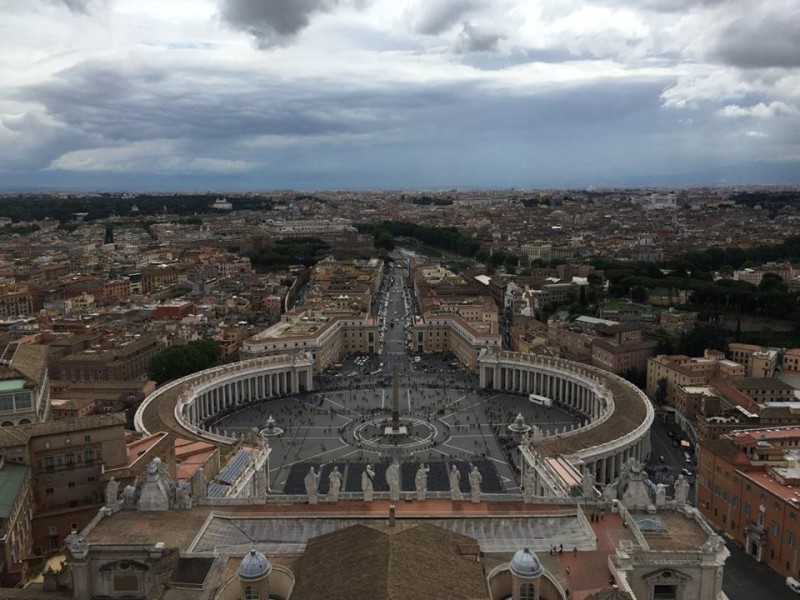 After the Basilica, we stopped at Mama Frites, and got some French Fries with "snack sauce" on top. It was basically like a spicy, smoky ketchup flavor. We walked along a cute street called Borgo Pio in Vatican City, browsing at leather stores. On our way to the Vatican Museum, we stopped at Old Bridge, one of the most famous gelato places in Rome. I had the pistachio ricotta flavor based on the worker's recommendation, and it was delicious. The best gelato I've ever had. Definitely go here if you are planning on visiting the Vatican.
Your Guide To An Extraordinary Long Weekend In Rome.
Our next stop was the Vatican Museum. We bought our tickets online. If you only take one piece of advice from this article: buy your tickets for the Vatican online. The line was around the block, but we got to skip the whole thing and immediately enter because of our pre-purchased tickets. The only catch with the pre-purchased tickets is that you have to choose a specific time to enter the museum. So you have to plan your day accordingly.
The museum was beautiful, filled with old statues, maps, and paintings. We sort of breezed through some of the sections of the museum, making a beeline to the Sistine Chapel. It was breathtaking to see the Creation of Man in person. After seeing so many copies and parodies of it on TV and the internet, it was a surreal experience to see the real thing in person.
We walked to the Trastevere area for dinner, an old medieval part of the city. Again it was only a 15 minute walk from the apartment. We walked along the main street until we found a restaurant that had fresh pasta and vegetables in the window, called Il Duca. We split buffalo mozzarella and prosciutto to start. For dinner Diana had truffle ravioli and I had bucatini all'Amatricina, a typical Roman dish consisting of pasta with tomato sauce and pancetta. Everything was delicious.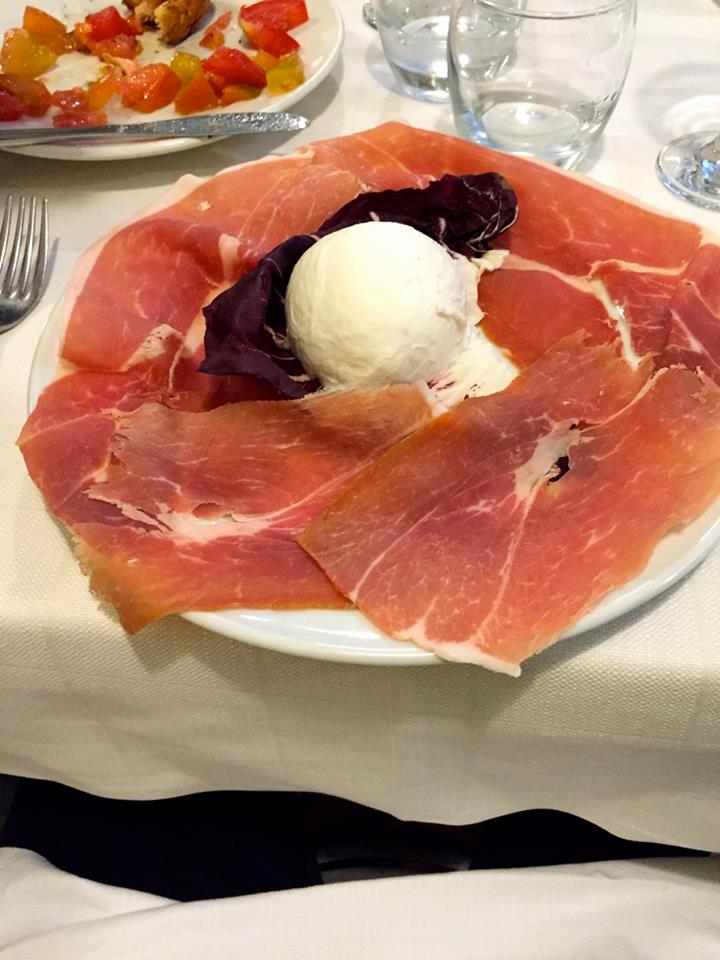 After dinner we decided to experience Roman nightlife. We went to a bar in Trastevere called Mr. Brown where they make their own special type of vodka that is infused with peppers. We stayed out until 2am, which Rochelle told us was very early for Rome!
Day 3: Sunday
Because of the previous nights activities, we got a late start on Sunday. Rochelle had prepared another amazing breakfast: eggs, prosciutto, toast, and coffee. Our plan for this day was the Colosseum and Roman Forum.
The walk to the Colosseum was the longest one we would have to do from the apartment, and it was only 20 minutes. I loved the walk, because no matter where I walked in Rome I passed some beautiful building or an ancient artifact. Along the way to the Colosseum we walked by these old columns and remains of a building just in the middle of a busy street.
The Colosseum was incredible and quickly became my favorite part of the trip. I couldn't wrap my mind around the fact that people had made it nearly 2,000 years ago and it was still standing. The architecture was incredible and so was the history behind the building.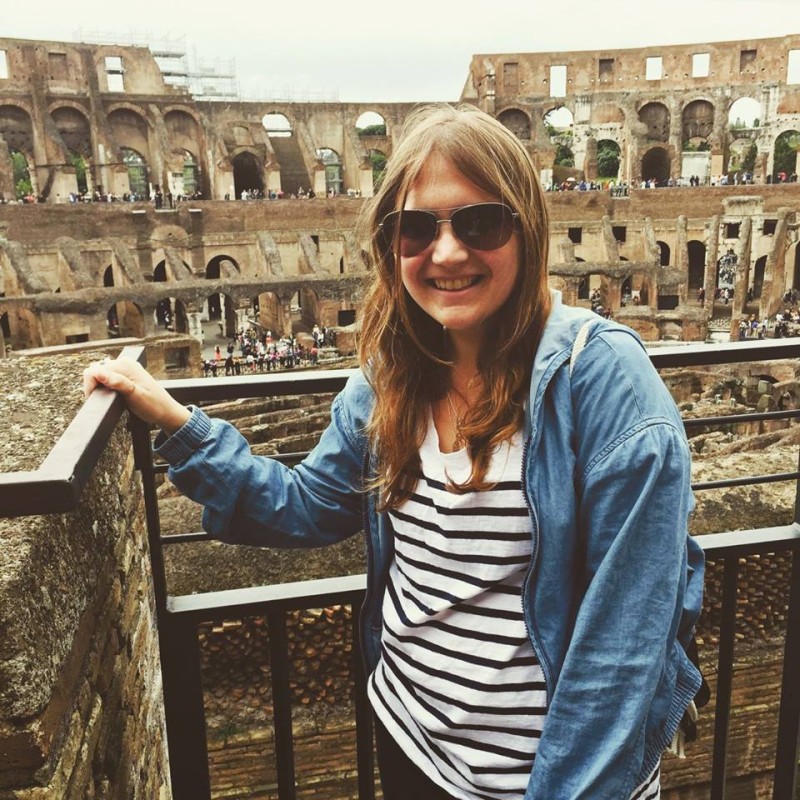 Rome Travel: My Guide to a Fabulous Long Weekend
After the Colosseum, we saw the Roman Forum. We found a viewpoint overlooking the Roman Forum so we were able to see all the ruins from above, getting an even better picture my opinion that walking around on the grounds.
We made reservations for dinner at a restaurant right by the Trevi Fountain. Sadly the fountain was under construction so there wasn't even water. The statues were still really beautiful, but I was a little disappointed I didn't get to throw a coin in the magical water.
Dinner was at Piccolo Arancia, a restaurant hidden down a little side street. To start I had an artichoke "Jewish style," which is a deep fried artichoke. For dinner, I had pasta with truffles. Diana had artichoke cream lasagna, and our friend Danielle had lamb ragu. We all agreed it was the best meal we had so far.
Day 4: Monday, May 25
Rochelle kindly walked us to the Pantheon as she was on her way to work. We got there at 8:30am, and it was empty. We went inside, no lines, no admission fee. It was beautiful. The dome on the ceiling was breathtaking. Like the Colosseum, I couldn't fathom how it was built so many years ago. I also learned that because of the open spot in the dome, there are tiny holes on the floor to drain water.
From the Pantheon we walked around the corner to Sant Eustaccio, a famous espresso place in Rome. Heads up if you go, even though you order at the counter, you have to pay an extra 5 euros to sit outside at the tables. After coffee, we made our way to the Jewish Ghetto. We just walked around and explored the area.
We ate lunch near Piazza Navona at Osteria da Fortunata, known for the old Italian woman who sits in the window and makes the pasta from scratch. I had carbonara, which I had been waiting to specifically try at this place after reading the Trip Advisor reviews.
Rome Travel: You Guide to a Fabulous Long Weekend
From there, we walked to the Spanish Steps, which I found pretty underwhelming. But the fountain at the bottom, Barcaccia Fountain, was beautiful. We hung out and rested in Piazza del Popolo before we went back to the apartment to rest and shower before dinner.
We made dinner reservations at Sora Margerita at a friend's recommendation. It's a Roman Jewish restaurant that's been around since the 1930s. All of the food is homemade and the menu changes based on what's fresh. There are two seatings, either at 8 or 9:30pm, so we made a reservation for 8pm. Again I had an artichoke Jewish-style to start, and for dinner I had the cacio e pepe with ricotta cheese. It was totally cheesy and decadent, but also fresh and delicious.
From dinner we walked to Piazza Navona and sat by the fountain. It was a beautiful night so we people watched for an hour or so, just relaxing in a great atmosphere. There were artists and street performs all around us. It was the perfect ending to the trip.
Day 5: Tuesday, May 26
We woke up really early, at 5am, in order to catch the SitBus back to the airport. Rochelle also woke up and made us breakfast, which was extremely nice considering how early it was. We said our goodbyes and thanked Rochelle for everything.
Overall the trip was so much better than I had imagined. Even though I was a little nervous to be staying with a stranger, Rochelle was so welcoming and amazing. From the first minute we met her, she treated us like family. From waking us with a delicious breakfast each morning and serving us snacks in the afternoon, to giving us directions and tips for the city, she provided us with everything we needed and more. The apartment was clean and beautiful, and in an amazing location. Words cannot explain just how happy I was with my homestay experience. I don't think my trip to Rome would have been as memorable as it was without this experience.
Some Essential Tips for Rome Travel
Buy a bag.
Eat pasta cacio e pepe or bucatini all'Amatricina.
Avoid restaurants that lure you in from the outside. They are very touristy.
Buy Vatican Museum tickets online beforehand.
Get to tourist places early to beat the lines.
Buy tickets at the Roman Forum for the Colosseum.
Eat artichokes Jewish-style (Carciofi alla guidia).
Go to Old Bridge Gelato.
Don't pay more than 1.50 euros for a cappuccino.
For a fun night out, head to Trastevere, a cool area with a lot of great bars.
Photo credits for Your Guide To An Extraordinary Long Weekend In Rome by Molly Winik and Unsplash.