6 Stunning Japanese Beaches You Won't Want to Miss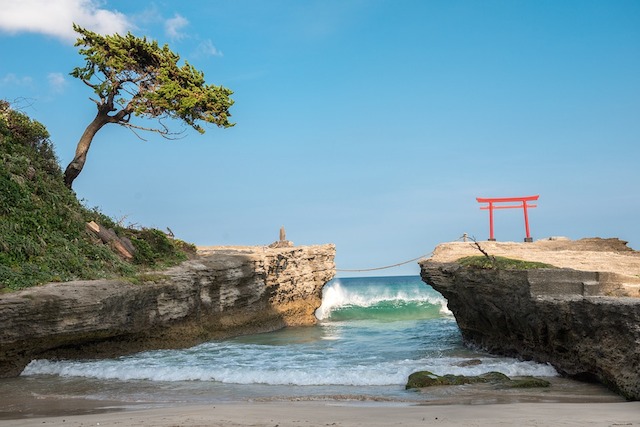 When travelers go island-hopping, it is typically to the white sand beaches of the Caribbean, the Canary Islands, or Greece. But what if Asia was home to beaches abound outside of Thailand, Indonesia, and the Philippines? Would you believe Japan has its own beaches reminiscent of Hawaii? After three trips to Okinawa and even after getting hit by a boat while snorkeling there, I still can't get enough of them! By yourself? No problem, I jetted to Naha on the main island alone on my second trip and still enjoyed beaches galore! Here's proof that Japan should be on any serious beach-goer's bucket list.
6 Stunning Japanese Beaches You Won't Want to Miss
Aharen Beach – Tokashiki, Okinawa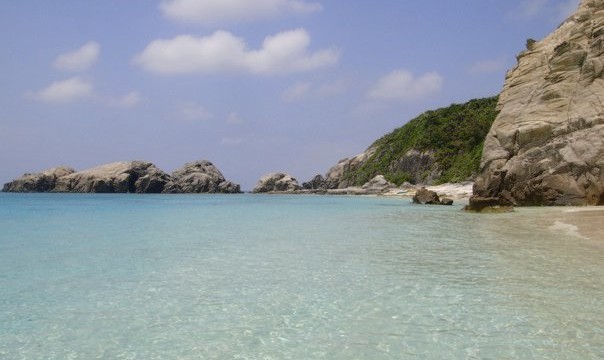 Only a short ferry ride away from Naha on the main island of Okinawa, Tokashiki Island makes for a great day trip. Pay a few hundred Yen, or a few dollars, to the bus drivers waiting for you at the ferry terminal, and hop the bus to Aharen Beach. Sparkling crystal clear waters and a handful of cool beach cafes speckle the sand. Want to stay the night? Southern Cross Youth Hostel is literally right on the beach and always full of solo travelers to meet. Then, sit back and relax.
Yonaha Maehama Beach – Miyako, Okinawa
One of the two most-frequented island destinations on Okinawa outside of the main island, Miyako is home to several beaches that look like they came right out of the pages of Conde Nast. Yonaha Maehama Beach, or "Maehama" for short, is the crown jewel and serves as a popular area for windsurfing. As the longest beach on Miyako, you'll never have to fight for a spot on the beach here even in the more crowded months of July and August. Too much sun? Stretch your legs and go for a long walk before taking advantage of all the watersport options there!
Sunayama Beach – Miyako, Okinawa
Sunayama was the first beach I visited during my trip to Miyako in 2012 and it just so happens to be my favorite. With its mossy, rocky archway to greet you as you arrive onto the beach, Sunayama definitely sneaks into a lot of travel magazines for its mix of rugged rocks and glamorous white sand. Though it tends to fall victim to sudden squalls, a small cave situated to the right side of the beach serves as a perfect place to throw your stuff under and take shelter until returning to the beach. Once you get back in the water, you'll see that the water depth is simply perfect for splashing about with your girlfriends.
Sukuji Beach – Ishigaki, Okinawa
Upon originally venturing to Sukuji Beach, I wasn't sure whether it was a beach or some sort of whimsical sandbar. The tide was out and I could barely see the transparent water in the distance. But my friends were eager to get out there so we walked to the center of the small bay Sukuji is situated on and promptly sat down. The water is only about knee deep, but it provides an excellent opportunity to spot all of the fish swimming at your feet. Head to the far sides of the beach and you'll be in for a snorkeling treat, too!
6 Stunning Japanese Beaches You Won't Want to Miss
Furuzamami Beach – Zamami, Okinawa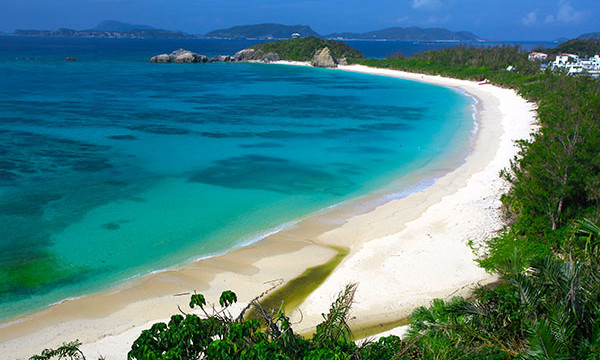 Like Tokashiki, Zamami Island is another ferry ride away from the island and takes about two to three hours to reach. It's better to experience Zamami over a few days and Furuzamami Beach is one reason why. The curving beach is tickled with quietly lapping turquoise waves that will make you never want to leave. In fact, the beach could serve as a double of several beaches on Hawaii's Kauai Island, where movies such as Jurassic Park, Lord of the Flies, Hook, Raiders of the Lost Ark, and Six Days/Seven Nights were filmed. It would not be presumptuous to call Furuzamami the most famous beach in Okinawa's Kerama Island group. Be sure to go swimming and snorkeling among the coral at one end of the beach!
Kabira Bay – Ishigaki, Okinawa
Full disclosure: You can't go swimming at Kabira yet no list of Okinawa beaches would be complete without it. Glass bottom boats go in and out of the bay, making swimming dangerous, but sightseeing fun! Hibiscus flowers and woodland trees line the viewpoints looking out over the bay that is reminiscent of the French Riviera. Additionally, located at the north end of Ishigaki Island, Kabira is home to black pearl cultivators so on a good day, you might be able to see some being brought in along the shore below the viewpoints. Hit "Kabira Wan" and I guarantee your friends will think you are any place other than Japan!
What's your favorite Japanese beach?
Photo credits by Pixabay.