Fear of Flying: Four Alternative Ways to Travel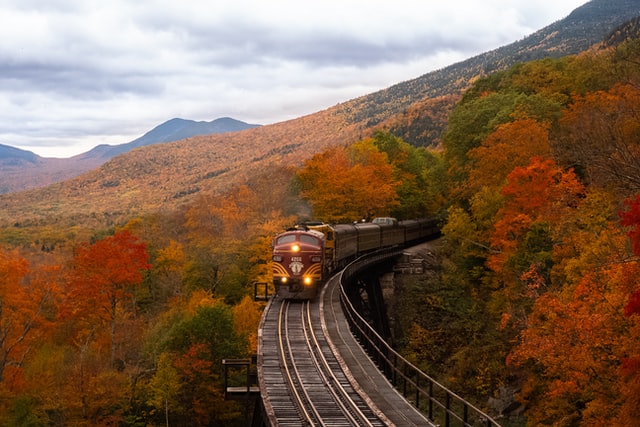 I have a friend who is terribly, horribly afraid of heights. Enclosed or open, natural or manmade, moving or sitting still. You name it, she's afraid of it. She can't even go on a Ferris wheel without running the risk of a panic attack. As for traveling by airplane? That's just a big no.
I used to be so frustrated that my friend couldn't just pack her bags and jet off on a vacation like everyone else I knew. However, over the years I've learned that a fear of flying is more common than I once thought, affecting up to 25% of Americans.
While it's possible my friend could eventually overcome this fear, I've found that there are many travel alternatives for people who simply hate flying.
Don't let a fear of flying interfere with your love and desire to travel all over the U.S. Instead, consider some of the alternative travel methods listed below:
Fear of Flying: Four Alternative Ways to Travel
Take the Train
A train system exists in practically every city and country in the world, making it a common go-to for travelers afraid of flying. Many states have their own local rail lines, such as the soon-to-be-completed Miami to Orlando rail line in Florida, or the Chicago Transit Authority in Chicago. Rail lines operate frequently and run through many cities and suburbs.
These local, city-to-suburb lines make it easy to enjoy a big-city vacation without the hassle of city parking or city prices. You can find a nice B&B outside of town at a fraction of the cost of city accommodations and enjoy a mini-retreat within your vacation.
To travel nationally, Amtrak is a great option. It runs across the United States, providing travelers with thousands of miles of possible destinations. Its website offers the ability to check schedules and buy tickets in a pinch. If you want to travel several hundred miles or more but prefer trains to cars and buses, Amtrak is probably the way to go.
Word to the wise: If you're going to travel overnight, spring for a roomette, at least. Nothing puts a damper on your trip like a night spent sitting up on a train.
Use Public Transit
Public transit options vary by location. A city like NYC has subways and buses that leave very frequently, while a rural town may only have a bus come by every few hours. Regardless, it's prudent to become acquainted with all forms of public transit in your area and the surrounding ones if you plan to use this option to complete a leg of your journey.
In fact, there's no better way to maximize a big-city vacation than to use public transportation. A personal vehicle requires parking fees and the hassle of navigating a busy and unfamiliar landscape. Walking allows you to see, but in cities like New York, walking is only practical when moving between closely located attractions.
Public transportation allows you to move quickly and efficiently from Yankee Stadium to Central Park, from Chinatown to Harlem without breaking the bank on taxi fares.
Fear of Flying: Four Alternative Ways to Travel.
Go by Boat
Trains and buses aren't the only option for long-distance, interstate travel. If you won't travel by air and are bored with land transport, why not travel our country's great waterways?
With a country as large at the United States, there are a variety of options for water travel. You could incorporate water travel as a small outing, like an afternoon cruise in Harrisburg on the Pride of the Susquehanna. Or you could make the river your transport, destination and entertainment, like a luxurious themed vacation on the Mississippi's American Queen (the largest riverboat ever built).
Take a Road Trip
If you don't mind driving, a road trip can be a great way to travel while offering the most flexibility possible. As opposed to public transit or a boat, you can decide where to go, how long to stay, etc. The drawback is you also have to do all the driving, unless you bring a friend along. Still, many find that driving is worth the trouble if it means their plans are not dependent on a transit authority's schedule. Car rental services like Enterprise are also worth considering for shorter trips.
For road trips, keep in mind services like Couchsurfing and Airbnb, accommodation sites that are often much cheaper than hotels. Staying with a local can be a great way to experience a new area. Airbnb hosts are background checked as well, so safety isn't an issue. Using sites like these during a road trip is an ideal way to travel flexibly and cheaply.
A fear of flying doesn't mean you are stuck at home. Whether by train, boat or automobile, you can travel, explore and adventure to many places in the U.S. So take a step out of your comfort zone and try a different mode of transport. You might just find yourself falling in love with the rivers and rails.
Fear of Flying top photo by Unsplash.