How to Visit Finland Like a Local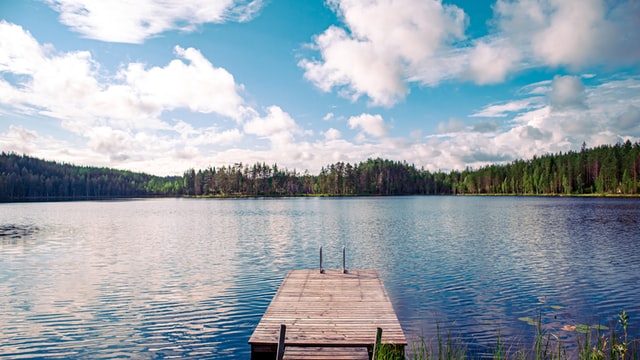 Before I traveled to Finland, I had never had much interest in going, probably because I had never learned much about it. So, when I met a friendly Finn with an interest in the English language in my hometown a few summers ago, as a writer, I was intrigued.
Tuomas was in his third year of the English and Translation program at the University of Eastern Finland (UEF), and it required him to spend some time in an English speaking country. We became fast friends, and by the end of his two month stay, we couldn't think of a reason for me not to visit Finland. I could bring my job to Joensuu, and he would show me around and introduce me to his fellow English students.
It was the first time I'd traveled so far, by myself, and with so little planning! But as many travelers will tell you, nothing goes as planned and it always works out in the end.
Leaving the details of my three month trip up in the air meant a lot of last minute planning and exciting surprises! While I did do some typical Finnish things, like relaxing in the sauna and touring Helsinki, it was the unusual activities and the people I met who really made me fall in love with Finland. These were some of my favorites!
Attend Classes at a University
I attended several classes at the University of Eastern Finland in Joensuu with Tuomas and another friend, Ida, including American Studies and Media & Communication.
While there are some cultural differences that are easy to understand through simply being in another country, there is nothing quite like learning about my home country and studying my own college major from a unique classroom perspective. I learned about plea bargaining as if it were a foreign concept, compared freedom of the press in countries around the world, and learned Finnish opinions on the American presidential election, world politics, and the American criminal justice system. I also learned a lot about the Finnish government and politics.
I also learned that Finland has one of the top education systems in the world, and that education is free for anyone right now.
Spending time with the English department students also allowed me to get to know both students and professors through activities like English-speaking meet-ups at bars, where the goal is to practice speaking English in a casual setting. I helped them practice English, and they taught me things like how to order a drink in Finnish and how to visit Russia from Finland for three days without a visa!
Celebrate the Holidays
I was lucky enough to celebrate several holidays in Finland, including Halloween, which is not traditionally a Finnish holiday, Finnish Independence Day, which was new to me, and Christmas, which is celebrated differently around the world.
Halloween is more of a North American Holiday than it is European, but the English students threw an American Halloween party, complete with scary costumes, a costume contest, and a Finnish sauna. I also tried a lot of Finnish drinks. Salmari is the alcoholic version of salmiakki, a Finnish candy that tastes like salty black licorice. Lonkero, or long drink, was first made in Helsinki in 1952, when Helsinki hosted the Finnish olympics.
By the time Independence Day rolled around on December 6, the sun wasn't up past 2:00 PM in Joensuu. I celebrated in traditional Finnish style: we watched the annual broadcast of The Unknown Soldier, followed by the Presidential Reception, while eating Karelian pies with egg butter, and drinking lonkero.
The Christmas I spent in Finland was my first away from my family. It was a little tricky not to be able to speak Finnish with my friends' parents and grandparents, but Tuomas and his siblings were good translators. Following a Christmas Eve lunch, we stopped by the cemetery, which had lit candles at every grave – a Finnish Christmas tradition. On Christmas Day, we enjoyed a smaller family meal with gifts and even more new foods followed by a very busy night out at the bar – a staple in all Finnish holidays.
Take a Road Trip
Typically, I spend a lot of time on buses, trains, airplanes, and boats while traveling, but in Joensuu, I had to bike, walk, or ride in Tuomas's car. The great thing about car trips is that you can stop anywhere, and with a Finnish tour guide, I was able to see a lot and stop for photos along the way.
We took a few road trips out of Joensuu, including to Koli National Park, Tampere in Western Finland, the castle in Savonlinna (because as an American, I wanted to see a real castle), Levi, a ski resort in Lapland, Santa Claus Village, as well as Norway and Sweden.
I loved my three months in Finland, but my Finnish friends convinced me that I need to return to experience the Finnish summer – picking berries, going to their summer cabins, and celebrating midsummer and the midnight sun. I can't wait to visit Finland again!
Photo by Unsplash.