Living in Europe, Egypt and India: The Real Deal with Laura Barta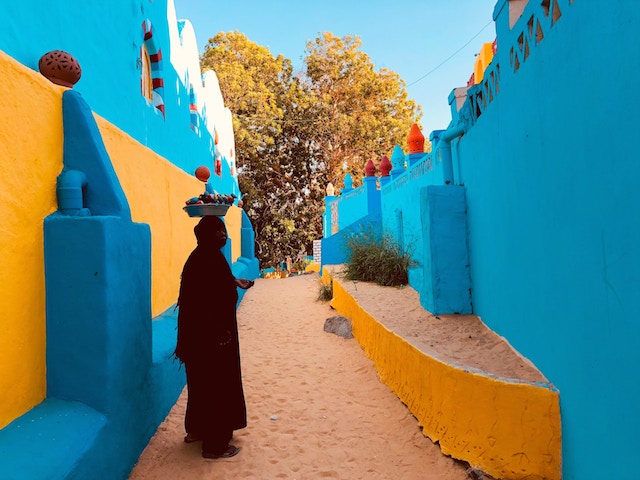 Here Laura Barta shares the highlights and challenges of living around the world, as well as her tips for an amazing experience abroad.
Tell us about yourself! What do you do when you're not traveling the world? Where are you from? Where do you currently live?
I'm the Founder and President of Whole Wide World Toys. We make toys that promote personal connections between people by introducing children to fascinating aspects of cultures around the world.
I grew up in Ames, Iowa, and didn't discover my passion for travel until my visit to Disney World in the winter, and the magic of leaving an Iowa winter behind and finding myself among warm weather and palm trees only a few hours later. A similar awe-inspiring experience with a French pastry in Paris opened my eyes wide to the cultures of the world.
Besides my interest in cultures and especially the foods of the world, I love photography, kickboxing, being outdoors with my dogs and making any kind of food from scratch.
I now live in Hershey, Pennsylvania where the air does indeed smell like chocolate and there are roller coasters right downtown. It's a little wonderland of Americana.
What made you decide to move abroad? How long did you live there for? Tell us about how you spent your time in your new destination — whether you worked, studied, traveled, or did something else.
My husband and I transferred overseas with a Fortune 500 company first to Europe, then Egypt and finally India. I worked mainly in product development, doing quantitative and qualitative consumer research in the region and incorporating those insights into improved product designs. We were there for three years and had our first child there.
What were some of the biggest challenges you experienced while living abroad? What were some of the greatest highlights?
It's very tough to figure out how to get everyday things done. So many things that had been done on autopilot at home were completely unknown. How does this coffee machine work? Where can I find a newspaper? What are all these things in the market?
The most rewarding experience was being in a place long enough to learn layers of the culture beyond what you can learn on vacation, especially getting to know lovely people and delicious food.
Also, the community of expats that are so quick to reach out in friendship, taught me to do the same for others in my future moves. Those friendships have meant a lot to me.
What do you wish you knew before you moved?
It's actually as hard or harder to move back home after the assignment. While you're away and especially at the start, you're fueled by adrenaline and adventure. As much as you're looking forward to the comforts and connections of home, it can be a letdown in some ways.
Any favorite restaurants/events/sites that you'd like to recommend? Tell us what made them great!
Koshary is an Egyptian street food that is simple, way more delicious than it sounds, and incredibly time consuming to make at home. It has layers of rice, macaroni, lentils, chick peas, a special hot sauce, and crispy fried onions (like the ones Americans put on green bean casserole).
If I could have one thing from Egypt, that would be completely impractical, it would be a Bedouin tent complete with the rugs, cushions, tea tables with the three legs and the platter on top, and some lanterns. So, find one of those to hang out in and see if you can figure out how to get one home!
Finally, drink some sweet mint tea or ahwa turky (Turkish coffee) and you will be happy.
Are there any tips you'd give someone else considering a similar move?
For me, the top priority would be finding friends. Not only will they be able to guide you to make life easier, but really it's so easy to have a good time anywhere when you're having fun. So, join any club and put yourself out there and you will be fine!
Is there anything that women specifically should know before they move to your destination?
Sadly, you will need to be careful in Egypt. Seek out Egyptian women to learn the ropes of cultural norms in public.
Living in Europe, Egypt and India: The Real Deal with Laura Barta photo by Unsplash.