The Charm of Old Quebec, Canada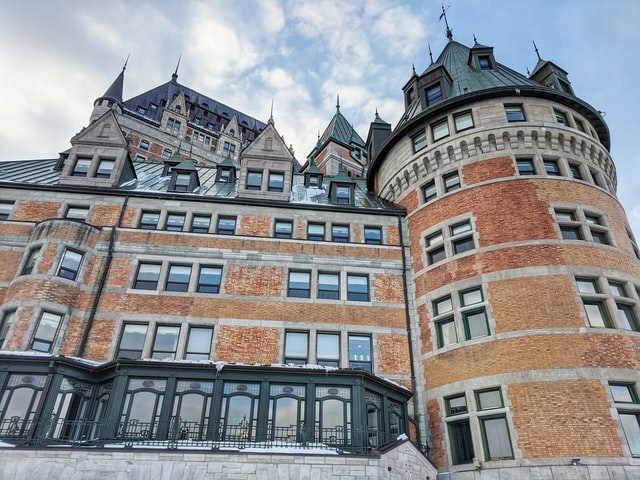 Quebec City is filled with European charm, splashes of colour, and history—it's a place unlike anywhere else in Canada, and has the only fortified city walls remaining in the Americas north of Mexico (now that's pretty impressive I think)!
Recently I visited Quebec City for my first time ever—which is slightly embarrassing to admit since I live in Toronto, Canada and don't live an extraordinary distance away from Quebec. Just like most places I travel to in my own country, I usually give them a little bit of lower expectations, as I feel that many people are never as blown away by their own country as foreign ones, but with Quebec City, I was pleasantly surprised.
I was visiting on a short time constraint (only 2 days) but was determined to see everything this city had to offer. As I dashed around Quebec City and the surrounding area—rafting, hiking, relaxing at the spa, my favourite part of the entire trip was Old Quebec.
Old Quebec is a historic neighbourhood in Quebec City and is a UNESCO World Heritage Site. When you enter the fortification walls—which by the way, you can walk on top of, all the way around for 4.6km, you're instantly shocked at how European this area feels. The old buildings with bright coloured shutters, doors and roofs, are mixed with a small town, historical vibe that you often only find in places like Europe.
Within Old Quebec there are so many sites you have to see. Here were some of my favourites, and must-dos if you're visiting.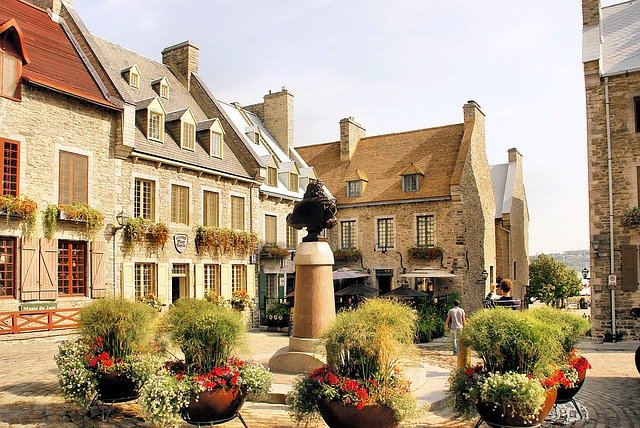 Place-Royale & Notre Dame Church
Place-Royale is the cutest little square that is filled with history, and even if you're not a history buff, you'll still fall in love with it. This area grew throughout the 17th and 18th century and became a bustling marketplace and business centre in Quebec City. The square now houses cute little shops, restaurants and cafes, and also is home to the Notre Dame church, which is the oldest stone church in Quebec. This was by far my favourite site in Old Quebec–I could have just hung out here all day!
Château Frontenac
Known as being one of the most photographed places in Quebec, Château Frontenac looks like once upon a time it was a castle, but surprisingly it is a Fairmont Hotel that never saw a life as anything else. This hotel costs an arm and a leg to stay in, but you don't have to be a guest there to experience how beautiful it is. The outside of the hotel is what makes it amazing, a landmark in the city that seems to get more beautiful from every angle of the city that you see it from. You can also walk in and explore the lobby to get a closer look.
Parliament Hill
La Louvre in Paris, France inspired the parliament building in Quebec City and this building is another that leaves quite the imprint on the Quebec City skyline. The building's architecture is home to 22 statues of influential people of Quebec's history and in front of the building, you can also see the Fontaine de Tourny, a fountain that lived in France for several years until it was purchased and gifted to the people of Quebec City in 2003. Parliament Hill is worth a visit both in the day and at night to really enjoy the contrast.
Frescoes and Murals
Quebec City is home to some pretty amazing murals that offer you a glimpse into the city's history and culture. Fresque des Quebecois is located in Place-Royale (as mentioned above) and the mural recounts the story of the city in a colourful way. You can stand and compare the wall to the plaques that are available to see what each part of the mural means. The Fresque du Petit-Champlain is located along one of the oldest streets in North America, at the foot of Escalier Casse-Cou, and although smaller, the details in these tasteful forms of street art are gorgeous.
Plains of Abraham
This historic area is within The Battlefields Park in Quebec City and is the site of the Battle of the Plains of Abraham which took place in 1759. When I was visiting, it was actually the anniversary (September 13). Now this site is used as a park and visitors can walk through and enjoy being in such a historical park—the perfect place to chill out on a summer day.
Overall my weekend in Quebec City, exploring my own country, was amazing! It's funny what you can find in your own backyard, and Quebec City is the perfect place to just walk around and get lost among the cute little streets filled with boutique shops, hotels and restaurants. I absolutely fell in love with this city, and I'm so happy it's close enough that it's easy for me to return!
Photos for The Charm of Old Quebec, Canada by Pixabay.