Appreciating the Present Moment in Thailand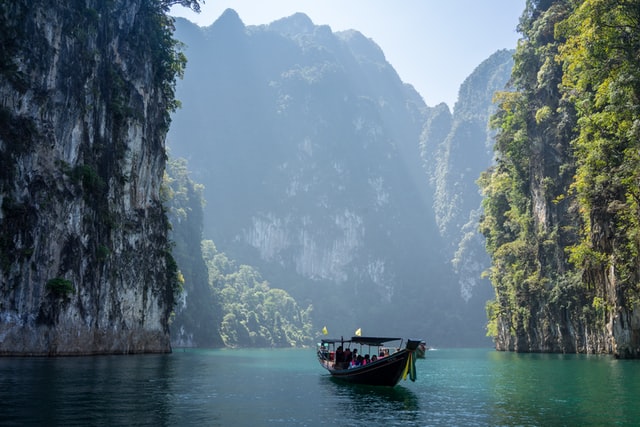 I received a message from a friend asking me if I was interested in going on a yoga and meditation retreat. Staring at the message, I drifted back to the few times my mom and I had tried yoga. We were barely able to finish a class, holding back laughs as we became increasingly impatient and bored, immediately sprinting to the treadmill after class because we felt like we hadn't gotten a workout.
Despite these thoughts, I was eager to get away from my hectic life and the aromatically unpleasant city of Bangkok. My friend's yoga instructor was planning the retreat, and we were being offered an incredibly good deal. In fact, it might have been the only yoga retreat I could afford!
Actively enjoying the moment instead of looking for the next thing to cross of my to-do list is something I desperately needed.
We were picked up in Bangkok on Friday night. There were only five of us plus our yoga instructor and one mindfulness coach. The traffic of Bangkok won again and it was hours before we made it outside of the city, crawling to our destination when the stars had fully settled into their spots. I found my room and tossed and turned all night, anxious about the next day.
Having arrived late at night, this was the first time I really got to see the place and its beauty. The fresh air filled my lungs. I actually wanted to smell everything, taking in big gulps–unlike in Bangkok where I keep my nose and mouth firmly shut.
The property used to be the family vacation home of our mindfulness coach. It had been transformed to include five bedrooms, a big round communal table, an open-air kitchen and a community bathroom. Mango trees swayed in the sun and everything was green; there were no buildings in sight. This wasn't a typical Thai mediation retreat with white clothes, silence and no meals after noon. It was on a lake with four-runners and jet skis!
Appreciating the Present Moment in Thailand.
I set up my mat on the veranda and waited. There would be two yoga classes a day, each followed by mediation and three mindfulness sessions. The class started out like normal with sun salutations, downward dogs and rests in child pose, evolving into backbends and balancing poses. As a former gymnast, I love to push my muscles to the extreme and enhance my flexibility. This class did that and more. I was upside down in tripod, reaching for the sky in tree pose and shaking in side plank. I was in my element. I found that the reason I had hated yoga in the past was that it was not challenging enough.
After yoga, we went right into meditation. It's amazing how sitting cross-legged for 10 minutes can be so painful. My senses seemed to awaken and my awareness rose. I listened enthusiastically as our instructor described our mindset during the practice and told us to employ our third eye (the space between our eyes). I stared deeply at this spot to remain focused and to try to keep away the distractions.
He told us to picture our thoughts floating down a river–just to watch them pass by but not to actively engage them. Observe them, look at them from afar, and acknowledge them but then let them pass. I found this incredibly difficult and my mind kept wandering to what was for breakfast all while repeating ,"Shut up Kirsten, stop thinking."
Still, I liked the feeling I felt after; it was refreshing, kind of like taking a nap. I felt openly optimistic, already making plans to put this practice into my life. (Unfortunately I haven't meditated since).
What I have carried with me the most since going on this retreat is the idea of mindfulness–the practice of living in the moment and awakening to experience. I am guilty of running a little too fast through life, ignoring the passing signs and pushing on to the next thing. Actively enjoying the moment instead of looking for the next thing to cross of my to-do list is something I desperately needed.
So, what can I do today that makes me happy?
At the retreat, I realized that the present moment was making me happy. The atmosphere. Waking up early and stretching right away, engaging my body and mind. Watching the sun fill the sky, the heat build and using the whole day. The ability to breathe, eat fresh and healthy food, lie in a hammock and read my book with nowhere to go. Cuddle with the adorable dogs that roam the property, fight off the insatiable mosquitoes and have some adventure riding the 4-runners.
I knew that this couldn't be every day, but that every day I could do at least one thing to make me happy.
We were asked three big questions throughout the retreat, and they are questions I continue to explore, discover and edit my answers to constantly. They govern my decisions and help me to be the person I want to be.
What do I want to experience in this life?
How do I want to grow as a person?
How do I want to contribute to the betterment of the planet?
I knew that this couldn't be every day, but that every day I could do at least one thing to make me happy.
This experience made me realize how much I can gain from listening to my mind and body. Whether it's during an intense yoga class where I discover muscles I didn't even know I had or asking myself if I'm hungry before going for seconds. Now, I listen to myself, I take things slower, and I wake up early. I am also trying all new kinds of yoga. But most of all, I appreciate all the things my mind and body can do. And I now know that yoga isn't just about breaking a sweat.