Spiritual Retreat in San Miguel de Allende, Mexico: The Real Deal with Faye Nulman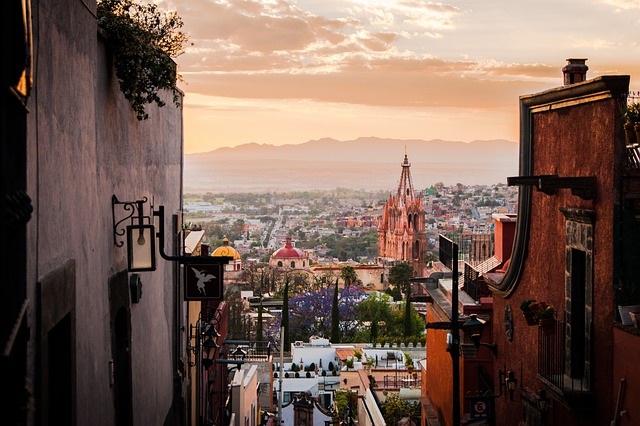 Interested in participating in a spiritual retreat in San Miguel de Allende, Mexico? Here, Faye Nulman shares her experiences.
Tell us about yourself! What do you do when you're not traveling the world? Where are you from? Where do you currently live?
I am an Intuitive Transformational Empowerment Specialist: a human GPS for emotional, personal and life guidance, a life instructor. I am an international speaker and educator who utilizes my years of training and personal one-on-one work incorporating modalities such as: EFT (Emotional Freedom Technique), NLP (Neuro Linguistic Programming), Strategic Intervention Coaching, Access Bars, Reiki, Massage Therapy, Raw Foods, Yoga, Sound Healing, and Relaxation Meditative modalities to ingrain a sense of positive energy flow within each client or group.
When I'm not working, I enjoy cooking for and feeding friends! I am originally from New Jersey and am currently living in New Jersey, but I'm always open to the possibility of becoming a global citizen!
What kind of retreat did you participate in? Where was it located? How did you spend your time there?
Over the years, I have participated in a number of different types of retreats: some for yoga and or meditation; others to learn new forms of healing modalities to bring forward to my clients; still others to engage in personal development for my own growth.
The one I will discuss today was my retreat to San Miguel de Allende, Mexico! A diverse group of spiritual guides, from various geographic areas of the world came to Mexico in order to grow ourselves; create an impact locally by meeting with many expats living there and by experiencing the work they were doing with a local school; and speak at a spiritual health and wellness expo.
What made you decide to participate in the retreat?
I had noticed a write up for this particular retreat the year before and was interested, but was not able to participate at that time. I did however stay in touch with the woman who was organizing it and one day reached out to her about the best way to get to San Miguel. It turned out she had just announced that year's retreat! Divine timing!
The pictures of some of the flowering trees in San Miguel were what initially caught my interest–the feeling of positive energy flowing from all of the pictures. I also wanted to explore a bit of Mexico that was not on the traditional tourist map. I also wanted to see if San Miguel could at some point be a retirement location.
What were the highlights of the retreat? What disappointed you about the retreat?
Meeting and connecting with the other participants, and creating some lovely long-term friendships are most certainly major pluses wherever you go. In this day and age of electronic communication, the personal interaction and one-on-one face time are so needed.
We spent a day rejuvenating at a local hot spring called La Gruta. I actually wrote a review about it!
We were all invited to be guest lecturers at a spiritual health and wellness expo during our stay, and being able to create a palatable impact in that room on that day was so humbling and gratifying all at once. The coolest part was that not one of us had discussed with the other participants ahead of time what our topics were going to be, yet we all managed to build on each other's talks to totally engage and enlighten the people in attendance.
The two biggest disappointments for me were that the location used for lodging was not big enough to house all of the participants together so we were in two very separate locations, which made it harder to connect; and the amount of time spent taking taxis to get to various locations for meals. Food could have very easily been handled in a much simpler manner.
How, if at all, did the retreat change you? Were there new practices you incorporated into your life following the retreat?
This retreat allowed me to gain a deeper level of confidence in speaking to a large group of people. It was wonderful to be able to connect with participants who were doctors, shamans, astrologers, sound healers, writers, artists; to move in different worlds than my norm; and to receive feedback from those different viewpoints. These are all aspects that allowed me to grow.
I stayed on for my own personal retreat after the official retreat ended, since I had wanted to explore San Miguel on my own. That time allowed me to find ways to go inward while being completely outside normal influences. I became comfortable with allowing myself the luxury of basking in journal writing and drinking a smoothie while people watching for most of an afternoon. I now regularly make a practice of finding that solo down time while sitting on the beach (or in the car near the beach during inclement weather) to gain that inner perspective needed in times of unrest.
What are some of the benefits of participating in a retreat? What are some of the downsides? Would you participate in another retreat?
The benefits include:
Getting away from the four walls that surround you daily.
Meeting new, yet like-minded people.
Traveling. Even if the retreat is local, you will need to travel to your destination, which may be in an area where you don't normally go.
Being in a relaxed state so you are open to learning new information and creating new practices in your life. There is a beautiful freedom that shows up within us when we step outside of ourselves and allow ourselves to be the person we hide from those who know us. There are no expectations.
The downsides include:
A distant location could mean time off. However, if the particular retreat is truly meant for you, this becomes a non-issue. There will be an avenue that opens for you.
Sleeping in a non-familiar place. This could be a concern for those who are very attached to their regular sleep environment. Bring a pillow or blanket from home!
Not knowing what to expect. Best solution to this is to let go of your expectations.
I would not participate again in this particular retreat as it has already served its purpose for me, but I am currently investigating attending a retreat in Sedona this coming February. I am also working on creating a few organized retreats for clients and would-be clients!
Are there any tips you'd give someone else who is considering a similar retreat?
My tips include:
If a retreat keeps "talking" to you, go! The initial draw may not be the lesson you are going for, but it is the reason to get you moving.
Traveling internationally? Make a list of all of your questions and get very clear about what is and is not being offered. Also, consider spending time on your own in the country either before or after the retreat. After all, you've already done the travelling to get there. Explore things that were not part of the retreat or that have a particular interest to you!
If you are a serial companion type traveller, consider doing the retreat on your own. The growth this creates is priceless. It also affords you the opportunity to meet new people who you may not have otherwise met because you were hanging out with your travel companion!
Photo credit: Pixabay.