How to Spend a Beach Christmas in Bali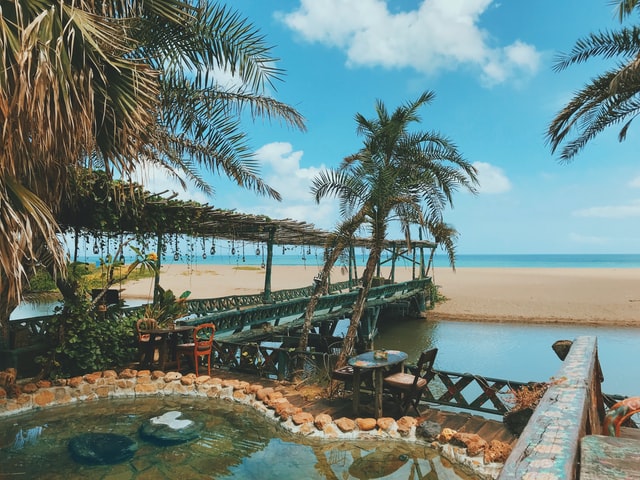 A lot of people fly to warm, tropical destinations for the holidays. However, spending Christmas in a culturally different country can be hard. You're not exactly sure how to spend this yearly event without all the traditions you've grown used to. That is why I gathered some ideas from my own experiences on how you could spend a beach Christmas in exotic Bali.
How to Spend a Beach Christmas in Bali
Last minute Christmas shopping
Especially here in Bali you might find yourself in a situation where you're missing some Christmas presents. However, this can be easily fixed. In Kuta, you can find a few big malls that have most of the Western brands you are familiar with. For example, Kuta Beachwalk shopping center has shops ranging from Victoria's Secret and Zara to Hugo Boss and Miss Selfridge.
If you are looking for something less mainstream, you can find little street stalls behind the shopping mall that offer everything from clothing to local craftsmanship. Afterwards you can have your pick of the many restaurants around the mall and eat a nice lunch. Other shopping center options at Kuta are Discovery Mall and Mal Bali Galeria.
Christmas in Bali unfortunately drops in the middle of the rainy season. The weather is not constantly rainy, but sometimes it might surprise you. In such case, don't worry, Beachwalk shopping center and Mal Bali Galeria also have a movie theatre. Tickets cost around 50K local currency during weekdays and the theatres are top-notch! So when you're done with shopping, or just want to escape the weather the whole family can head to the movies to see the latest blockbuster.
Book a spa time
Bali has spas and beauty salons on every corner and is famous for all its traditional treatments. What better way to spend your day on Christmas than to book a luxurious treatment that will get you all relaxed and ready for the night's dinner. There are many spas and different prices so one can most certainly find something to suit their budget. Especially in the Seminyak area you can find really nice places, such as Spa Bali and Green Tea Spa, that offer everything from nail and pedicure treatments to traditional Balinese massages or facials. I personally recommend the traditional treatments since they offer a new experience.
The most popular places might be busy around the holidays so I'd recommend booking in beforehand, this way you don't need to hurry or worry. You also don't need to worry if you have male family members, I'm certain everyone can find something from the menu, and if not, you can always spend some real quality time by yourself in a one-hour foot reflexology.
See the sunset at the beach
There are a lot of beaches around Bali that offer the best views of the setting sun. I can also say that Bali has some of the most beautiful sunsets I've seen in my entire life. During the rainy season the weather might be cloudier than usual, but that only adds to the magical moment.
Seeing the sunset at a beach bar is the perfect opportunity to have a pre-dinner appetizer. Double-Six Beach offers multiple bars with soft beanbag chairs and on their menu you can find the famous Bintang beer as well as healthy juices, sodas, and smoothies for the kids. Or in case you are looking for a more unique view you can see the sunset from Double-Six Rooftop bar. They also offer a nice menu of food, in case you would like to combine the experience with an early dinner.
The view from the top of the sun sinking into the ocean is breathtaking and definitely worth your time. You can easily Google the exact sunset time in Bali so you won't miss it. You should take your camera with you since it will be a moment you want to remember.
Christmas wining & dining
There are many options on how to have your Christmas dinner in Bali. If you live in a villa you can use your own kitchen and enjoy a nice home-cooked meal. Everything you need for that you can find from Carrefour. However, I prefer a stress-free Christmas and that's why I would recommend eating out. It is important to book a table in advance! It is nearly impossible to get a table on a two-day notice.
Food options are very versatile, for example some restaurants and hotels offer a Christmas buffet or a preselected menu. Nevertheless such packages can be really pricey, especially ones that offer the traditional Western holiday food. It can also be difficult if you have a family member with allergies or a special diet. That is why I recommend picking a restaurant with a wide menu that offers something for every taste.
The most famous beach clubs and restaurants in town, such as Potato Head, Ku De Ta, and Chez Gado Gado, are all situated at the Seminyak Beach. Most of them offer gourmet Western as well as Indonesian food that tastes even better with the dark ocean view. Also if you're lucky enough you might be able to catch fireworks right from your table. The Balinese people often set off fireworks during holidays to drive away bad luck. Last but not least the walk home on the beach will give you a great view of the night sky.
Photo for How to Spend a Beach Christmas in Bali by Unsplash.