Travel Venice: Finding a Room with a View in Venice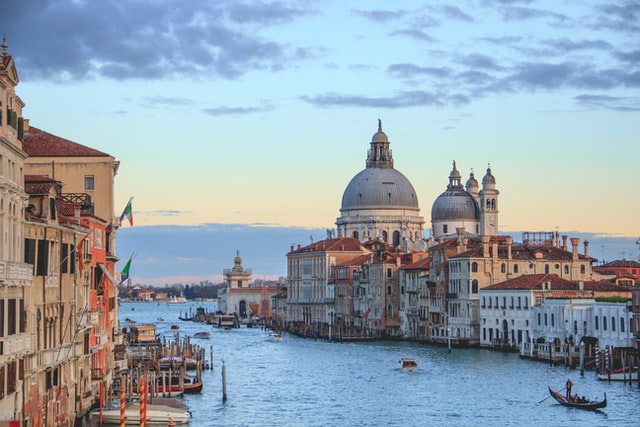 The wide terraced steps led to the Grand Canal and waiting vaporetto (water bus). Venice lay at my feet and I was transfixed. People hurried past me, some griping, others whispered their irritation. Standing in the train station doorway with two large bags, I created a traffic jam.
Venice was captivating, it looked like a postcard. None of the pictures I'd seen came close to capturing the atmosphere. Descending the steps, I headed for the vaporetto loading platform. Getting on Vaporetto Line 82 was challenging. Pulling my substantial, weighty luggage and maneuvering the crowded vessel was frightening. People jammed in and made total body contact—this was way more of the locals than I wanted to know.
Using my emailed directions, I disembarked at Accademia 12. Turning to the left I saw the canal bridge. It just had to be arched—steeply. No matter, I was headed to the Hotel American. There I had a room reserved. A single room with no view.
Venice was captivating, it looked like a postcard. None of the pictures I'd seen came close to capturing the atmosphere.
Finding the hotel was uncomplicated. A lanky, grey, man sitting behind the front desk stood as I entered. He greeted me in Italian. He seemed irritated. I think I interrupted his nap. His name badge read 'Fabio'. Fabio wasn't that gorgeous Italian model I had imagined during our email communication.
We went through the usual procedures for checking-in. Fabio called for a porter. Another elder gentleman appeared and took my key, one bag and headed for the stairs. "He cannot take all your pesante bags," Fabio said. I didn't know what pesante (heavy) meant exactly, but I got the picture. I had to carry a bag.
Step by individual step we trudged up the narrow wood stairs, thumping, creaking and squeaking all the way. Ground floor to first floor, a U-turn and then first floor to second. Another U-turn and the stairway contracted so much I had to turn my bag sideways to make the climb. The porter unlocked the door at the top of the stairs.
Opening the door out onto the tiny landing, required me, the porter and my luggage to step down two stairs. A musty, dank smell wafted out encircling my head and penetrating my sinuses. The porter flipped a switch. A pendant light hanging in the middle of the room glowed feebly. A bedside lamp was clicked on adding little to the murkiness of the room.
Travel Venice: Finding a Room with a View in Venice
Looking in from the landing, I leaned over my luggage. A twin-sized bed was against the far wall. Next to the bed, a minuscule bedside table holding the lamp and prehistoric phone. From the bed to the door was about 3 feet. At the foot of the bed a free standing closet five-foot-high and three x two feet wide adjoined the wall. A heavy brocade curtain served as a closet door.
To the right of the closet, a door entered a bathroom with slanted walls on one side. If you stood quickly or too high from the toilet, you would have most likely knocked yourself out. Dangling on a hook next to the sink was a hand held shower device. In the middle of the floor was a drain. The whole room evidentially was the shower, toilet and sink. No divisions needed. After all it was about four feet x four feet. You could easily brush your teeth and wash your face while seated on the commode. Maybe even shower if you were careful. So convenient.
The porter closed the door behind him. My bags took up most of the available floor space. I'd unpack later, first I had to get some fresh air into this hot, stuffy, smelly room.
I climbed onto the bed to spread the curtains. I pulled them aside. A blank wall looked back. Where was the window? I looked everywhere for a window, even in the all-in-one commode, shower and basin chamber. With the size of the room it took about 30 seconds to do a thorough search. No window!
"But Madame, I told you, it was a room with no view."
I called Fabio to ask for another room. Dialing 0, I waited, and waited. It rang and rang. No answer. Down the stairs, I went to the front desk. Empty—not a soul. "Fabio?" "Anyone?" After an indeterminate wait, Fabio returned carrying a tray with a smelly sandwich and a glass of wine. No greeting, not even a nod was offered.
I explained I needed another room.
"No other rooms are available Madame."
"I can't stay in that room. You have to help me find a room at another hotel." "Venezia is full Madame, there are no rooms."
Hiking back to Cinderella's room in the attic, I began calling hotels that were nearby and within my budget. One after another, I was told the same story—sorry, no rooms, nessun camere, al completo. I was stuck.
Many calls later I reached the Hotel Agli Alboretti. They did in fact have one single room due to a cancellation. The clerk was offended when I asked if the room had a window. "Well of course Madame, it has a window." "I'll take it!" I gave my credit card info and got directions.
After two trips dragging my bags downstairs I returned the key to Fabio. I told him I had found another hotel and would not be staying. I also stressed that I did not expect to be charged for the room.
"Madame, what is the problem with this room?"
"It has no window!"
"But Madame, I told you, it was a room with no view."

Travel Venice: Finding a Room with a View in Venice photo by Unsplash.