A Conversation with Blogger Sarah Magill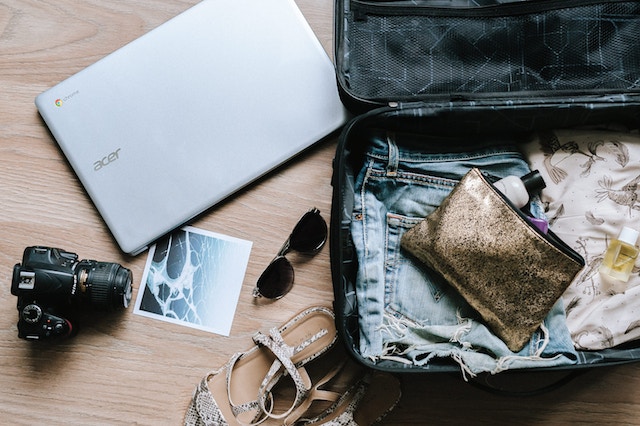 On Curious Sarah, Sarah Magill shares how people doubted her ability to travel alone–and why it's important for her to help others.
Tell us about yourself! What do you do when you're not traveling the world? Where are you from? Where do you currently live?
One of my biggest accomplishments has been planning a trip around the world after graduating college. My parents didn't want me to study abroad but planning my own trip taught me so much! My parents were profusely worried about me when I mentioned my plans. My stepmom even said, "Don't call us for ransom money!" That motivated me even more to travel and have an amazing time.
Currently, I live with my fiancé in Washington State. He's about to go to school to become a firefighter and I'm working my hardest to build a successful blog (though I just got an 8-5 job to help save money).
In my free time, I do crafty things like crochet or hand lettering. I go running and hiking and, as a foodie (or even food snob), I love going out to the best restaurants in my city. Once my schedule evens out a bit, I want to volunteer for the local literacy council.
What first inspired you to start your blog? Since then, which destinations have you covered?
When I was just starting to plan my first big trip, I was surprised about the lack of support from my family. Some thought it was irresponsible to focus on traveling long term and others were just sick with worry. They had assured themselves I would be kidnapped and sold on the black market.
When you're traveling, you're truly living.
Fortunately, that didn't happen! I had the time of my life and I learned so much about life and about myself. I thought maybe if people heard my stories, more people might consider long term travel as a possibility and the worried families might be able to relax a little bit if they read about some other girl who traveled alone. Like most bloggers, I want to build a secure lifestyle and be location independent and stay home with our future children.
So far, in my blog, Curious Sarah, I've written about Mexico, Thailand and the Philippines but I took detailed notes on my trip so I have so much more to share. I've written about learning another language and various ways to save money.
What is the main purpose of your blog? Is there a message that you're trying to convey to your readers?
I want to show readers that travel is one of the best investments you can make. When you're traveling, you're truly living. It's a lot more accessible than it seems. I want to let readers know they can travel however they want, just for a few weeks or indefinitely. It seems that most travel bloggers these days are permanent nomads and that's the other extreme of the spectrum. The motto for my website is, "When there's a will, there's a way and I'll help you find a way."
What gets you into the writing mode?
Sometimes just looking through my pictures pulls up a memory I feel strongly about. I have to be fully immersed in the thought for my emotions, and a solid story, to go from my brain to the computer. Other times, I write about something I've been mulling over for a few days. If I want to sound more eloquent, watching slam poetry readings on YouTube really gets me in the right headspace.
What are some exciting partnerships, connections, or opportunities that have come out of your blog?
When I was in Mexico, I volunteered at a high school. One of the teachers saw on my site that I had written an eBook and asked if his advanced English students could have a copy to translate. I was flattered that they wanted to translate an 80-page eBook and it makes me feel proud as an author to know that my book is in two languages (or that it will be soon).
Is your blog a business? If so, what are some of the ways that you monetize it?
So far, I've only earned a profit from selling copies of my eBook and I'm still working on marketing it. My goal is to sell 10,000 copies in 2016. I have one ad I just put on my sidebar and I'm working to make some professional relationships to get some affiliate marketing partners. I also want to make a workbook that goes along with my eBook and maybe expand to produce some help videos or webinars.
What advice would you give to other women who are interested in launching a travel blog?
It's tons of work and it probably will take a while to earn a profit. Every blogger will say you definitely have to love what you're blogging about because it will suck up so much time and because readers can tell quickly if you're not interested in the subjects you're writing about.
Also, since there are so many bloggers, to have a higher chance of earning a profit, you have to create a product, like an eBook or a class.
For me, it was difficult to accept the fact that I wouldn't have a full, professional, profitable blog right off the bat. You have to build content and aside from that, there is a lot to learn about the business of blogging. It's kind of like walking in the dark. You can't see very far ahead of you, maybe just a step or two. You just have to trust you'll figure out what's next and eventually, the sun will rise and you'll have 360 range of vision.
Photo for Curious Sarah with Blogger Sarah Magill by Unsplash.