A Conversation with 'Italia Outdoors Food and Wine' Founder Kathy Bechtel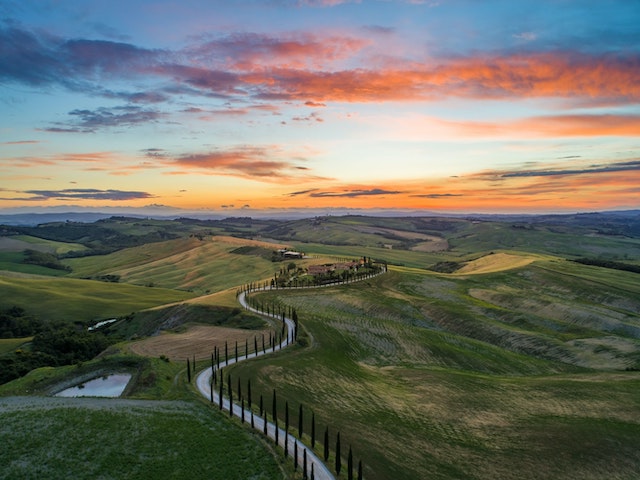 This month we're interviewing women from all over the world and asking them about their experiences traveling to Italy. We had the privilege of speaking with Kathy Bechtel about her experience leading tours in Italy. Here's a glimpse into our conversation.
Tell us about yourself! What do you do when you're not traveling the world? Where are you from? Where do you currently live?
When not leading tours with Italia Outdoors Food and Wine or discovering new places in Italy, I divide my time between my home in Massachusetts, my occasional work as a ski instructor in Maine, and visiting my two sons who are attending college in Colorado. I enjoy traveling all year round!
What first inspired you to start your tour company? What's your company's mission?
I had traveled to Italy several times with Chef Jody Adams and gained a true appreciation for the unique regional differences in the cultures, cuisine, and wine across this country. During my travels, I met my current business partner who shared a very similar view—we joined forces to offer active adventures which explore the authentic regional landscape of Italy. We don't offer cookie-cutter fixed itineraries that we outsource to hired guides; we customize each tour for each group of guests, and my partner Vernon McClure and I personally lead each tour. He is an expert recreational guide, and I introduce the foods and wine.
What are some of the challenges you've experienced in running a tour company? What are some of the highlights?
Getting started on a minimal budget was a challenge—I learned how to create my own website, research and write original content, communicate in a new language, how to use social media, and how to avoid wasting time on it!
While on tour, keeping everyone happy and healthy. My partner has extensive first aid and risk management training, and I've seen how effective he is in these tough situations. Not all guides are trained in these areas.
The highlight for me is when, after months of working with a group, getting to know their hopes and dreams for their adventure in Italy, to finally greet them in Italy and make it all a reality!
How have you spread the word about your tours?
Word of mouth from a satisfied customer is always best!
Other than that, having a presence on the internet—a good web site and a blog—is how people find me. I spend many hours researching recipes and wines and writing articles for my web site and blog.
I've tried other avenues—some print ads, I hired a PR person for a while—but neither was truly cost effective. After a print ad, I ended up with most of the responses being other outlets trying to sell me another ad!
What do you wish you knew before starting your company?
To be more patient and true to myself. It took several years to build my business to where it is today. Identifying what is our unique value—in our case our ability to customize each tour, Vernon and I personally leading each tour; and our blend of expertise and detailed regional knowledge—and making sure that stands out to visitors to your website is key.
What are some of your company's upcoming tours/trips?
We've got several lined up already for 2016. We're bringing a family to the Veneto region, then to Tuscany to bike, walk, cook, and explore. Another group of cyclists has rented an historic villa in the Prosecco area for a week, and we're keeping them busy with great rides, lots of history to see, wine tastings and more.
A couple of groups are headed to the Dolomites, to experience the best climbing in the world. We explore many climbs here that larger tour companies don't include. Other groups look to Vernon and I to create the right mix of routes for mixed groups, some who love to climb, others that want to come along, but not to wear themselves out!
Are there any tips you'd give someone else considering starting a tour company?
I've spoken with many people along the way that have been on many a bike tour, and their next plan is to become a bike guide and lead a tour. At some point they say to me "And then you get to come to Italy and enjoy a paid vacation."
Not so—I have never worked so hard in my life. If this is your plan, think again. While on tour, I work 12+ hours a day, and spend much more time on the phone confirming activities, picking up supplies, organizing luggage transfers and supporting cyclists than riding a bike. I love it, but anyone who thinks they wish to get into this business so they can spend their summer riding a bike needs to reevaluate their priorities. It is your guest's vacation, not yours!
Top photo by Unsplash.