An Adventure to Stockholm: A Conversation with Carol Queen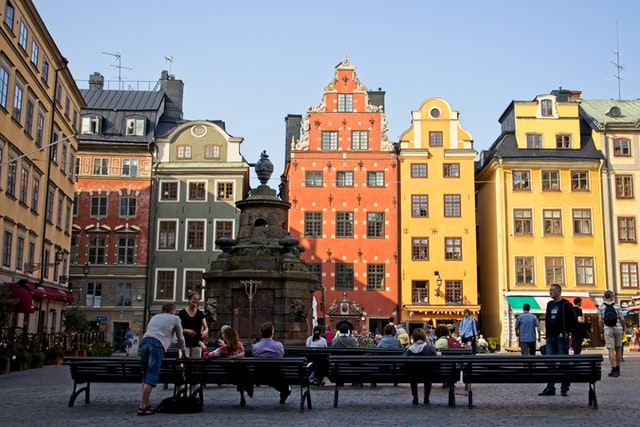 This month, we're interviewing women from all over the world and asking them about their experiences traveling to Scandinavia. We had the privilege of speaking with Carol Queen about her experience traveling through the Stockholm. Here's a glimpse into our conversation.
Tell us about yourself! What do you do when you're not traveling the world? Where do you live? What made you decide to travel to Stockholm?
I've lived in San Francisco for over 25 years, where I write and edit books about sexuality and serve as the staff sexologist at woman-founded adult emporium Good Vibrations. (I also curate the GV Antique Vibrator Museum!) Most of my travels are "buswoman's holidays"; I go places to speak about sexuality, often on behalf of Good Vibes.
My visit to Scandinavia—to Stockholm, Sweden, more specifically—was made for this purpose; after meeting a Swedish activist visiting San Francisco, I arranged to do a series of talks and panel discussions at EuroPride, which is an annual LGBTQ event that goes from one EU country to another.
How long did you go for? How did you spend your time?
I was in Stockholm for a little less than a week. I stayed with my host in her cute Södermalm apartment a short walk from the harbor, and while much of my time was spent at EuroPride gigs, I made a point of walking to get to them so I could explore the city. When I had a day off, I went antiquing. My mother's heritage is Scandinavian, so I really loved being in a place her ancestors might have been, looking at things they might have had in their homes.
I visited in July, so walking was super-pleasant with lovely weather and very long days. (At that time of year it was dark for only about three hours a night, and the long daylight also really helped me vanquish jet lag immediately!) While very walk-friendly, with gorgeous architecture and public art in the section of the city where I stayed, it was somewhat hilly.
What were your most memorable experiences? What were the biggest disappointments?
Stumbling into an amazing photo exhibit called Ecce Homo—Biblical stories with an LGBT bent. I saw these amazing artworks by Swedish photographer Elisabeth Ohlson Wallin in a gallery carved into stone underneath a medieval church.
Also, tiny houses. There's a section of the main city park with a lot of individual garden plots, many with a tiny house on the plot, called kolonilotter. The gardeners hang out and enjoy their gardens in these houses! Here's a little information about them—they are SO charming.
My only real disappointment was that I wasn't able to stay longer, explore deeper, or travel outside the city.
What do you wish you knew before you went?
I wish I'd had a chance to learn some Swedish!
Any favorite restaurants/hotels/hostels/sites you'd like to recommend? Tell us what made them great!
I sadly don't remember the names of the restaurants I visited, but I had superb salmon and something tells me that isn't super-hard to find in Stockholm!
Gamla Stan is the old town, fantastic to explore.
I loved visiting the outdoor museum Skansen. I discovered it at a EuroPride event—all the way up on top of the hill that it occupies; there's a stage which hosted a big concert, including trans star Dana International (she had just created quite a stir earlier that year, winning the euroVision contest). The Swedes' fondness for teeny houses is evident in Skansen, too, and is obviously not a new fad. They had brought these bitsy vacation houses, some very old, from all over Sweden. About 150 old structures were rebuilt on Skansen, not just the micro-structures; if I ever go back, I will spend a ton of time exploring this place.
Is there anything that women specifically should know before they travel to your destination?
It was really my impression that Stockholm was safe and welcoming for women travelers. I walked around by myself all the time, had no problems at all with language barrier—just about everybody I interacted with in shops and restaurants spoke fabulous English, and people proudly told me about their high percentage of women politicians.