The Magical Place Tourists Miss When They Travel Africa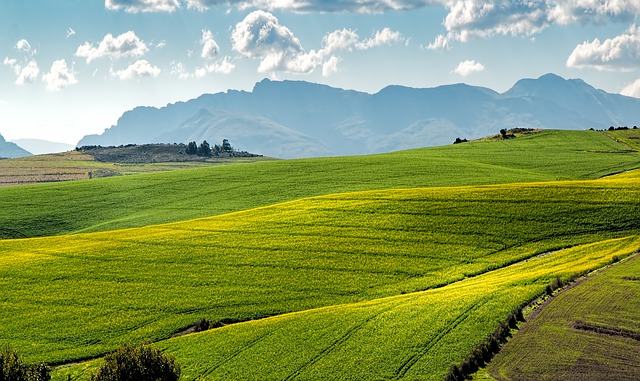 As I sit and write this, I'm looking out over a beautiful vista: rolling green mountains flowing into a violent blue sea, pink and turquoise rondavels dot the hill crests, and yellow kites from the surfers kiss the mountain ridge view. Whales spout in the distance and crickets chirp at night. I can't seem to wrap my mind around this undiscovered place and imagine who it's missed by others who travel Africa. The beaches of the Transkei are better known as the "Wild Coast." It's the original home of Mandela, Xhosa bread, and a wistful, inspiring magic that can be better felt than described.
This is my third time to South Africa and second visit to the Transkei. Whenever I return to the USA, friends and family always ask: Did you go to Cape Town? Did you go to Krugar? Was it safe in Johannesburg? These typical images of South Africa are well known for a reason, but only scratch the surface of what this rainbow nation has to offer. It's a bit like visiting the USA and only visiting Disney World or New York City—there is so, so much more to be experienced and so many travelers miss what makes this country so special.
Whenever I return to the USA, friends and family always ask: Did you go to Cape Town? Did you go to Krugar? Was it safe in Johannesburg?
More than anything, the energy here is palpable. People who chose to spend their lives on the Wild Coast are generous, warm, and genuinely care about improving their country. Moreover, one mustn't miss this coastline because of the sort of visitor it attracts. You won't find your luxury safari-goer or high maintenance spa retreaters.
Instead, you will find travelers of all ages who want to be a part of a place with spirit: not yet ruined by tourism and not part of the remnants of apartheid tourism, this coast is rural and real. Although its not the easiest place to get to, those who visit all keep coming back. This is my second visit and surely won't be my last. All of us have come back to this place because it makes us reflect on who we are and what drives our own wild spirit.
The Wild Coast is remote, inaccessible, and off the beaten path. However, with a little extra effort travelers have the opportunity to connect with the deep spirit of South Africa. Xhosa villages struggle, having been a traditionally black area during apartheid. With high HIV rates and unemployment, locals haven't quite felt the relative wealth of its neighboring provinces. This means that travelers also have the opportunity to make a real impact while visiting.
There are even three backpacker hostels that are partially community owned. These were set up with the purpose of using a business model to aid a community instead of traditional aid structures. Be sure to check out Mdumbi Backpackers, Coffee Bay Backpackers, and Bulungula Backpackers. They can even offer you volunteer experiences in the local community.
If chilling with other travelers and locals isn't your thing, ask them about renting private accommodation on the coast. Many South African families come to the coast over the holiday period and rent a space of their own. You can even hike between the three with a guide and stay in local villages overnight along your route.
I urge every traveler in Africa to make the effort and visit the Wild Coast region of the Transkei. You will come away with a deeper understanding of the rainbow nation and see what makes this region so impactful.
Related Reading
Life Lessons from an African Journey
Safety Tips for South Africa You Can't Ignore
4 Harmful Misconceptions about Africa
A Woman's Place: Sexism in South Africa
Why South Africa is Perfect for Solo Travel
Dealing With Street Harassment in Cameroon
Running through Winneba, I've Never Felt So White
How to Reject Marriage Proposals from Ghanaian Men
15 Hours in Addis Ababa, Ethiopia
What It's Like to Be a Woman in Tanzania
Have you traveled to Africa? What were your impressions? Email us at [email protected]pinkpangea.com for information about sharing your experience and advice with the Pink Pangea community. We can't wait to hear from you.
The Magical Place Tourists Miss When They Travel Africa top photo credits: Pixabay