My Capsule Hotel Experience in Japan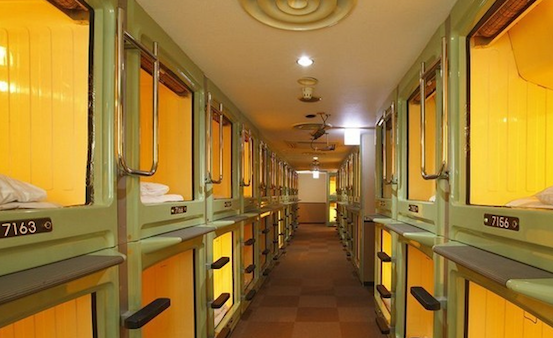 While returning from a holiday in Australia, I decided to fly through Japan, even though this meant spending a night at the airport. I've slept in airport hotels as well as on the dirty carpets of airports many times. Airport hotels can be rather expensive and when travelling on a budget it's often easier to say goodbye to a good night's sleep and just crawl onto a wooden chair in the terminal.
But there is another option – a capsule hotel! These are a sleeping option for travellers who are looking for minimum effort during a one-night stay in a foreign country. They are extremely popular in Asia, but Western countries are becoming more familiar with the concept as well.
When I arrived at Narita Airport in Tokyo it was just after 6 PM. My departing flight didn't leave until 1 PM the next day, so I had hours to spare. I had researched some of the most popular airport hotels, but most were rather expensive and a taxi ride away. I was almost resigned to sleeping on the airport floor when I found another option, 9 Hours Hotel, which is a capsule hotel. I had never been in one before but the price– approximately 50 dollars for a night, including a breakfast– was more attractive than a hard floor. The best thing was that it was right at the airport, so all I had to do was take an elevator to the bottom floor.
It might look small, even cramped, but in fact it wasn't. I fit easily inside length-wise, and I would describe myself as a bit bigger than the average woman.
A friendly Japanese receptionist with good English greeted me. After confirming my booking I was handed a key, with a numbered chain, and a bag filled with utilities. The hotel was divided into two sides: one for women and one for men. Curious, I entered the door with a picture of a lady on it. It was a big locker room adjoined to a bathroom area. I found a locker with the same number as my key and was able to fit in one piece of luggage and two pieces of carry on with ease.
I had previously worried how to keep my valuables safe, but the locker was easy to lock and seemed pretty sturdy. At this point, all visitors were asked to remove their outside shoes and change into the slippers in the bag provided. The bag held two towels and pajamas, which looked rather like a uniform. As I'm a bit of a germ freak I skipped that, but I saw many other women wearing them.
The bathroom had a large mirrored wall and a long counter with multiple outlets for every kind of hair curler and blow dryer, courtesy of the house. Next to the toilets were small shower rooms with a shower stall, which included soaps and shampoos. Everything seemed to be spotless and, I have to say, cleaner than most other hostels I've ever slept in. From the locker room you were able to enter the next room, which had a note on the door asking for total silence. The sleeping room looked something like a spacecraft. All walls were painted a dark shade, and on the facing wall there were long tube-like holes on two levels with numbers that matched those on the key chain.
At this point, some people might be terrified. It might look small, even cramped, but in fact it wasn't. Lying on my back and raising my hands up towards the ceiling of the tube there was at least 15 centimeters of space between my fingertips and the 'ceiling'.
I also fit easily inside length-wise, and I would describe myself as a bit bigger than the average woman. The room was silent and dark, and taking a nap or a full night's sleep was easy. One could just pull down the curtain in the end of the tube for privacy.
When it comes to charging electronics, the reception lent me an adapter so that my plug would fit the socket. Also, bringing food beyond the reception was forbidden, so no smells would disturb guests. If you wanted a meal all you had to do was exchange your key for a number slip at the reception and head to the restaurant area of the airport.
I didn't wake up once during the night. In the morning, with the breakfast coupon I received upon my arrival I got a nice small breakfast at the upstairs' cafe, a Japanese breakfast of course. What I loved about staying right at the airport was that I could get a few good hours of sleep that otherwise would have been spent getting transportation. Overall, my stay in a capsule hotel was great and a really traveller-friendly option. I would recommend it to every tired passenger!