A Foreign Woman Living in Laos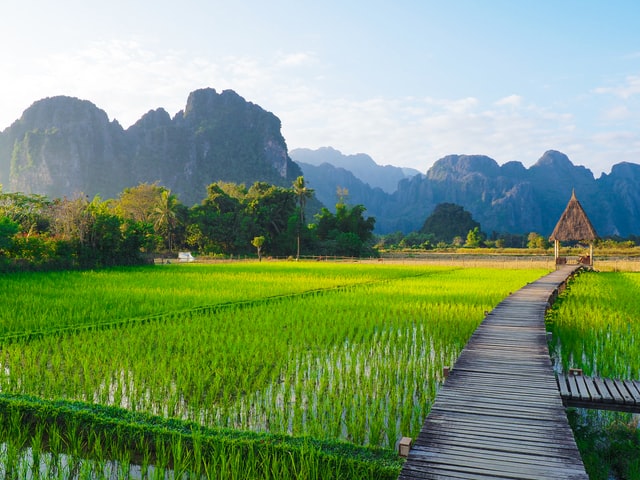 As a woman living in Laos, I've been exposed to and have adopted some important ways of living. It began with educating myself on the cultural etiquette. This is something I always make sure to do when I travel to a new country. It is important to know what is culturally expected and accepted, as this may determine the outcome of my experience with the local people, and I want a rich and respectful experience.
Attire is important in Laos. A Laotian woman will typically wear a sinh, a traditional Laotian one-piece wrap skirt and a blouse. This is true all over Laos, but influences from other parts of the world mean that some Western styles have been adopted. The locals don't expect to see all foreign women in a sinh, but some places of employment will require you to wear one. Typically, as long as you have your shoulders covered and don't wear very short or revealing clothing, you will be fine. Temple visits are an exception, and you should always have your shoulders and knees covered and look presentable (a sinh is favorable for ceremonies in temples).
Cultural norms do vary according to geographical location. For example, in rural villages and ethnic minority communities, foreign women should always dress in a way that is non-offensive. I've spoken to many local men and women who have told me how much they appreciate travelers who understand and respect their culture. In the capital city you see a variety of styles, including some rather obscene clothing worn by foreigners and locals.
The worst cases can be seen in Vang Vieng, where tourists came in the 1990s just after Laos opened up to tourism. There are, however, some places in Laos where women can freely wear bikinis, such as in the south of Laos, especially in the 4,000 islands where attitudes are more liberal. It is preferred, while swimming, that you cover your midsection.
As a solo female traveler, I prefer not to draw attention to myself. In fact, I try to actively live like a local whenever possible. As an English teacher, yoga teacher, and freelance travel writer/photographer, I have to adapt to different situations, and do find myself wearing sports clothes in public. But I have immersed myself in the community, built relationships with the locals and now my yoga clothes are accepted. As a teacher, however, I should never be seen dressed inappropriately, smoking, or drinking, especially by my students.
The vibe in Laos is very relaxed and people live in the present moment. It's refreshing to see this in a society.
In regards to meeting people, I have been asked questions within moments of meeting new people that may seem inappropriate to Westerners. For example, "how old are you?" and "are you married?". These questions serve a purpose. As the answers determine how a person will address you.
They use these questions to 'categorize' you, so that they can speak to you with respect. If you stay in Laos long term, you will learn some of the language and begin to understand how to address your elders and the younger generation. Any attempt to speak the local language is greatly appreciated and welcomed. Laotians have a great deal of patience and will try to understand you and teach you.
Other customs that should be followed are: never point the soles of your feet toward anyone, take your shoes off when entering homes, businesses, and temples, don't touch people until they initiate it, greet people with your palms pressed together by your chest saying sabaidee, do not participate in public displays of affection, and respect your elders.
A Foreign Woman Living in Laos.
The vibe in Laos is very relaxed and people live in the present moment. It's refreshing to see this in a society. There is a beautiful sense of community and family, and friends are the priority, before work and money. This of course is changing in places like the capital, Vientiane, where foreign countries are investing and developing the city thus having an impact on the culture and the lifestyle.
With a bit of cultural awareness and respect you may find yourself invited to rural villages, Buddhist ceremonies, private family events, and being welcomed warmly wherever you roam in Laos. These are some of the experiences I have been fortunate to have. And with awareness and respect for the culture, I hope you are invited to have these experiences, too.
Photo credit for A Foreign Woman Living in Laos by Unsplash.