An Adventure Through Laos: In Conversation with Pamela Barsky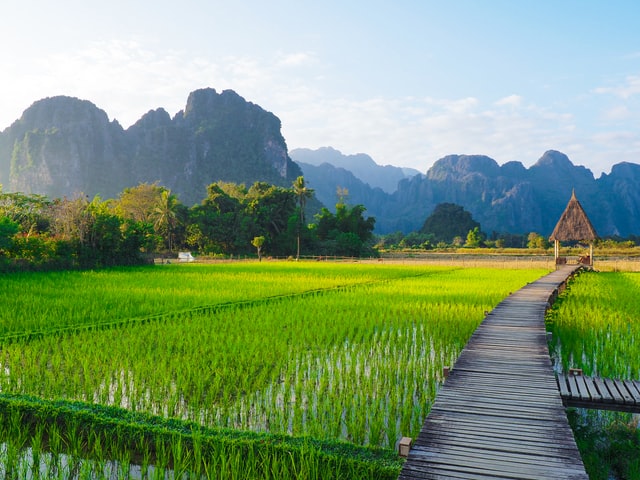 This month, we're interviewing women from all over the world and asking them about their experiences traveling to Laos. We had the privilege of speaking with Pamela Barsky about her experience traveling through Laos. Here's a glimpse into our conversation.
Tell us about yourself! What do you do when you're not traveling the world? Where do you live? What made you decide to go to your most recent destination?
I design fashion accessories, manufacture them in NYC and sell them at my three retail stores. I am married to a wonderful Brazilian and we live in Soho. I love to shop New Jersey flea markets for odd vintage finds and I'm looking for a beat-up old country house to buy and fix up. My most recent trip was to Hong Kong, one of my favorite places.
An email for a $440 round trip fare landed in my inbox, and despite having just returned from Spain with an approaching trip to Greece and Rome and a six-hour layover each way, I bought two tickets. Off we went on the adventure! I visited Laos because I wanted to take a boat down the Mekong river, and the rest of it just followed.
How long did you go for? How did you spend your time?
My trip lasted three weeks, mostly in Laos but a tiny bit of the time was spent in Thailand and Vietnam.
What were your most memorable experiences? What were the biggest disappointments?
I absolutely loved floating down the Mekong. We were a small group, and our guide arranged a private, family-owned boat so it was slow and relaxing. We stopped for the night in a town which had just gotten electricity the week before. At one point, we stopped in a very undeveloped village and met a family honing a knife over an open fire with a foot-powered grind wheel. It took the three of them three days in the hot sun to make it.
In Luang Prabang I was wandering around the town and found a lady sitting on the sidewalk making coconut patties. I bought one (I think it was all of 25 cents) and it was possibly the most delicious thing I have ever eaten.
When we arrived in Laos, we drove in from Thailand and the drive, while gorgeous, was difficult. We went in a van and had been warned we'd probably end up carsick. I medicated myself heavily and was fine, but nearly everyone else in the van vomited at least once.
An Adventure Through Laos: A Conversation with Pamela Barsky.
What do you wish you knew before you went?
Vang Vieng is a town full of gap year college students drinking happy milkshakes (not sure which drug makes them happy) and watching episodes of Friends on an endless loop. There is little to do but tube down the river. Also, I wish I'd known the young monks travel at the end of the line in the morning ritual walk where they are given their daily food. I got so excited and handed off all my rice at the start and then realized the small guys at the end were given very little. It made me incredibly sad.
Any favorite restaurants/hotels/hostels/sites you'd like to recommend? Tell us what made them great!
I prefer to eat very local when I travel. I ate fruit salad for breakfast every day. and summer rolls for practically every meal. They were delicious everywhere and super fresh. I found the food in Laos the least interesting of my journey and a little bland. Because there is not an over-developed tourist trade in Laos, there are far fewer hotels than in neighboring Thailand and they are much more expensive. On this particular trip, I stayed in small hotels which were not notable in any way.
Is there anything that women specifically should know before they travel to your destination?
I felt completely safe in Laos. I wandered freely without fear. However, pay attention in the markets to ensure you are given your correct change.
Image for An Adventure Through Laos: A Conversation with Pamela Barsky by Unsplash.