Into the Great Wild Open: California's Yucca Valley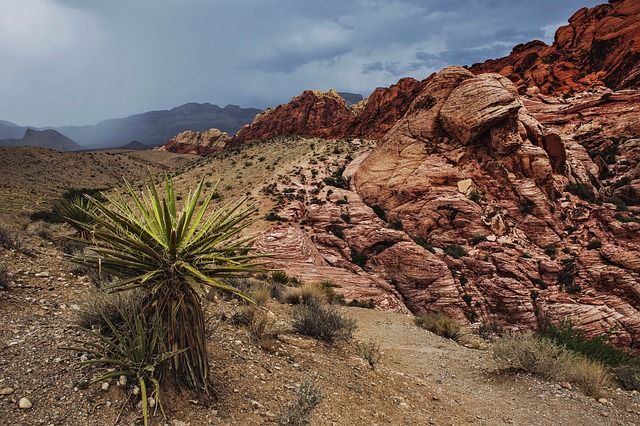 As I made the decision to move back east after a 12-year stint in Southern California, I knew I had to make a final trip to the Yucca Valley area. I've always felt at peace in the desert, having made several trips throughout my childhood to Arizona, but now had the need to visit several Mojave Desert landmarks before returning to to my roots. We decided to make an overnight trip out of it, which felt like a week after the non-stop adventure that we embarked upon.
We left Orange County early one morning and made the two hour drive inland to the Yucca Valley area, toward our home for the evening: the Pioneertown Motel. In 1946, Pioneertown was founded by a group of Hollywood investors, including actors Roy Rogers and Gene Autry. More than 50 television shows were filmed here in the 1940s and 50s including the Cisco Kid. Now the motel boasts a small number of rooms, full of character and Western charm, but do not expect to find a TV.
Directly in front of Pioneertown is the famed restaurant and music venue, Pappy & Harriet's. A famous pit stop for those en route to the Coachella Music Festival, Pappy & Harriet's has hosted some of the greatest musicians, including Robert Plant and Paul McCartney.
We decided to make it a calm night, dinner, a few cocktails and live music at Pappy & Harriet's. The food was amazing and a barbecue lover's paradise, an outdoor grill complete with mesquite wood cooking up ribs, Santa Maria style barbecue, burgers, fish, sandwiches and salads. There's only one grill on the property so food can take a bit of time if there is a big crowd, but it's worth the wait. Reservations are highly recommended, especially if a popular band is playing.
I consciously listened to the bowls playing for several minutes, then I journeyed to another realm.
After a peaceful night's sleep, we awoke and had time until our sound bath appointment at the Integratron. We walked the grounds of Pioneertown, down "Mane Street", to take some pictures. Amidst the Joshua trees, California's cactus, and dusty desert floor we stumbled across a super friendly dog that greeted us as we walked past the Pioneertown Post Office. His owner, an older gentleman who lived in one of the buildings, started talking to us, asking where we were from, what we planned to do during our visit.
Once we mentioned our day included the Integratron, he seemed to understand our thirst for the not-so-conventional adventure the Mojave had to offer. His name was Rick, also known as Grampz, and well-known in the area as he's called Pioneertown home for 20 years. He told us about all of the literal gems the desert had to offer. These include Giant Rock, the largest free-standing boulder in the world, sacred to the area, and which supposedly has a large crystal underneath the outer rock layer.
We said goodbye to Pioneertown and went out to find the Integratron, about 15 miles away in Landers, California. You are cautioned when booking your sound bath that GPS has a difficult time locating the building, taking you on random dirt roads. At least they provide solid directions on their website.
The history behind this amazing structure goes back to the late 1950s, when George Van Tassel moved his family to the area. He claims that extra-terrestrials from Venus instructed him on where exactly to place the building and how to construct it. It's said the structure was built on an intersection of powerful geomagnetic forces, that when focused by the unique geometry of the building, concentrate and amplify the earth's magnetic field. The body's cells are regenerated due to the electromagnetic frequency, rejuvenating those participating in the sound bath, a claim I can indeed vouch for.
Into the Great Wild Open: California's Yucca Valley.
When we arrived, there was no doubt of the immediate calming effect of the property, complete with a "hammock village" where people can relax while waiting for their sound bath appointments. There is also a well for guests to hydrate from the natural water that runs underneath. Several water sources converge amongst the already powerfully charged earth, which amplifies the healing powers of the water. Be sure to bring a bottle and fill it up numerous times!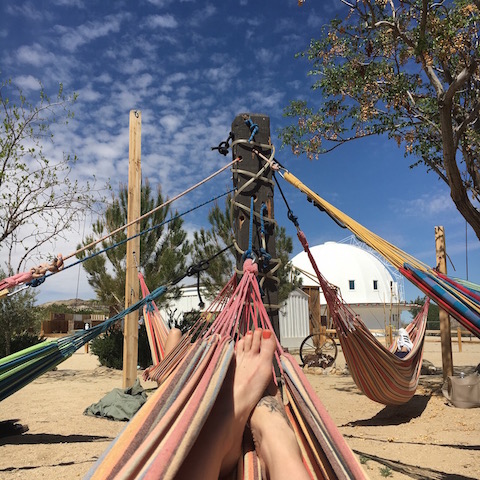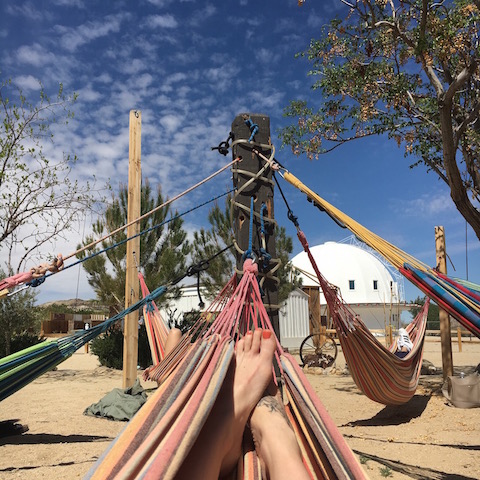 After some quality hammock time under the desert sun, it was time for our sound bath. Crystal bowls, all different sizes and typically made of pure quartz crystal, are played to activate each of the body's chakras. The dome-shaped building does not contain metal, a single nail or screw, in order to avoid interference with the conductive properties. The interior was built as an acoustically perfect sanctuary and amplified the sounds of the bowls perfectly. If you stand at one side of the dome while another person stands on the exact opposite and you whisper, they can hear your words as if you're standing directly beside them.
If you choose the group sound bath, you participate with about 20+ other people, lying on mats with blankets. The guide explains how you will most likely "time travel", causing most to fall into a deep sleep (snoring is highly likely!) Excessive snoring or failure to quit will result in you being asked to leave. The bowls are played for about an hour. I consciously listened to the bowls playing for several minutes, then I journeyed to another realm. I awoke several minutes after the music stopped, although calming music is played on a CD because many people do not wake up immediately. After relaxing and drinking some more of the electrically charged water, my friend and I headed to our next stop, Garth's Boulder Gardens, which he named God's Way Love.
The dome-shaped building does not contain metal, a single nail or screw, in order to avoid interference with the conductive properties. The interior was built as an acoustically perfect sanctuary
God's Way Love is a gathering spot, where all can come to enjoy the sacred space that Garth has spent the last 30 years building and maintaining. It is definitely off the beaten path, as we ascended for several miles, past boulder formations of all shapes and sizes, vacant school buses, and a massive teepee, until we reach what we believed to be the main area. Although it may feel as though you are trespassing on private property, this is not the case. Everyone is welcomed and encouraged to visit the land and appreciate it's beauty.
Garth has his entourage: some permanent, some who stay for a short time and do their part to help the community. All welcomed us with open arms. There was a small outdoor kitchen area, couches, fire pits, a grand piano, meditation gardens, a sauna and hot tub that's he's built in between two large rocks.
The teepee is Garth's dwelling. He's covered it in stucco to withstand the cold winter temperatures. He's planted gardens throughout the main grounds and adorned them with crystals collected from all over the world. Garth funds his venture by offering his land and space for yoga retreats, camping trips etc., and people are encouraged to make donations when leaving the property. After a live jam session and the hospitality and pure kindness we received from the group, we didn't hesitate to contribute towards funding this desert oasis and keeping its beautiful people thriving.
Unfortunately it was time to head into the sunset, towards the Pacific, with a quick stop in Desert Hot Springs to enjoy the natural hot springs pools, relax the muscles and clean off the desert dust. There are several "spas" in the town. We selected one of the first we saw, the Desert Hot Springs Spa Hotel, which had a number of pools of varying temperatures. It was the perfect way to end these two amazing days, jam-packed with random adventure and an even greater appreciation for the great wild open desert.
Photos for Into the Great Wild Open: California's Yucca Valley by Pixabay and Jen Lucas.