A Philippines Beach Paradise: Camiguin Island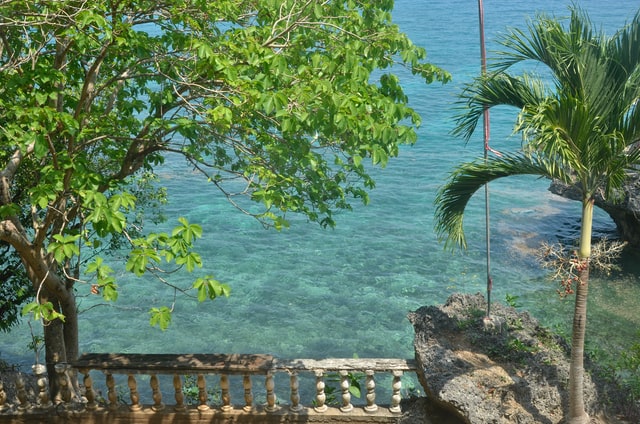 Just off the coast of northern Mindanao in the Philippines is the perfect volcanic island of Camiguin. The hour-long ferry ride from the mainland doesn't actually reflect the adventure and relative remoteness of this Philippine island, however. Mindanao is firmly off the well-trodden Southeast Asian beach destination circuit. This is partly due to isolated political unrest in parts of the island. But not the parts I visited.
Practically all tourists who come to Mindanao—around 90%–are Filipinos. So, as a foreign tourist, if you want a beach destination that offers the best of both worlds—enough tourism infrastructure but without the over-the-top commercialisation and crowds of other parts of Southeast Asia—then parts of Mindanao are perfect. Such as Camiguin Island.
Camiguin is a microcosm of the best of the Philippines. Most inhabitants farm rice or coconuts. It's an ideal place for a beachy type holiday, with enough adventurous activities, too. The population of the island is around 80,000.
A Philippines Beach Paradise: Camiguin Island
Things to do on Camiguin Island

For a small island, there are numerous things to do on Camiguin. You could spend a week here, relaxing at a resort and enjoying the many activities it offers. But a full 2-3 days would be ideal for most travellers.
White Island
This is a small sand-strip several hundred metres off the shore of Camiguin. It's not really an island, as there is no vegetation there at all. But it is an idyllic place to go and enjoy the sea, sand and views of the volcano on Camiguin. The water here is shallow and warm, and because of the bright white sand, the surrounding sea is a pale glassy turquoise. You reach White Island by taking a 6-seater motorised outrigger boat.
It's important to go as early as possible, as boats stop taking people at 10am. On the island you can rent beach umbrellas, and there are also guys selling sea urchins for a snack.
Snorkelling at the Sunken Cemetery
In 1871, Camiguin's Old Vulcan Daan, an active volcano, erupted. This disrupted the coastline, and a church and cemetery were submerged. Nowadays, a large cross marks the spot of the sunken cemetery, just offshore from Bonbon, although this cross wasn't from the original church. The remains of the cemetery lie beneath the water, but as the eruption was 145 years ago, very little remains to be seen. Coral and plant life have grown up over it. And this makes for awesome snorkelling!
The water is shallow until way past the cross, and the coral is healthy. While the colours aren't as bright as the reefs off the western coast of Bali, there are still some stunning electric blue formations, and lots of dazzling fish, such as orange clown fish, yellow sunfish, blue starfish, rainbow coloured fish and iridescent little things that looked like floating petals. The highlight are the giant—giant!—clams, just past the cross. The biggest is 18 years old, but it's surrounded by smaller ones, that are still very large. It'd be fascinating to see it clamp something into its huge wavy jaws.
Snorkelling guides can be hired and equipment rented at the beach. You'll need a guide if you want to find the giant clams; otherwise, you could snorkel alone.
Waterfalls
Inside the jungly interior of the island are some waterfalls, Katibawasan and Tuasan Falls. Katibawan Falls, 75 metres high, is ideal for swimming, and is surrounded by tropical plans such as orchids and ferns. Tuasan Falls are just 25 metres high, but you have to trek the 6 kilometres there, making is a good day trip.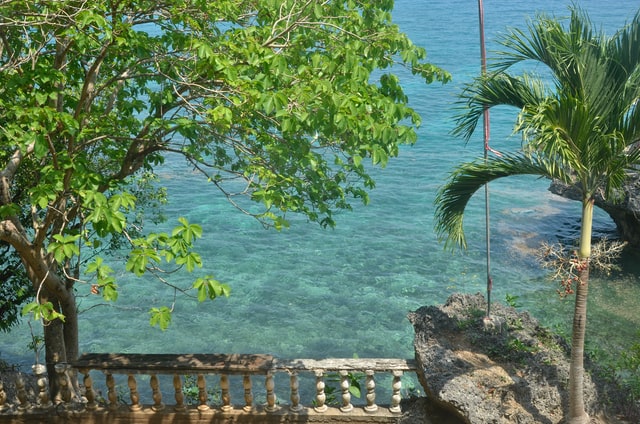 Zip-lining
Camiguin has a zip-lining centre, near the ferry terminal. It's quite short, and there are longer and possibly more exciting zip-lines elsewhere in the Philippines. But this would still be fun if you have a couple of spare hours before or after getting the ferry to the mainland.
Hot and cold springs
Camiguin has both hot and cold springs in its interior, such as the Sto. Nino Cold Spring and the Ardent Hibok-Hibok Spring Resort, with waters of around 40 degrees.
Lanzones Festival, October
Every year, Camiguin holds the Lanzones Festival. Lanzones are small fruits that look somewhat like a lychee, but taste more citrusy. The island grows a lot of them, hence the fiesta. Like all Filipino fiestas, there is a lot of food eating and sharing, dancing—and of course singing. Filipinos love to sing! This is a busy time in Camiguin, so if you're travelling here then, you should book accommodation ahead of time. Camping is also possible at this time, and some resorts will allow it.
Getting to Camiguin Island
Ferries run between Balingoan on the mainland to Camiguin roughly every hour. Balingoan is about a three hour drive from Cagayan de Oro, and buses go from the Agora Bus Terminal. While ferries leave about every hour, they can be cancelled or delayed if there aren't enough passengers. It's wise not to be in too much of a hurry to get there, in case you end up sitting around for an hour or two, waiting for the next ferry.
From other parts of the Philippines you can fly to Cagayan de Oro, about three hours' drive from the ferry port that will take you to Camiguin. Cagayan de Oro's Lagindigan Airport has recently been upgraded to accommodate international flights, though these haven't started yet. From Cebu you can also fly directly to Camiguin.
Where to stay on Camiguin Island
I enjoyed the beautiful Bahay Bakasyunan sa Camiguin. It's an upmarket resort, but not so upmarket that it feels sterile or impersonal. There are two different types of thatched huts you can rent, some slightly older than the others, and all with interesting bamboo and reed detailing.
The grounds are lined with coconut palms, there's a gorgeous pool, and the restaurant with indoor and outdoor seating serves amazing seafood and other Filipino meat specialties (unlike much of Southeast Asia, the Filipino diet is very meat-heavy—I blame the Spanish!) The pool and restaurant looks out over the sea, although there is no beach here. There is also a spa, a games room, a gym and a gift shop.
There are also cheaper homestays around the island, to give you a closer experience of local life on Camiguin. They provide home cooked meals and simple but good accommodation. There are signs outside these homestays, so just try showing up.
Getting around Camiguin Island
Camiguin is not a large island but it's too big to walk around. You can either travel around by jeepney, take a motorella or habal habal, which are all forms of transport unique to the Philippines. Alternatively, you can take a tour arranged by your hotel (the latter being the most expensive, obviously).
This post originally appeared on Wilderness, Metropolis. I was a participant on the Rivers to Islands Fam Tour in Mindanao, as part of the TBEX Asia Pacific 2016 Conference. All opinions are entirely my own, and all links are provided for informational purposes only. Photo by Unsplash.