Two Weeks in the Philippines: A Conversation with Cat Coquillette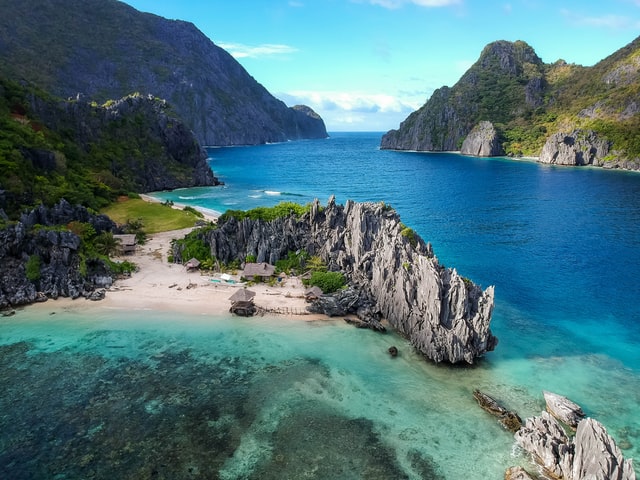 This month, we're interviewing women from all over the world and asking them about their experiences traveling to the Philippines. We had the pleasure of speaking with Cat Coquillette about her experience traveling through the country. Here's a glimpse into our conversation.
Tell us about yourself! What do you do when you're not traveling the world? Where do you live? What made you decide to spend two weeks in the Philippines?
My name is Cat Coquillette and I'm the owner of CatCoq, a design and illustration brand based out of Kansas City. Traveling is a great creative recharge for me. I collect inspiration from my travels and incorporate my latest adventures into my work.
My friend Tiffany and I were both leaving our jobs and starting new ones around the same time, so we synched up our time in between in order to embark on a two-week trip together. We were looking for a destination that would foster our preference for an active trip.
It was an extra bonus if we could find a place that was out of our comfort zones. We honed in on Asia and chose the Philippines because it offered such a great variety of activities: hiking through the Banaue Rice Terraces, biking in Manila, spelunking in Sagada, and snorkeling/kayaking around islands off El Nido.
How long did you go for? How did you spend your time?
I spent six weeks backpacking throughout Southeast Asia overall and kicked off the first two weeks in the Philippines. Tiffany and I spent half our time hiking through the rice terraces in Luzon and the other half island-hopping around El Nido, Palawan.
The two of us can only handle about a day of relaxing on the beach before we both start getting antsy. By packing our vacation with plenty of adventurous activities, we got to experience so many things that we otherwise would have missed if we'd spent our time drinking piña coladas and watching the waves. We kayaked alongside jellyfish, hiked through some of the most stunning landscapes I've ever experienced, climbed down to waterfalls, slept in villages, and watched sunrises in the mountains and sunsets over the ocean.
What were your most memorable experiences? What were the biggest disappointments?
Most memorable: hiking through the Batad Rice Terraces was not just the highlight of our trip, but also one of the most surreal experiences of my life. The jungle parted and the path opened up to the terraces during the golden hour. We could see miles of mountains in the late afternoon light. The path was only about a foot wide along the terraces, with a pool of water on your left and a 15-foot drop to the next terrace on your right.
It was challenging to keep my eyes at my feet instead of marveling at the expanse around me. The terraces were carved into the mountains 2,000 years ago and are still being farmed today. We hiked for eight hours to reach a small mountain village that was accessible only by footpath. We were greeted with so much hospitality– the women prepared dinner for us, offered us a room so we could spend the night, and we learned about their customs and culture as well. It was an incredible experience and made the long hike worth every second.
Island-hopping in El Nido provided so many opportunities for adventures. We snorkeled, kayaked, and swam in the clear waters, and were occasionally greeted by fuzzy brown jellyfish. Our local guide assured us that they did not sting, but we didn't test it out.
While our trip was mostly active, we still managed to weave in a few days of relaxation. We spent one afternoon reading our books on the beach and getting massages, which felt wonderful after lugging around our heavy packs for a week.
Two Weeks in the Philippines: A Conversation with Cat Coquillette.
I believe there is a lot to gain from venturing out of your comfort zone. After two weeks, I was sunburned, sore, and exhilarated. The two of us had managed to navigate through some of the lesser-traveled regions in Luzon, and while things didn't always go according to plan, we left feeling empowered. We'd hiked to the point where our calves were sore to the touch, experienced one of the UNESCO World Heritage Sites firsthand, gone spelunking in a cave that was entirely silent when we held our breaths, and tasted foods that were foreign to our palates. It was incredible.
Biggest disappointment: Things never go 100% according to plan and there's only so much you can plan in advance. Our biggest disappointment was our failed Mt. Pinatubo hike. We drove eight hours to arrive in the province of Tarlac for one purpose: to hike to the crater of the volcano. We arrived late at night, and our hotel was overbooked. The hotel manager took us to "the extension", a concrete block of rooms located in farmland off a dirt road. Our room had concrete floors, walls, and ceiling. There was a small window near the ceiling, out of reach. It was reinforced by steel bars.
Tiffany and I were pretty sure that our "hotel room" was an old prison cell, probably built and used by the military base. We planned to hike to the volcanic crater of Mt. Pinatubo in the morning, but learned that the Philippine Air Force was working on training maneuvers and our hiking path was currently being leveled by bombs and bullets. We ate a glum breakfast and drove to Manila instead.
What do you wish you knew before you went?
Do as much research as you can before you get on the plane. Have a pretty good idea of the opportunities you'll have while you're there, and then talk to locals and get their opinion as well. Be open to adjusting your itinerary as you go. When we got to El Nido, we loved it so much that we stayed an extra day and pushed back our later plans.
Any favorite restaurants/hotels/hostels/sites you'd like to recommend? Tell us what made them great!
The Batad Rice Terraces are absolutely worth checking out. You can ride a nine-hour overnight bus from Manila to Banaue to get there. The city of Banaue is a culture shock in itself. It's a city of 20,000 deep in the mountains of central Luzon. Buildings and homes are built right into the steep mountainsides with stilts wedged into the hill to keep them steady. We wondered how often one just tumbles away down the cliff. It's a two-day hike from Banaue to Batad, but you can also take a bus instead.
Somage Cave was also a highlight of Luzon. It's one of Sagada's most famous caves. Our guide was a wiry fourteen-year-old who shot ahead of us in his flip flops (and with our main light source.) We spent the first thirty minutes scrambling over rocks, using our palms to guide us along the boulders. Soon, we were deep enough in the cave that the bats were reduced to distant chirps and replaced by the trickling of an underground stream. We tossed our shoes and proceeded along the wet cave floor barefoot. I spotted tiny crabs, bright blue and pink, in the clear pools of water. There wasn't a soul around besides the three of us, and we enjoyed the solitude.
Is there anything that women specifically should know before they travel to the Philippines?
Safety was definitely a factor in our trip-planning. The Philippines stood out as a safe place for women looking to travel by themselves. We wore tank tops and shorts in Manila and on the islands, but dressed more conservatively in small villages out of respect for the culture. We hired a local guide to help us navigate through the country and facilitate our day-to-day excursions, which also helped us feel more safe.