24 Hours in Miami, Florida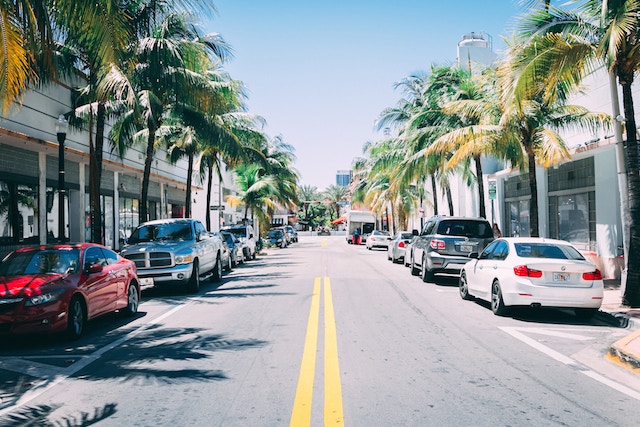 My friends and family don't ask me what I'd like my birthday. Instead, they ask where I want to go for my birthday! Last year, the answer to that question was Miami, Florida. Three of us packed up and headed on our first trip to Miami. You definitely need more than 24 hours in Miami to get the full experience of the city, but spending a full 24 hours relaxing and simply going with the flow was one of the best decisions we made while in Miami.
24 Hours in Miami, Florida
Morning
We started out a little later than normal, so skipped breakfast and instead walked into a coffee and juice bar we had read about, called 10 Fruits. We all fell in love with this cozy spot that was full of healthy yet delicious food options.
Whether you were looking for a whole wheat waffle made with almond milk or a green smoothie, they had it covered. We then began the day at the Port of Miami. You can see cruise ships come in, dock and then carry passengers back out on their next adventure.
Noon-ish
We originally left the hotel to buy shoes for one of my friends who accidentally left her sandals at home. Two items you must have in Miami are sandals and sunglasses. We thankfully didn't have to walk very far to get to the Bayside Marketplace which is full of little shops, stores and restaurants.
This is where we stopped for lunch. Upon the recommendation of some fellow travelers we decided to try some Cuban cuisine, another first for our group. The Mambo Cafe did not disappoint any of us and made our first introduction to Cuban food a wonderful experience.
The outside dining along the marina was perfect for lunch and drinks with friends. The good thing about eating a large lunch at the Bayside Marketplace is that you have plenty of room to walk it off while shopping.
Afternoon
While shopping and walking around after our Cuban feast, we noticed there was a water taxi that would pick up passengers from Bayside and take them to Miami Beach. We had no plans, no kids and no time to be anywhere but where we were at that moment, so we all climbed on and held on tight. The attendant told us about the places we were passing, including which celebrities lived on Star Island. This man-made island in Biscayne Bay is appropriately named, due to the number of famous people who own homes there.
After arriving, we headed out for a stroll along Miami Beach. It took too long.
After arriving, we headed out for a stroll along Miami Beach. It took too long. We realized by the time we made it to the beach we would probably have to turn right back around to get back to catch our return taxi. As we were debating whether to keep going or not, we saw someone ride by on a citi bike.
Even though none of us had been on a bicycle in at least 15 years, we downloaded the app and found a bike, for a scenic tour of Miami Beach. We also made it to the beach and back with time to spare before it was time to catch the water taxi back to Bayside Marketplace.
Evening
I was given a recommendation to try Havana 1957 while in Miami (specifically the branch on Española Way). We wrapped up the day by going back to the hotel, getting ready for dinner and heading to this busy place. We were able to secure a reservation through Open Table and it was good that we did, as the place was packed. The food was delicious, but my favorite item was a mojito garnished with a real sugar cane stalk. It was by far the best mojito I've ever had.
The best days in life are often those that are not planned.
After dinner, we explored Española Way, and danced the night away at Señor Frogs, which was a few blocks over.
The funny thing about this 24 hours was that it all began because one person needed to buy sandals. The best days in life are often those that are not planned.
24 Hours in Miami, Florida Related Reading
A Solo Traveler's Guide to Miami
Have you traveled to Miami, Florida? How was your trip? Email us at [email protected] for information about sharing your experience and advice with the Pink Pangea community. We can't wait to hear from you.
Photo credit for 24 Hours in Miami, Florida Jodi K.