A Winter Road Trip to New Mexico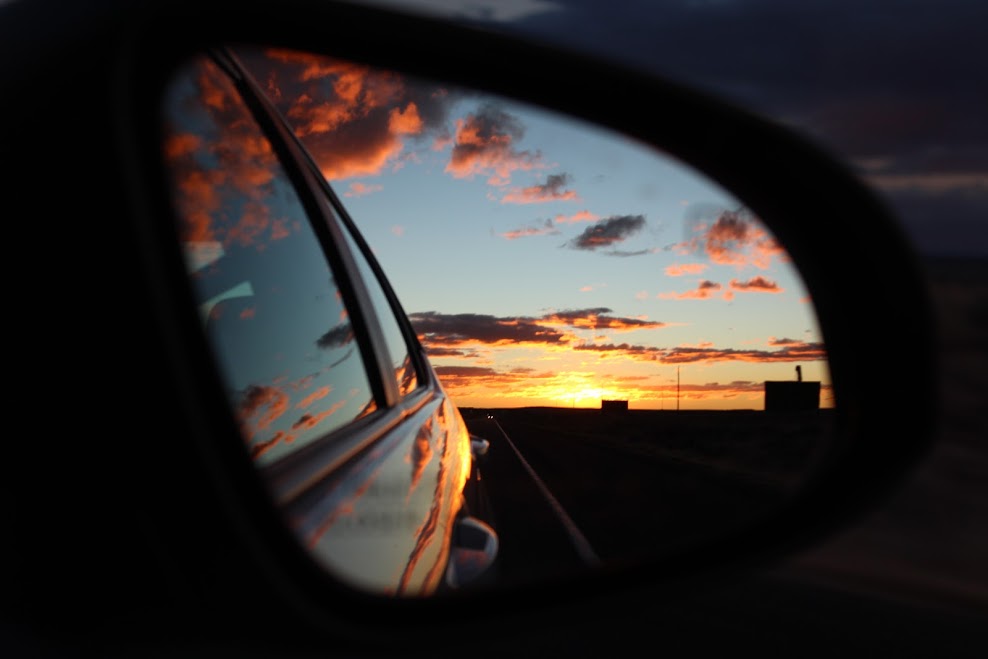 My friend and I decided to go on a winter road trip to New Mexico. I had previously been to Santa Fe and Albuquerque, and wanted to explore more of the state. During this trip, we visited Santa Fe, Bandelier National Monument in Los Alamos, Alamogordo, White Sand Monument in Tularosa Basin, and Dripping Spring Natural Area in Las Cruces. As I am writing about this journey, I feel I am back on the road again.
The floating clouds in the sky looked like chunks of cotton candy. The most beautiful time was during sunset, when the colorful, dense clouds formed into different shapes and covered the whole sky. I stared at the fabulous sunset over these snow covered rugged mountains. No matter where we went, we were always surrounded by great mountains which made the time spent on the road enjoyable.
A Winter Road Trip to New Mexico
Santa Fe
Santa Fe is a melting pot of Native American, Mexican, and European cultures. This lively city is warming on a freezing cold December morning. The busy downtown streets offer an unforgettable site of pueblo-style buildings with strands of chill peppers hanging from them. Downtown is filled with art.
Displays of modern and contemporary arts and jewelry fill the storefronts, and bronze sculptures and street artists liven up the sidewalks. All the while, one could hear pure joy in the children's laughter as they were entertained by the city's pigeons.
We met two artists at an art gallery on the famous Canyon Road. We shared ideas about artists, authors, and the fact that there is a story behind every piece. They also talked about the delicate balance that exists between putting one's heart and soul into an artwork and trying to make a living through art.
It reminded me of my own life decision. I chose academics over art school, but graduated with a college degree. On the Canyon Road, we came across a peaceful Buddha sitting in the warm sun. He was one of the many pieces of art at a Tibetan gift shop down the street.
Bandelier National Monument
Our next stop was Bandelier National Monument, located in Los Alamos. It was the highlight of our trip. This monument preserved many ancient pueblo settlements. We climbed up and saw each ancient site. It was like traveling into the old times.
Within the park, the most amazing place is the Alcove House in the Frijoles Canyon. It was 400 feet deep, in order to get to the house; people have to climb several steep ladders.
White Sand Monument
White Sands National Monument was our next destination. On the way, we were stopped and searched by a policeman who seemed to have his mind set on ruining our day. He kept hassling me about my visa and the fact that I absolutely had to leave the country once it expired in eight months' time. It was quite an unpleasant experience and made me feel more of an alien in America.
That was all behind us once we got to the park, however. I cannot find the words to describe the scenery. It was absolutely breathtaking. It was a vast and magic land. We heard that it had snowed the day before but we could not distinguish snow from sand.
Children played around the sand dunes. Some were sledding down the dunes; others were simply strolling in the white world. We drove further into a less crowded part of the park and ran around the dunes barefoot as happy as we could be.
Dripping Springs Natural Area
It took us a long time to find Dripping Springs Natural Area; even the GPS failed. Dripping Springs has four short trails, surrounded by Organ Mountains. We took the four-mile loop: Pine Tree Trail. The trail was dirt, flat, with weeds and heavy bushes growing on the wayside. Some places were covered with snow and ice. The trail led us to a narrow canyon. On the way, we saw the rolling mountains shrouded in the misty morning fog.
We passed by a little shabby cottage. In this place, according to the sign at the site, there was "a two-story 14-room hotel with dining and recreational facilities". Colonel Eugene Van Patten built this resort in the 1870s. It was a popular place and attracted many tourists.
A Winter Road Trip to New Mexico
Later in history, this area became a sanatorium for tuberculosis patients. In the 1920s, the place was on the decline and the sanatorium finally shut down. In front of us there was nothing but ruins and wasteland. Later, when the clouds drifted away, the strong sunlight made the view even more spectacular.
Many people may think of drug and alcohol problems when they talk about New Mexico; however, for us, New Mexico is a land of enchantment with very friendly people. During our short visit we did not encounter the dark side of New Mexico. I really had a wonderful time there.
A Winter Road Trip to New Mexico photo credit: Unsplash. Have you traveled to New Mexico? How was your trip? Email us at [email protected] for information about sharing your experience and advice with the Pink Pangea community. We can't wait to hear from you.