Discovering Toronto's Beauty Scene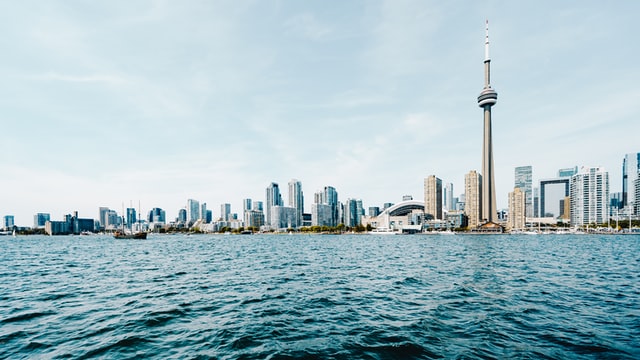 I recently returned from a trip to the Great White North— Canada. This was my first trip outside of the United States since I moved back from Israel in the winter. I was so excited to discover all of the local beauty products that Canada has to offer, and see winter before summer comes.
Toronto has much natural beauty in itself with forests, water, and green parks; it also has urban beauty with hip architecture and modern street sculptures. The beauty that the city holds is translated into its vast natural/non-toxic beauty scene. Before going to Toronto, I researched the local brands that I wanted to check out. I am somewhat of a beauty junkie, and I always seek out small, local brands while adventuring in a new place. On this trip I had a big plan for all of the things I was going to purchase and stores I was going to visit.
I pre-booked a facial at Pure+Simple Spa Eglington, as my acne flairs up this time of year so I always try and get a good clean out. The facial was 60 minutes, and the esthetician was very knowledgeable about skincare and extractions. She also had moved to this hemisphere from Israel, so we had a lot in common. My skin was glowing afterwards, she was gentle but quite effective at clearing out all of my congested areas.
The spa also had a retail area where they sold some local brands. I picked up a mascara from FitGlow Beauty (from Canada's Niagara region), along with some cool makeup remover wipes from Kaia Naturals (from Toronto). The wipes can be planted in soil and will bio-degrade in 70 days.
Discovering Toronto's Beauty Scene.
I searched for a couple more items after my spa appointment. I found a yummy coffee scrub from a Toronto brand called LoveFresh, at a book store called Indigo—the Canadian version of Barnes and Noble. On my walk back to the apartment I stopped by a small skincare store called Consonant Skincare. I saw bright, colorful boxes in the display window and was curious. They were bath bombs! Who doesn't love to watch a good bath bomb fizzle up? I purchased three, as there was a special 3/$21CAD. The scents were very fresh and the fizzing action was fun.
My husband's aunt is an artist and she shows and sells her work at a cool art co-op (called DESIGNnook), where the artist pays for wall space, and then make 100% from the work they sell. She is very talented and her stuff sells fast, and as we were helping here I saw a small beauty space called rawkoko. I found a cool solid makeup brush cleaner inside a small plastic container. The instructions said wet, swirl, rinse and dry. I thought this was a great, local find and purchased it. I have since used it and think it is great.
The last beauty buy I found was a fluke.
The last beauty buy I found was a fluke. I went on a city nature walk with my husband's family. We walked from their house in the suburbs through a forest, and ended up in an old converted factory called Evergreen Brick Works. It has been converted into a restaurant, activity museum and organic shop. At the organic shop, I found a local, natural brand called Bridlewood Soaps. I ended up buying a charcoal detox face mask, which you add liquid to, make a paste and apply to your face. It was cool to have something to remember the hike that I can use weekly.
Toronto really offers a lot for lovers of non-toxic beauty. I found such great products at very reasonable prices. I highly recommend that all traveling beauty gurus get to this city and explore all that it has to offer.
Photo for Discovering Toronto's Beauty Scene by Unsplash.