Touched by Tulsa, Oklahoma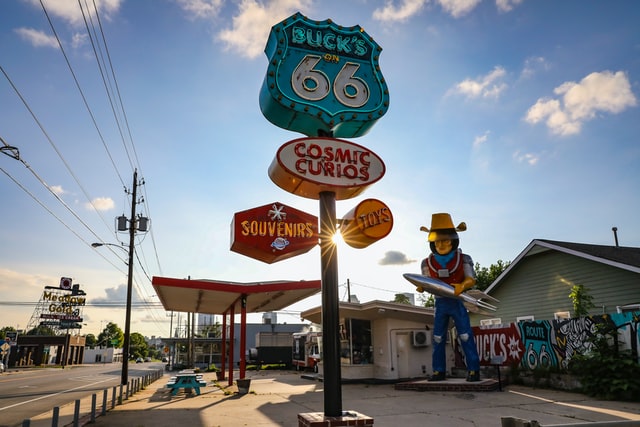 Until a town touches your heart, it remains just one of many places on our planet. You may visit many times, or even live there, without ever truly seeing its significance. I recently took a two day trip back in time through Tulsa, Oklahoma. I have lived in the area for over thirty years but I had never seen it like this before.
To begin my journey, I started at 18th and Cheyenne. I stood on the hill and under the shade of Council Oak. I was standing on page one of Tulsa history. In 1834, after being forced from their homeland, a group of Mvskoke Indians and black people arrived here. They had been herded like animals and forced to walk to Indian Territory (now Oklahoma) on the Trail of Tears. Once they arrived, they arranged their campsites under and around this very same Council Oak Tree. They originally called the spot Tulsi. Today, there is a large campfire-shaped monument. In its center, long flames reach to the sky to commemorate their journey and their presence.
Close by is the oldest house in Tulsa. It is the parsonage of Rev. Sylvester Morris, an Indian Territory Methodist minister. It is believed to be typical of the homes built in the 1880s. Originally built at 400 Cheyenne, it has since been moved to Pioneer Park.
Until a town touches your heart, it remains just one of many places on our planet.
Also at this park are two very weathered stones. One lies flat and has the names of approximately 164 families carved in it. The other stands upright and has an inscription written by J.M. Hall. It marks the founding of the Pioneer Association, and the barbecue picnic held there for the occasion on September 21, 1921. Mr. Hall built the first post office in Tulsi and changed the town's spelling, so is considered the father of Tulsa.
What struck me about this park is the simplicity of the cabin compared to modern-day homes. I feel sadness as I reflect on the common practice of having picnic barbecues with neighbors and friends. The chiseled names of the individuals present that day in September helped them become real in my mind. I had no doubt that while they gathered here, they were talking and laughing. Their children were surely running, giggling and playing. Yet now they are all gone.
The date of the picnic haunted me too, as it was only 4½ months after the most horrifying date in Tulsa history, the race riot of May 31-June 1, 1921. I couldn't help wondering about the mindsets and conversations of the participants at the picnic.
Touched by Tulsa, Oklahoma.
Not far away is the Greenwood district. This is where the race riot occurred. The Greenwood district really reflects the evolution of Tulsa. There you will find the Greenwood Cultural Center, the Black Wall Street Memorial, the Jazz Hall of Fame (The Jazz Depot), the Center of the Universe, the Artificial Cloud sculpture and John Hope Franklin Reconciliation Park. These places are the most memorable and interesting parts of Tulsa history. Tulsa's eclectic style and nature make so much more sense after visiting these places.
After the riot, few people on either side talked much about it. Presumably the silence was related to shame, guilt and fear. At that time, racial tensions were high all across America, and there were race riots happening throughout the nation. The summer of 1919 was called Red Summer because of all the bloodshed in the country. However, the Tulsa Race Riot was the largest one ever. In roughly 14 hours on the night of May 31st and the morning of June 1, 1921, an area on Greenwood between Archer and Pine Streets, about 35 blocks known as Black Wall Street, was completely destroyed.
Everything about that night and morning is heartbreaking. Black Wall Street was the most successful black community to have ever existed. Because of segregation laws, blacks could work and earn money outside that area, but they could not shop or spend money anywhere except in Greenwood. That meant a lot of money circulated and stayed within that district. Their success was incredible, but generated envy and jealousy.
We all lost something during those horrendous 14 hours of the Tulsa race riot. The area was never rebuilt to its original splendor.
We all lost something during those horrendous 14 hours. The area was never rebuilt to its original splendor, except for the new church that was burned down. That church was rebuilt and still stands today. Tulsa experienced through the heart changes you in a profound way. This is a city that portrays a unique history but also in many ways mimics the story of how America evolved.
Photo for Touched by Tulsa, Oklahoma by Unsplash.