Passionate Authenticity in Málaga Spain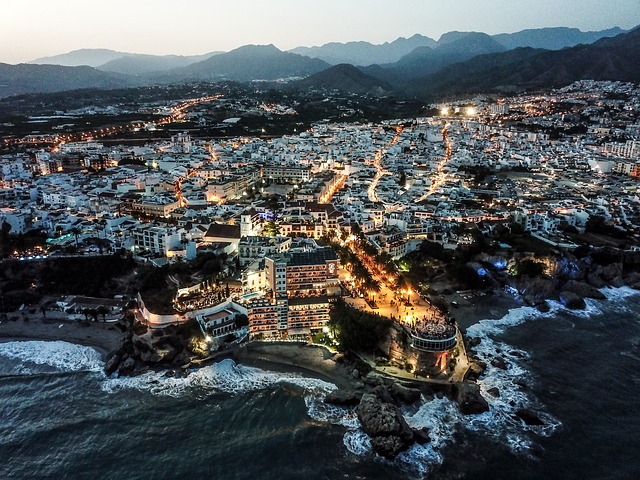 I spent about three months in the picturesque coastal town of Sitges (just outside Barcelona, Spain), recuperating from two years of backpacking and a lethal breakup. The humble paradise nursed me back to whole. I thoroughly enjoyed the vivacious locals and fresh wine from the barrel, and frequented the cannabis cafes. Sitges had served its purpose; I had fully recharged and was ready for more action.
Then one day my iPad buzzed, I accepted a Skype call from an attractive German backpacker I had met in Australia. When he told me he was heading to the south of Spain, I didn't miss a beat sending him my address for pickup, no questions asked. I jumped in a caravan with my friend Manu, who had also picked up two Slovenian hitchhikers. Our goal was to reach Málaga, a ten-hour trip south. We were en route to see a very different mood of Spain.
We got in touch with a permaculture property where we could stay, play and create. We made our way to the humble village of El Palo, literally meaning 'The Stick.' We traveled up nearby mountains to the 40-hectare olive farm, which was home to a variety of nomads and wanderers.
Passionate Authenticity in Málaga Spain
An old habit I had of asking others, "Where are you from?" was always answered with sarcasm, as if to highlight the lack of importance of our origins. Some would say, "I'm from Mother Earth." OK, I caught on quickly. People would arrive on a regular basis from every which way, but we all vibed. We sat around the fire, we all beat the bongos, we all gathered in the communal kitchen to make a meal out of the random ingredients we each contributed.
The property was perched atop a mountain range with vast views of the Alboran Sea, the African sunsets in the distance, and the silhouettes across the water of the Moroccan mountains were priceless. The sunsets were so jaw dropping, I reflected on the surreal paintings from the museum of Salvador Dali in Figueres, Spain. Those were not exaggerated sunsets he painted in such striking colors; they were very realistic now that I was standing in front of the display myself.
An old habit I had of asking others, "Where are you from?" was always answered with sarcasm, as if to highlight the lack of importance of our origins. Some would say, "I'm from Mother Earth."
Finally settled, we grew fond of our living arrangements: in a caravan without power, on the mountaintop in an olive farm, with a bunch of mysterious strangers and a neurotic rescue pup. Totally normal. We became acutely in tune with the happenings of the sun and the moon, the weather and temperature at all times. We depended on it. The freedom from charging devices and wasting time in front of screens was the epitome of the simple life. I sought to remove and purify the city that was ingrained in my essence. I didn't know what to do with so much free time and nowhere to rush to.
We were among genuinely free people. These folks were free from the constraints of titles, roles, jobs, expectations, bills, social status and all responsibility as civilization would know it. This is not to say all of Spain or all of Málaga lives this way, but it is available there. Not only in Málaga: I experienced similar lifestyle freedom in Granada and again in Tarifa. They mystified us with their poetry, their traditional theatrics of stories and dance, group hugs and generous affection. The experience was comparable to a detox from a life committed to conformity.
On New Year's Eve, Manu and I accompanied a pair from Austria to the famous climbing site of El Chorro. I am not a climber, but this place is truly a spectacle. I come from flat and sunny South Florida. El Chorro blew my head off my shoulders with insane peaks, deep valleys, intimidating forests and an array of climbers from all over the globe.
They danced as though their lives depended upon it; maybe they did. Time stood still. When they bowed in thanks, I wished it wouldn't end.
Full of hope for the new year, we returned to our caravan in El Palo. The style in Málaga was influenced by Moors, and is one of the oldest cities in the world, with many historical landmarks. I marveled over the blend, where rustic meets beaded elegance. The notable industrial feel of the city also brought a serious tone to the air in comparison to the charm and lightheartedness I found in the people.
Many members of our community were involved with La Casa Invisible. This establishment housed artists, engineers, inventors and visionaries of all things creative, political and relevant. La Invisible's existence was threatened by the government during the economic crisis, along with many additional nonprofit organizations and properties. The resistance to this political movement was one of the most memorable days of my life.
I walked alongside Adrian, who I met on the olive farm. He vibrated an immense energy that was magnanimous, musical and awe inspiring. All walks of life joined the resistance, young and old, rich and poor, foreign and domestic. It was a sight to behold. Marching bands pounded out music that made your chest throb, groups chanted in unison, bongos were beaten, guitars strummed, dancers twirled. All the streets shut down in obedience, including the main road, the lifeline of central Malaga's commerce and commute. The streets filled with pedestrians in peaceful defiance of their governing body.
Passionate Authenticity in Málaga Spain
When we arrived at the foot of the government chambers, armed guards tried not to look so amused as they watched the show below them. Adrian pushed us to the front row of the crowd in opposition. There was a podium and a microphone, but no one approached it. It went silent. Thousands of people stood hushed, waiting. Then the music started, loud as can be. I saw the two of them, him and her, dancing a flawless tango. We all watched, mesmerized by their grace and intentions. They danced as though their lives depended upon it; maybe they did. Time stood still. When they bowed in thanks, I wished it wouldn't end.
Big mamas in matching red shirts conquered the platform, grabbing the microphone and delivering a passionate and mind-bending call to action to protect the communities. If anyone knew how to invoke conviction it was the big mamas in red. When they finished, the crowd thundered, encouraging and provoking speaker after speaker. I remember thinking.. there's no way the government could oppose such a movement. Scanning the crowds, I could see countless children and elderly and everything in between.
Spain spoke to me and woke me up.