How to Spend 4 Days in Vienna, Austria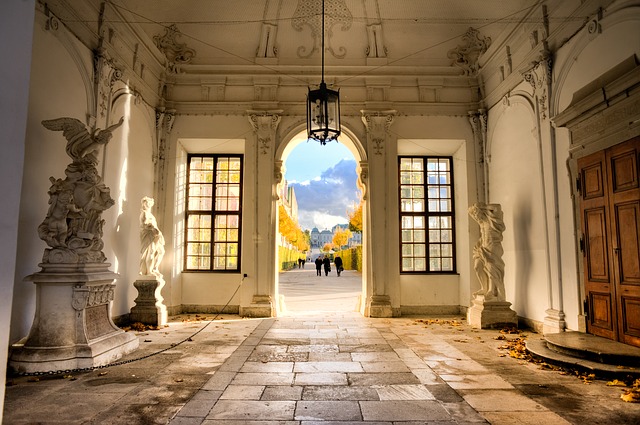 Four days in Vienna can be terrifying–is this enough time!? I landed in Austria prepared with a list of things to see and eat, thanks to an Austrian friend. Here are seven things you should do in Vienna if you find yourself there for just a long weekend.
How to Spend 4 Days in Vienna, Austria
1. Eat a sachertorte at Hotel Sacher
Vienna's traditional desert is the famous sachertorte, a chocolate cake filled with fruit jam. The line may be long at the Sacher Hotel, but it is worth it. It's one of the chicest places in Vienna. The waitresses wear the classic Austrian tenue.
Address: Philharmoniker Str. 4, 1010 Vienna.
2. Ride the ferris wheel at Prater
Although it might be cold during winter, Prater's roller-coasters are open all year round for those who dare to ride them! From the swings I saw the nicest sunset and a panoramic view in Vienna. Tip: bring gloves and put on warm socks!
3. Get drinks at Albertino Passage
Margaritas, lychee martinis–whatever your favourite drink is, Albertino Passage has it! This jazz lounge and night club really has it all; the music will have you dancing and the drinks will leave you wanting for more.
If you are planning to go to there, make sure to call before to reserve. Don't forget to take a picture of the stairs as you leave, as these pink neon lights are not seen everywhere!
Address: Opernring/Operngasse, 1010 Vienna.
4. Brunch at 57 Restaurant & Lounge 
How does brunching on the 57th floor of a restaurant sound to you? Not only will you be eating with a view across Vienna, but you will also be served delicious champagne, entrees, meals and desert. 57 Restaurant has it all. I hope everyone gets a chance to visit because it is truly incredible. Sunday brunches are particularly good, so don't forget to put on your heels and nicest outfit, and make a reservation!
Address: DC Towers, Donau-City-Straße 7, 1220 Vienna.
5. Visit Sisi's Palace
If you've seen Romy Schneider play the role of Sisi, Princess of Austria, then you'll want to check this out! Visiting the palace will give you an insight into Austrian history, and the architecture and art are amazing. Make sure to get your tickets online or you will have to wait about an hour to tour the palace. If you visit during Christmas time, the entrance will be filled with a Christmas market, where you can buy pretzels, chocolate and other delicious things.
Address: Schönbrunner Schloßstraße 47, 1130 Vienna.
6. Have breakfast on a boat at Motto Am Fluss
What's better than having scrambled eggs and pancakes on an indoor boat in the city of Vienna? Nothing! Even if you're not a morning person, put on your cutest outfit, pick up your camera and head over to Motto Am Fluss, where you can try the most delicious hot chocolate. This place is cozy, charming and you will want to stay the entire day, sitting and looking out at Vienna through the windows.
Address: Franz-Josefs-Kai 2, 1010 Vienna.
7. Take the train
Say goodbye to Uber and taxis and hello to the train and subway! When visiting a new country, it may be scary to take the train for the first time: you don't know where you're going and the language is foreign to you. But grab a map, get lost and figure out your way. The subway line in Vienna is pretty small so there's no reason you should get too lost!
How to Spend 4 Days in Vienna, Austria Related Reading
What I Learned Going to the Vienna State Opera Alone
3 Incredibly Unique Vienna Museums
Paragliding over the Austrian Alps
Have you traveled to Austria? How was your trip? Email us at [email protected] for information about sharing your experience and advice with the Pink Pangea community. We can't wait to hear from you.
Photo credits of How to Spend 4 Days in Vienna by Jodi Marie Smith.