What You'll Want to Know Before Your Trip to Ancient Rhodes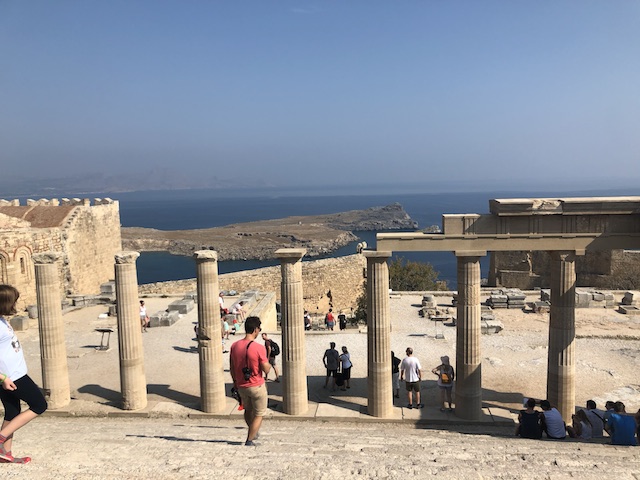 Life is all about priorities, and years ago I made it a priority to do what I really want to do — travel. I absolutely love exploring a place I haven't been to before and getting to know a different culture. I traveled to Corfu a few years ago and have been wanting to explore some of the other Greek islands since, so this September, I booked a last minute trip and traveled to ancient Rhodes. In fact, I was excited to explore the island, get lost in the old city and indulge in Greek food.
There were a few surprises along the way that I wish I knew before I went. Here are few things you'll want to know before your visit to ancient Rhodes, Greece.
What You'll Want to Know Before Your Trip to Ancient Rhodes
Your airport experience might make you want to turn around (don't do it).
The airport is small and somewhat chaotic. The entire island is only about 50 miles long, so the size shouldn't be surprising. September is a busy month in Rhodes (the weather is ideal) so the airport was packed when we arrived. The customs agents were not friendly and I was shocked to see a woman get yelled for standing out of line. And when I say yelled at, I mean YELLED AT. To top off the long line (over an hour) at customs, the wait for our suitcases was close to two hours.
When we left, our flight was delayed and, once again, we spent way too much time in the airport. Expect some organized chaos, and you'll be okay. The trip is worth the airport experience (although it might not feel like it at the time) and I already have plans to go back.
You will likely get lost in the stunning old town of Rhodes.
The Medieval City of Rhodes was named a World Heritage Site in 1988. I absolutely loved the vibrancy of the old town, especially away from the main tourist streets. Even with Google maps, you'll likely get lost wandering through the alleyways and shops. It's part of the fun. Spend the day walking (and eating) through the ancient town and fall in love with it's beauty.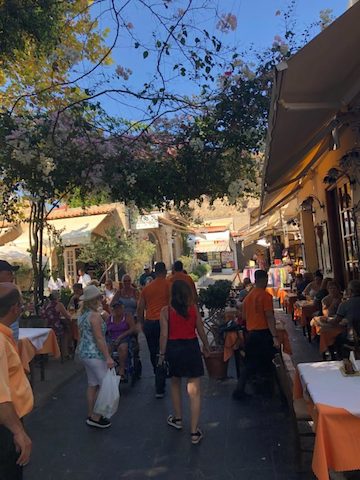 It was built by the Christian military order Knights Hospitalers and is one of the best preserved medieval towns in Europe.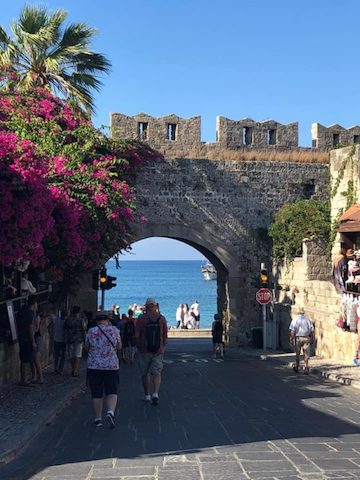 The hike up to the acropolis of Lindos is worth it.
The Acropolis of Lindos, which was one of the three early city-states until the merger into the new city of Rodos in the 5th century BC, is worth the trek. Yes, it's quite a hike to get up there.
Walking around the acropolis, you can feel the history.  It was extremely hot out the day we visited Lindos and I almost skipped the hike up to acropolis, but I'm so glad I stuck with it. These were once in a lifetime views.  Here are few photos we captured at the top: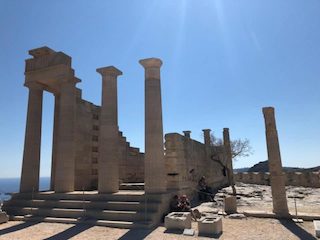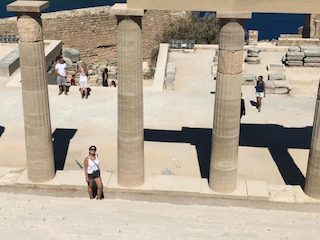 We took the bus to Lindos and had a good experience– it was air conditioned and comfortable. You can rent a car, take a taxi or bus.
The ancient Island is as romantic as you want it to be.
I traveled with my husband to ancient Rhodes, and while we found other Greek Islands to be overrated, Rhodes didn't disappoint. When doing research for the trip, I spoke with Christy, who traveled to Rhodes in November 2016 with her husband.
She took a picture of the view – with the perfect blue water – and told her husband that she wanted to enlarge the picture and put it on the wall of their living room when they got home so that they could feel like they always had that incredible view! Here's the photo that's now hanging their living room: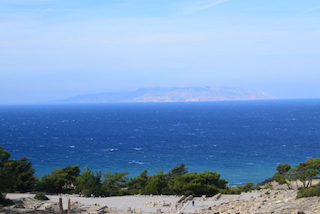 Visit the Anthony Quinn ?each — it is Gorgeous.
We decided to rent a car and drive around the island to visit all of the recommend sites. Our first stop was the beautiful Anthony Quinn beach. It's small and looks like a beach that one of Agatha Christie's novels would take place at. You'll probably only need a couple of hours there because there's not much to do, but it's worth a stop! Here's a photo from our stop: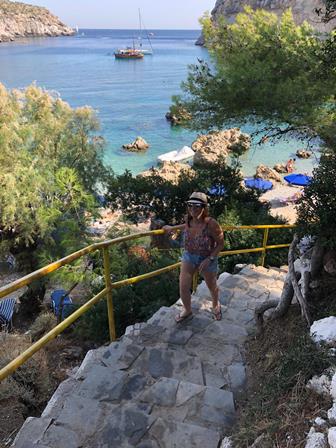 What You'll Want to Know Before Your Trip to Ancient Rhodes
Don't Visit the Seven Springs
The guidebooks will recommend it, but don't do it! There's absolutely nothing to do there. We read that there was a hike to a beautiful waterfall, and when we got there we thought we were in for a treat. The parking lot was PACKED. So, we started the hike. It didn't look exciting, but we thought it get better as we walked.
The path was barely a path. It was hot. There was nothing to see. No waterfall. No pretty view. Nada.
It was a waste of time, and somewhat dangerous. The only reason it's opened is probably so that there restaurant would make money, and it did.
Rhodes is a great destination for foodies (including vegetarian & vegan travelers).
If you love Greek food you'll want to visit ancient Rhodes. The food is fresh, simple, and clean. If you're vegetarian or vegan traveler, expect to be in good hands.  Many Greek dishes are vegetarian and some restaurants serve vegetarian versions of meat dishes, such as moussaka. For information about vegan eats in Rhodes we recommend visiting www.thenomadicvegan.com.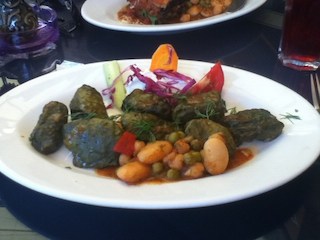 I'll be back in Rhodes this October to lead a writing retreat and plan to make this a yearly trip. The Island is perfect place to relax, enjoy, write and get inspired.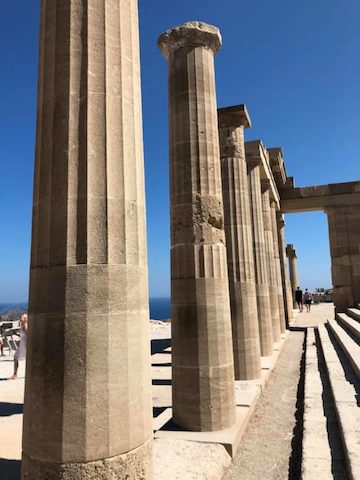 What You'll Want to Know Before Your Trip to Ancient Rhodes Related Reading

Have you traveled to ancient Rhodes? What were your impressions? Email us at [email protected]pinkpangea.com for information about sharing your experience and advice with the Pink Pangea community. We can't wait to hear from you!  
What You'll Want to Know Before Your Trip to Ancient Rhodes photo credits: Jaclyn Mishal