A Deeply Moving Seaside Stroll in Sitka, Alaska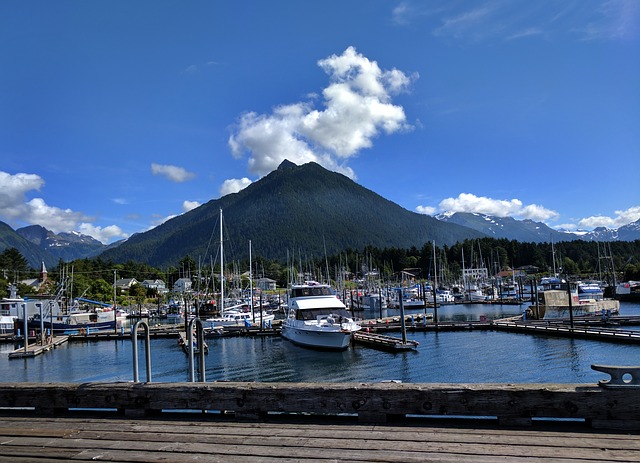 We're cruising through Alaska's inside passage, bridged between late spring and not-yet-summer. My partner and I wear layers to fend off the chill expected on the upper deck, and nudge each other while whales exhale spray in the distance. We peel off a jacket and remove a cap when the sun reappears, as it does intermittently, then reapply warmth when a light mist rolls back in like clockwork. It's quiet up here. Even as we approach the day's destination of Sitka Alaska, with fellow passengers wrapping up breakfast and preparing day bags, there is an air of calm and stillness along the observation deck.
Nature adds a little sound to our journey. Eagles are perched in the surrounding tree line, observant but silent. Conversations are near whispers while we all take in the awe around us. Snow-topped mountains provide a backdrop to vibrant green slopes. As we near the port to dock, a rainbow of painted homes and businesses become our focal point.
Sitka Alaska is a town full of tiny boutiques and eateries, independent through and through. The visitor center provides free walking maps for folks like us who prefer to discover details by wandering. The day is mild. It's accented by a constant threat of rain, though we fare well and never pull out the umbrella as we stroll through picturesque streets and busy our hands with photography.
I sense we could do more. Experience more in Sitka Alaska. And before we even return to our ship we start dreaming of plans for our next stroll around town.
Throughout the town, a mix of Tlingit and Russian influences reveal themselves through totem poles and ornate architecture, respectively. Sitka was first occupied by the Tlingit people, then later by Russians prior to the sale of Alaska to the US. Curious pedestrians flow toward the center of town to examine St. Michael's Russian Orthodox Cathedral, listed on the National Register of Historical Places. A copper dome stands tall and strong, though the building has a long history of being rebuilt after fires.
Nearby, Sitka's Russian Cemetery is blanketed in moss. It's not particularly easy to locate away from the commercial core. But, the hilly parcel of land is worth exploring. More than 1600 graves are here, though time and vandalism have equally worn this place down over the centuries. Sitka reveals itself in layers.
Mariner's Wall is a half mile away along the Sitka Channel. It honors a rich maritime history, while a few blocks away I detour into Old Harbor Books to admire an incredible selection of regional books. There's no shortage of local seafood recipes, historic accounts, and novels set in Alaska.
We're not the only ones to stop and marvel at the shop's centerpiece: a fully-functioning vintage 1895 Chandler & Price printing press, previously used to produce local news. Just beyond the press is a path leading to Backdoor Cafe, where locals and visitors alike warm hands with fresh espresso. I follow suit and take a smoky dark roast for the road.
A Deeply Moving Seaside Stroll in Sitka Alaska.
Our journey continues as we explore Sheet'ka Kwaan Naa Kahidi Tribal Community House. Tlingit dancers share cultural performances here with box drum accompaniment. The craft shop features locally crafted artwork. And skilled guides offer tours throughout the historic town and within the Alaska Raptor Center, a recovery home for injured bald eagles.
My partner and I stroll through Sitka National Historical Park, a mere mile from the center of town. This is Alaska's oldest national park. It is home to a remarkable collection of historically significant totem poles. Guests are greeted by towering Tlingit and Haida totems, while another cluster of visitors eye the carving shed next door where craftsman carve canoes by hand.
We have a full eight-hour day wandering the streets and sights of Sitka, a historic gem along the Gulf of Alaska. Yet I sense we could do more, experience more, and before we even return to our ship we start dreaming of plans for our next stroll around town.
Related Reading
The Truth About Living in Alaska
Have you traveled to Alaska? How was your trip? Comment below to share your experience!