An Unforgettable Night in a Snow Hotel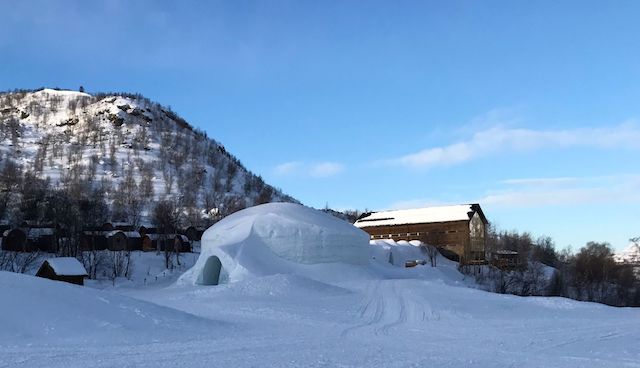 Witnessing the Aurora Borealis has been my dream for years. After some searching for the right spot to view these often-elusive northern lights, I decided to join a friend of mine on a tour of Norway in Winter. The tour started in Oslo and ended in Bergen; it also included a 6-day excursion aboard the Hurtigruten M/S Polarlys, sailing us along Norway's western coast and its famous fjords. We thought this tour should provide ample opportunity to experience the northern lights. Most intriguing, however, was that the cruise started in Kirkenes, in the extreme northeastern corner of Norway, where we would stay a night in a snow hotel.
I'd read about these, but never imagined staying in one.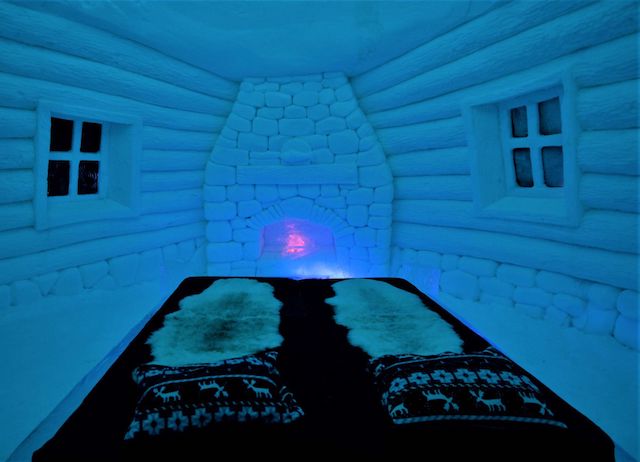 In the weeks leading to the trip, I not only purchased plenty of winter clothing, but I took a night photography course in the hope of capturing images of the Aurora Borealis. So I not only had to pack a tripod, but the recommended items solely for the snow hotel consisted of: long johns, a woolen cap, gloves, woolen socks, and a balaclava, because the hotel held a constant temperature of 25 degrees Fahrenheit (-3.9 degrees Celsius). To make it more challenging, there was a weight limit for the in-country domestic flight.
It looked like a giant igloo with a long snow-covered tunnel extending out of a normal looking building.
After spending two days touring the historical city of Oslo, on day three we boarded an early flight to Kirkenes, near the Barents Sea, and within the Arctic Circle. The town is at the center of the northern lights zone, and the Russian border is so close that highway signs are written in Norwegian and Russian. There are only two ways to reach Kirkenes, either by plane or ferry boat such as the Hurtigruten.
As the plane descended into the Kirkenes airport, I was mesmerized by the white winter wonderland below. There were few buildings and a lot of wilderness. I later learned that Kirkenes has quite a history and was recently upgraded from village to town status due to its port traffic. The Snowhotel team met us at the airport to transport us to our remote hotel.
Upon arrival, after dropping off our luggage, we were given a walking tour of the area. We saw reindeer, and we visited sled dogs, mostly huskies, all friendly and eager for attention. As we approached the hotel, we noticed that it looked like a giant igloo with a long snow-covered tunnel extending out of a normal looking building.
The building apparently was for dining and lounging (and for those who couldn't last the night in the snowhotel). We toured the basement which consisted of a luggage room (we were limited to essentials in the hotel), changing rooms, bathrooms and showers, and a room housing sleeping bags, and baskets containing socks, balaclavas, gloves, etc. We then came to a large heavy metal door, which was the back entrance to the snow hotel.
The hotel is rebuilt every year, and themes change often, except for the all-time favorite of Marilyn Monroe.
As the door opened, one saw a long snow-packed tunnel with rooms on each side, approximately thirty. Each room portrayed its theme in a carving within its snow-laden walls. The wall carvings throughout the hotel were masterpieces given the level of detail. Each room was furnished differently; containing king, queen, or twin beds, in order to accommodate families and children. The beds had regular mattresses with sheets and blankets and were set into ice-blocks in some cases.
The hotel is rebuilt every year, and themes change often, except for the all-time favorite of Marilyn Monroe. Other themes were a log cabin complete with a backlit fireplace. A honeymoon suite with a heart-shaped rose-filled carving overhead. And several rooms depicting characters from Norwegian fairytales, Santa Claus, and other classics. The grand feature was the reception and bar area carved out of ice, to include chairs with furs for sitting. Amazing.
The reception/bar area.
The challenge of sleeping in the hotel was not so much the freezing temperature. It's getting into a sleeping bag and then onto the bed! They provide a human-size pillowcase to assist in "slipping" into the sleeping bag, but it's not quite that easy and we had a lot of laughs trying to until we finally managed.
The bags are long enough to close around one's head, leaving only one's face exposed, which was recommended. Thank goodness we didn't need a bathroom break! Needless to say, sleeping was a challenge, but I made it through the night. For the less adventurous, they do offer heated log cabins with large viewing windows to see the northern lights.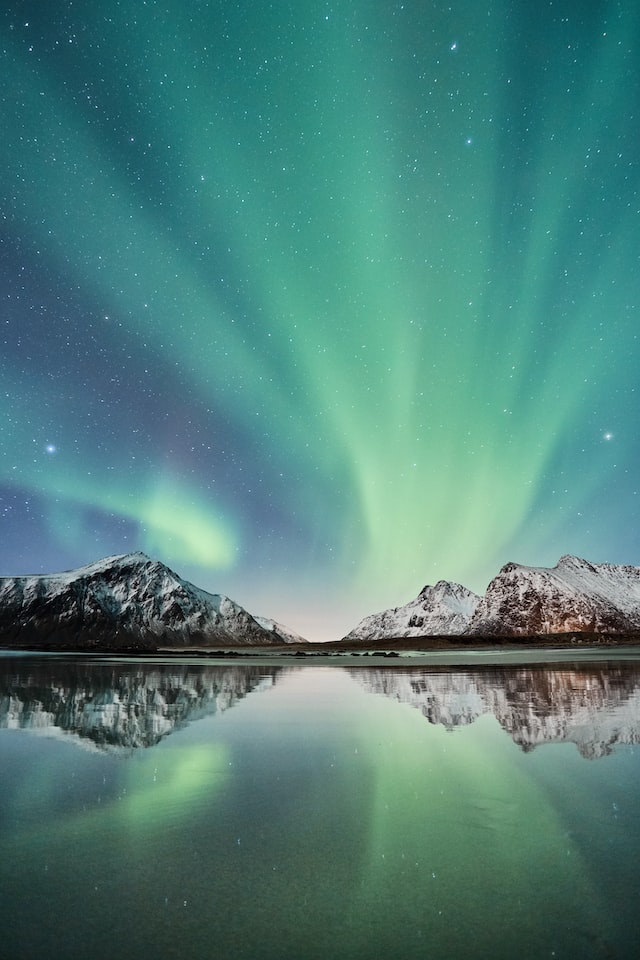 An Unforgettable Night in a Snow Hotel.
Speaking of… we did manage to capture them! We received a great tip from our local tour guide that allowed us to see the lights through our DSLR camera viewer. To the naked eye that night, the sky was filled with white funnel clouds zigzagging across the sky.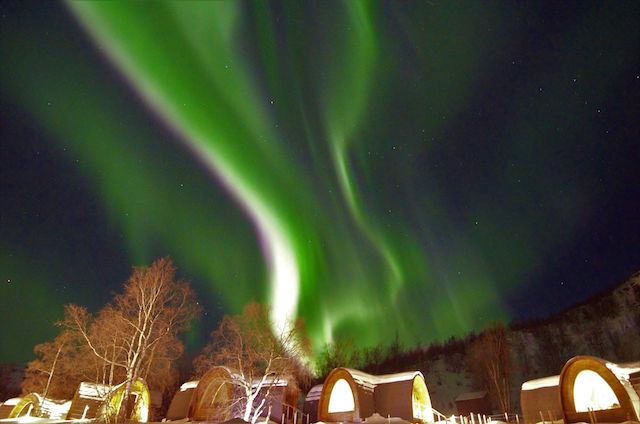 My curiosity peaked, remembering what had been said; sure enough, through the lens the green and purple lights danced for us through the viewfinder! We were extremely fortunate because we didn't see them after that.
Snowhotel Kirkenes offers adventure. Husky sledding. King crab fishing. Snowmobile driving in the winter. And visits to a husky farm, hiking, or riding a "Husky Wagon" along a fjord in the summer. As advertised, Snowhotel Kirkenes "is much more than a hotel of snow or ice, it is the total arctic adventure." I might need to revisit!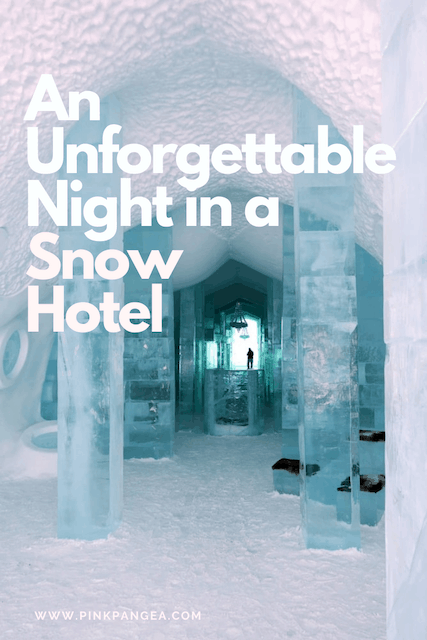 Photo credits for An Unforgettable Night in a Snow Hotel by Cindy Hildner and Unsplash. Have spent a night in a snow hotel? How was your trip? Email us at [email protected] for information about sharing your story the Pink Pangea community.