How to Stay Safe and See Celebrities in Central London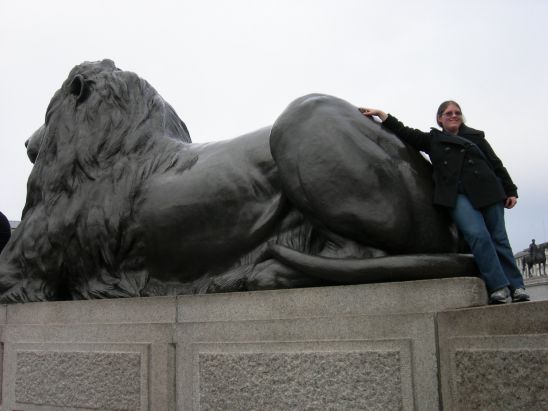 I was lucky to be accepted to my school's Semester in London program for the spring 2010 semester. Living in London for 3.5 months was absolutely the greatest experience of my life. Naturally though, I had a few trepidations about relocating my life to a major city that was in a different part of the world. Honestly the biggest concern I had was unwanted attention from men and general safety. I never once received the famed amorous European male attention lavished on the female who does not want it. In fact I found the men to be very respectful of my space.
In regards to safety issues, I was proactive in not doing things that would make me an easy target. I think the biggest issue in London that anyone had was pickpocketing and skimmers on ATMs. Beware the ATMs located outside on the streets of London as they stand the greatest chance of being tampered with.
In terms of pickpocketing, it seems to be worse on the European continent (the British do not consider themselves European) but again, I was just proactive about my surroundings. Piccadilly Circus is a notorious area for people looking to lift from tourists, especially at night. Making smart decisions about purse placement and belongings is all that is needed to avoid financial issues in London. The same rules apply in London for preventing dangerous situations as they would anywhere else in the world, just be careful, stay in well-lit areas, and be smart about the situations you place yourself in.
Now to touch on all the fun stuff about living London: my flat was located in the Bloomsbury area of Central London. My front door was five minutes from the British Museum, 15 minutes to Leicester Square and its movie premieres (where I got to hob knob with Brad Pitt and Johnny Depp) and 30 minutes from the beautiful Westminster Abbey. Anyone traveling to London should put Westminster Abbey on her list.
The history and the architecture of the Abbey were simply astounding that I went back a few times to experience all it had to offer.
The history and the architecture of the Abbey were simply astounding that I went back a few times to experience all it had to offer. Standing at the tomb of Queen Elizabeth I, arguably England's greatest woman ruler, was the highest point of my experiences within the Abbey. My other favorite place was Portobello Road, located in Notting Hill. Better than Camden Market, it is more affordable and boasts the blue door bookshop run by Hugh Grant in the film aptly titled "Notting Hill."
To get to Notting Hill, take advantage of one of London's many transportation systems. The tube (subway) was by far the cheapest and fastest mode of transportation, although it is best to avoid the hot spots like Covent Garden at certain times of the day. I only took a cab once, which is an entirely different experience in London than in New York. London cab drivers actually have to undergo years of training before they can drive those black cabs. And of course, one of London's greatest symbols is the double-decker red bus.
Every time I took a picture, one of these seemed to appear out of nowhere to ruin the shot, but riding on the second level provides a whole new perspective of London. The city was rolling out new more environmentally sound buses when I was there, so I rarely saw one of the older ones.
I actually ran down a sidewalk at one point trying to get a picture of one. I can imagine I looked like the typical tourist with camera in hand, but hey, I got a great picture. Just a quick note about the red phone booths: they often smell poorly and it is a common sight to see people cramming themselves into one of them for a photo op.
How to Stay Safe and See Celebrities in Central London
Living like a local and going into the grocery stores was pretty cool. Okay so many people would think, "What's so special about the grocery store?" But when you are going to one in a different country, it is an experience. There is variety at any store but there is something to be said about going to a foreign grocery store. A big difference is the non-use of plastic bags. I found London to be an environmentally conscious city, especially in its supermarkets where it was frowned upon for opting for the use of a plastic bag.
Next, know the exchange rate that applies to anything bought in London. Keep in mind that buying something like pasta in a London supermarket can easily be more than what it costs in your supermarket. In my case, the U.S dollar was $1.5 to 1 British pound. Do not let exchange rates scare you though as life is too short to deny yourself an experience. London is simply an amazing place that every woman should put on her list to visit.
There is simply a lot to say about living in London, more than I could say in a few paragraphs but if you get the chance to go: enjoy!