Gardens of Perfect Brightness in Beijing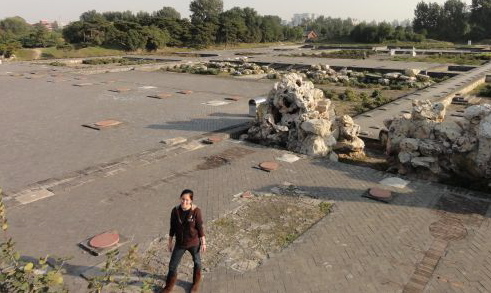 I've seen a lot of Beijing in the four months I've been in the city. I've been to the Forbidden City, Tiananmen Square, Wangfujing, the Summer Palace, 798 Art District, the Great Wall, various Hutongs, the Bird's Nest… the list goes on. My favorite place, though? That would be the Gardens of Perfect Brightness, also known as the Old Summer Palace, or Yuánmíng Yuán.
Located east of the Summer Palace, the Old Summer Palace consists of the ruins of what was once a complex of palaces and gardens where the Qing Dynasty emperors resided and handled government affairs. It is divided into three gardens: the Garden of Perfect Brightness proper, the Garden of Eternal Spring, and the Elegant Spring Garden. The site is enormous; the total area of the Old Summer Palace is nearly five times the size of the Forbidden City and eight times the size of Vatican City.
During the Second Opium War in 1860, British and French troops attacked and burned the Old Summer Palace. In 1900, the palace was further destroyed during the Eight-Nation Alliance invasion. Now, what is left of the Old Summer Palace are stone remnants of the European-style palaces. The Chinese style buildings, as well as buildings designed in the Tibetan and Mongol styles, were completely destroyed.
Today, the ruins of the Old Summer Palace have been turned into a historical site. While there have been proposals to rebuild the gardens, the Chinese government decided to leave the ruins intact as a way to teach future generations about the consequences of foreign power domination.
What I love about the Old Summer Palace is that there is no other place like it in Beijing. In Beijing, there is a sense of modernization just for the sake of modernization. Hutongs, which have always had a historical significance in the city, are being leveled for the sake of expanding apartment complexes or commercial districts. Many important aspects of Beijing's history are slowly being eroded in an effort to modernize, but the Old Summer Palace has been untouched. It provides a snapshot into Beijing's history that no other site can offer on the same level.
The Old Summer Palace is also a peaceful getaway from all of the other famous Beijing historical sites that are overrun with tourists. There is a powerful sense of being surrounded by history with every beautiful garden and each breathtaking stone ruin. It is an oft-overlooked quiet sanctuary in the hustle and bustle of Beijing, and is by far and away my favorite place in the city.