My Stint as a Campsite Courier in France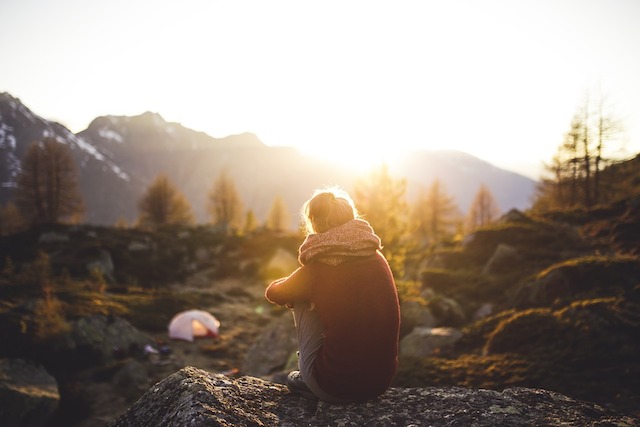 In 2005 I was working for a British travel company at their staff training facility in the Netherlands when I was offered the opportunity to finish up my summer with a six-week stint as a courier (a general assistant) at one of their resorts in the south of France.
I know. That's a lot of places in one sentence.
Here's one more: Ireland, the home I didn't want to go back to yet. The French resort was a campsite called Les Sablons in the town of Portiragnes Plage, near Béziers. It was right on the beach, and that beach was right on the Med. The customers were British and Irish so no French was required, and I was eternally chasing sunshine. Most importantly, what else did I have to do? I said yes.
She took me to my new home, a tent in the couriers' "Live Area" (as in I want to live there and not as in singing live).
The night I arrived, I was met at the gates by fellow courier Emily. She was wearing the standard courier uniform of green shorts, red T-shirt and running shoes, and sporting what I'd soon discover were the standard courier injuries of angry red mosquito bites, spots of sunburn and deeply bruised legs. She took me to my new home, a tent in the couriers' "Live Area" (as in I want to live there and not as in singing live).
I should explain that this wasn't your average tent that you fold up and take camping for the weekend. This tent had three rooms and a little kitchenette, and was identical to the models some of our customers paid to stay in onsite. (The rest stayed in mobile homes or chalets.) I'd spent a few vacations in these tents as a child and so knew what to expect.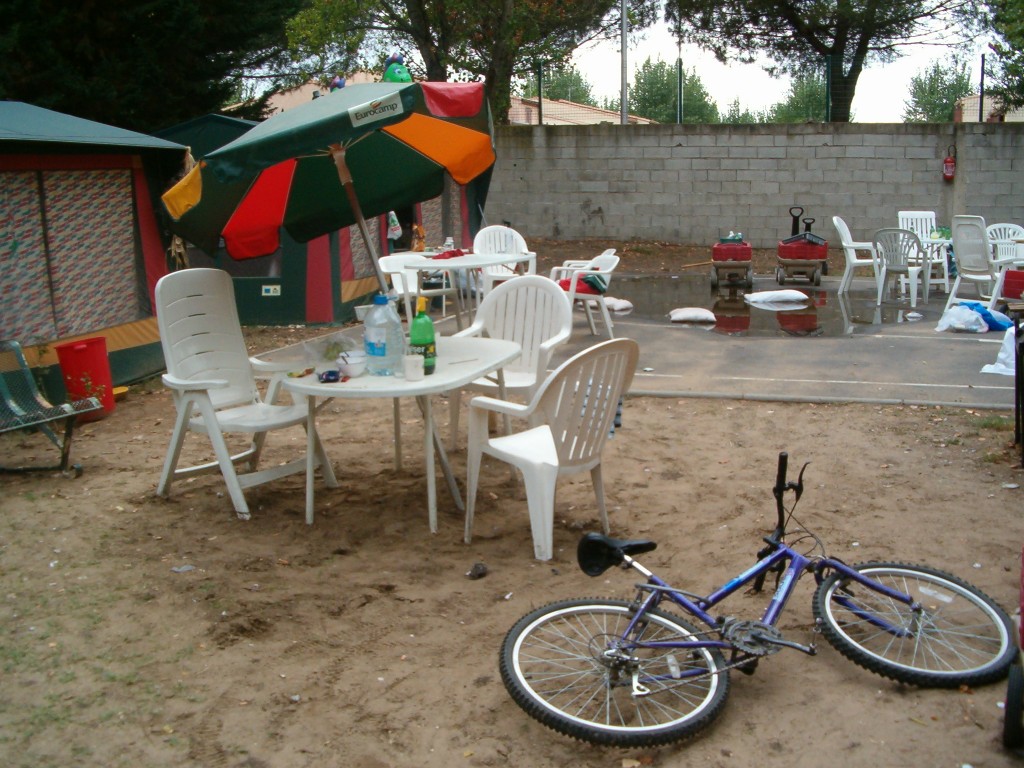 Or thought I did.
I'd never seen a tent quite like this one. The poles were bent, the canvas was torn and dirty, and the zipper on the "door" didn't zip. A sofa jerry-rigged from two folding beds was pushing the larger window out of shape. Sand was everywhere – even in the fridge. Inside my "inner" or canvas-walled bedroom was a camp bed and two stacking crates that could be used as shelves. I'd known that courier-grade equipment was the stuff deemed no longer new enough for customer use, but I hadn't quite expected this.

My Stint as a Campsite Courier in France
But a worse horror was to come: the Live Area in harsh daylight. It had once been a basketball court for resort guests, but now it was just crumbling tarmac and a collection of dirty, damaged tents. The ground was sand mixed with cigarette butts, ring pulls and shards of glass; half-eaten food and plastic wrappers lay discarded on the plastic patio furniture, which itself was cracked and bent; crates overflowed with empty green beer bottles; the designed Cook Tent was filled with flies, grease and putrefying food.
I felt a flicker of panic. How was I supposed to live here? Luckily there was no time to think about it because it was time to get to work.
The average courier day started at nine with a meeting of the team on the patio furniture. Breakfast was a cup of tea and a croissant from the resort bakery if you'd got up early enough to walk there and back. You were then assigned your "cleans" – a list of tents and mobile homes that you had to get ready for new arrivals by twelve o'clock. You were essentially a housekeeper but a poorly equipped one; in my cleaning bucket there was only ever a bottle of generic spray, a roll of kitchen paper and if I was lucky, a squeegee. One a good day you had three or four cleans, but on a bad one you could have as many as six or seven.
There was never time for lunch, only time to change out of your cleaning uniform and into your reception uniform, which meant swapping a plain red T-shirt for one with a green collar as quickly as you could. You'd then cycle up to Reception and stay there until all your expected arrivals had indeed arrived. Showing them to their accommodation involved cycling in front of their car, slow enough for them to follow but quick enough so that they didn't run you over. Afterwards all the couriers would be free for the evening, except the unlucky person whose turn it was to do Night Duty, which meant you had to stay in uniform, stay sober and be prepared to change some gas bottles.
Onsite, we were cut off from the world. Couriers made practically no money (as accommodation was part of the pay) and so couldn't afford many trips offsite, mobile phone credit or anything other than the cheapest beer. Nights were spent hanging around the Live Area drinking, eating and playing cards; luckily after only a few days, you didn't see the dirt anymore. There was no internet access (although this was pre-Facebook, pre-Twitter and pre-feeling like we had to be connected all the time), and our only news from the "outside world" came from red-topped British tabloids.
Still, a few weeks in and I was enjoying myself. My tent-mate, a Dutch children's courier (entertainer) had finished up his contract and so I had the tent – horrible and all as it was – to myself. The team had begun to shrink as we headed towards the end of the season, and the loud-mouths who'd been driving me mad were the first to go. I spent my days lying in the sun on the beach, and even got as far as Montpellier on a day trip.
We grabbed what we could of our possessions and ran to an empty customer mobile home where we settled in to wait out the night.
Then the rain came.
It started around six in the evening, as Emily and I were with another courier in the Cook Tent, making dinner. It was heavy; we had to raise our voices above the din of it hitting the canvas roof over our heads. By the time dinner was ready water was coming in; by the time we'd eaten it, the floor was one big puddle. We watched, open-mouthed, as "Nessie", an inflatable dragon/Loch Ness monster toy we're lovingly nick-named, floated slowly past the Cook Tent's window. Outside, the Live Area was under a half a foot of water. We grabbed what we could of our possessions and ran to an empty customer mobile home where we settled in to wait out the night.
We never moved back out. The storm left our Live Area unlivable, and rows and rows of customer tents flooded and inaccessible. One was crushed by a falling tree. Luckily no one was hurt (although some of our customers had got in their cars and fled during the night), but I was more worried about what was coming: demo.
Demo – short for demontage – was the shutting down period when inventory and tents were packed away and our customer accommodation locked up for the winter. I hadn't been looking forward to it as it was, but now we were going to be doing it in flood water.
My Stint as a Campsite Courier in France
It was the worst three days of my life, then and still. Wearing flip-flops and shorts, I had to wade into a foot of stagnant green water – the flooding had occurred a week before and not yet drained away – and into smelly, damp tents, retrieving and cleaning inventory and then cataloging it before packing it away. Our demo leader was a crazed dictator on a power trip; if I'd been brave enough to bring up the question of health and safety he'd have just laughed in my face. I contemplated going AWOL and making my own way to Perpignan Airport, but the company was paying for my flight home and my departure date was still three days away. I'd no choice but to stick it out.
When I got back home to Ireland, I had a tan, legs covered in bruises and a body that was missing about 30 pounds that it'd had had when it left eight months before. I had some nice memories: my friends onsite, waking up to sunshine every morning, spending my days off lying in the sun on a white sandy beach.
But then my mind would flick back to flip-flops, green stagnant water and dead snails floating by, and I'd think to myself, surely there must have been an easier way to spend some time on the beach.
To read more about Catherine's travels, visit: www.catherineryanhoward.com. Top photo by Pixabay.