Across the Globe: My 50 Flights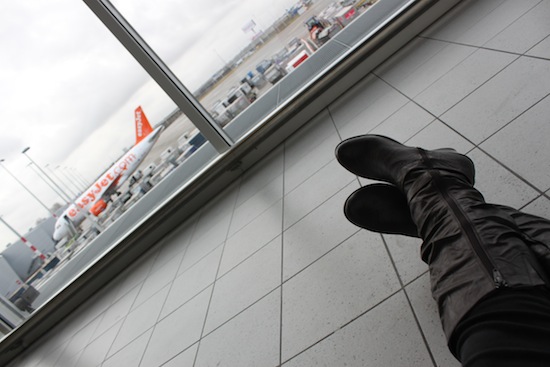 In 14 days I will be on my 50th flight, wondering where I will be on my 100th take off. The list of places and cultures I want to experience keeps growing as I breathe–the to do, to be, to eat, to see lists are long and demand a few lifetimes of dedication, but I am up to the challenge. I will stretch time as I feel the goose bumps generate the "today, a dream and tomorrow, a memory" feeling. The excitement of travel-making plans that simply keep coming are as natural as a river flowing.
Of course adding up the kilometres + air miles + nautical miles = more impressive count, but are somehow not really relevant. All the buses, trains, road trips, boat crossings have always been familiar, even before I could understand the tingly sensation of leaving old Scalabis under a dark starry blanket and waking up as the sun rises in unknown horizons.
Before the age of 18, I could never have guessed that the toddler mouth feeding moments when mummy used to say "this plane is carrying daddy," "the next plane is going to…Cochinchina (some corner of the world you will learn about in school books)," would ever become more than a memory related to a particular interest for bright coloured stars shining above four-year-old me.
Being the only girl of five children can be, to say the least…challenging. Somehow you are expected to enjoy playing with dolls, grow up being a lady and eventually find a four-brothers-approved suitable male. As you can imagine, in some way… only the third one is possible!
The challenge grows … for the parents, as the only girl announces on flight #1: "I am moving to a different country!" It gets easier on the 10th flight with the announcement, "I am bringing a friend home," all through the horrors of "I will be crossing the world to sleep on buses for a few weeks" after flight #20, to which they respond, "You should have been a boy." The hope killer appears on flight #30 with, "Mum, mum I got a new job… in Croatia!!" and then it reappears on the 37th take off on the family flight: "No, you are NOT getting a grandchild as a souvenir," which can only be matched by the "Good girls go to Heaven, Bad girls go to Amsterdam" imaginary t-shirt on my 40th flight.
Somehow the 50th flight announcement of "Where is that again?" leads to future flight suggestions to far away destinations, making me smile and wish I never unpack the woman traveller essential: the dream feeder "winged spoon."