An Affordable Greek Experience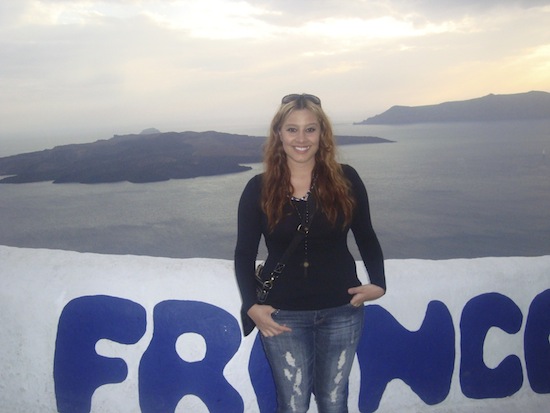 Before you book your next flight or vacation, consider this:
Imagine being surrounded by exotic black-sanded beaches, drink in hand, Greek music gently humming in the background, as you delve into the best dish you've ever had. But this isn't just about the food; it's about the experience. My experience.
My stay in the town (or village) of Perivolos was a time I will never forget. The sights, sounds and eats up and down the Perivolos strip on the island of Santorini, were enchanting. In fact, the reason I vacationed in this area is because it's the most cost efficient destination on the entire island.
In fact, the reason I vacationed in this area is because it's the most cost efficient destination on the entire island.
The village of Perivolos is not as well know as other towns in Santorini like Oia or Fira [towns] that can be somewhat costly, because they are havens for tourists. But if you're a college student (like myself,) staying in Perivolos will cut a lot of your eating and traveling expenses in half. Notably, the studio and restaurant I occupied every night (for almost an entire month,) were warm and beautiful places that ignite the most poignant memories I've experienced in my life.
Meteora Restaurant owners, Irene and Roland, have been enhancing the 'Meteora experience' since 1996. Irene said, "I was only 20 years old when we opened Meteora. I didn't know much, but I knew we would manage, as I've always been young and full of life."
From April to October, going on 2 decades, warm nights full of plate smashing, ouzo drinking and Greek dancing have truly made the restaurant one of a kind. Meteora is the only restaurant on the island that themes each night with a new and interesting experience for tourists and visitors. Featured theme-dinners always under 20 euros: Monday-Greek Night, Tuesday- Greek Buffet Night, Wednesday-Bouzouki Night, Thursday- Fish Night, Friday-Wine tasting Night, Saturday- Kareoke Night, Sunday- Greek BBQ Night.
An Affordable Greek Experience
The one and only Euro-Market in the village of Perivolos offers great prices on all of your needs. From fresh Greek coffee, soap, snacks, etc.. and right next door, mo-peds and quad rentals no more than 20 euros per day.
I booked my flight through Cheapoair.com for $890 USD and booked my studio for the month on Venere.com. Both great websites to consider when booking your next vacation.
Enjoy the beauty of Greece!
An Affordable Greek Experience
Related Reading

Have you traveled to Greece? What were your impressions? Email us at [email protected]pinkpangea.com for information about sharing your experience and advice with the Pink Pangea community. We can't wait to hear from you!