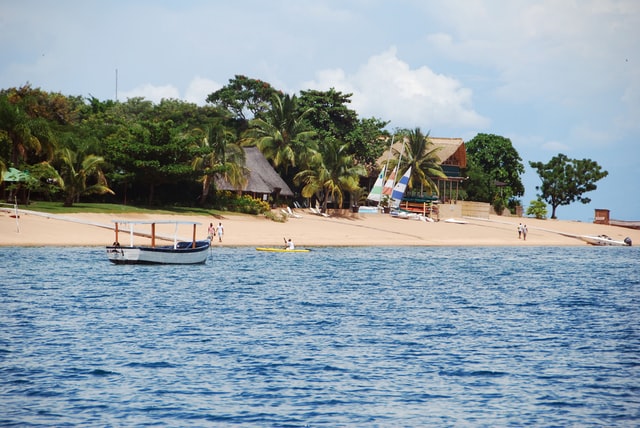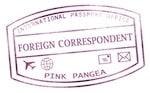 I was terribly excited the morning of Christmas Eve, when I awoke in our big blue tent and remembered what the day promised – the slaughter and roasting of Josie, the medium-sized pink pig we'd been keeping near the ducks for the past week.
See, up here on a rural hillside in Malawi we need to improvise our holiday feasts and often plan ahead — no trips to the grocery store to buy a frozen turkey for us (there is no frozen turkey in Malawi, and the nearest grocery is 90km away). Instead, the week prior to Christmas, one of our Malawian staff had walked 7km up to the mission town at the top of the hill, Livingstonia, to buy such a pig.
Given 4500 kwacha, the equivalent of around $27, she claimed she could bring back a pig big enough to feed 20 people during our holiday celebration. Ignoring the Christmas inflation that had driven the pig price up to double or triple of a week before, she fought long and hard to get us a good pig at the price we required – and returned 4 hours later, triumphant and sweaty, with Josie. She had tied a rope around the animal's back leg, and armed with nothing but a stick, had guided the creature all the way back to the farm – ignoring the will of Josie to return to her previous home.
Life in Malawi.
The farm is not really a farm at all, though it was starting to feel like one around Christmas time. It's an ecologically-oriented tourist campsite, which my boyfriend and I had come to manage after travelling through here last year. Called "The Mushroom Farm" after the large number of local mushrooms that sprout by themselves each rainy season, it's a beautiful piece of hillside located 10km up a road from Lake Malawi, one of the rift valley lakes.
We attract people from all nationalities who are generally pretty cool – there's no public transport running up the only road leading up the hill, and it's one of the worst roads in rural Malawi.
You either have to walk, gaining 700M altitude in 10KM; or wait at the bottom for an undefined period of time to attempt to hitch a ride, a time period that's been getting longer and longer due to the fuel shortage around these parts. We like to say the camp self-selects for cool people – what with the difficult journey to arrive at our doorstep, we don't just get any old traveler/tourist up here.
But once you're here, cold drinks and hot showers await – the first powered by solar (our only electricity), and the second by a fire heating a drum of water.
Anyway, back to our blooming Christmas Eve feast, Josie was not the first pig we'd killed up here. We'd had a good pig roast a few months earlier as a going away party for the owner of the Mushroom Farm. We knew how tough it was to kill a pig, and how long it took to roast over charcoal, and had brought in a few extra villagers to help with the task.
Life in Malawi.
We also killed a chicken, one of 17 egg-layers that we keep around for the eggs; and cooked a bunch of other dishes, including rice, potatoes, sweet potatoes, homemade bread rolls, green salad, fruit salad … need I continue? By the time we sat down – our customers, our Malawian staff, and ourselves – we were hungry indeed to dig into such a Christmas feast.
We had invited our Malawian staff to join us during this holiday meal as a "thank you" for all the hard work they'd done since our being here. We bought them presents for Christmas, uniforms for the ladies in the kitchen and a warm winter jacket for our night watchman.
Yet when they sat down to eat with us, they seemed to feel entitled to getting every last ounce of "gratitude" from us possible. Demanding sodas and piling their plates up high, they proceeded to merely pick at their food and watch the white people (a favorite Malawian activity), intending (as I later found out) to take the food they had received home to their families. No mention of the fact that we had given them half the remaining pig already to take home, and that they had secreted away the fat we were saving for future cooking.
Perhaps because we're younger than them, perhaps because of perceived inequality the rest of the year, they felt as though they'd been given full lead on this day to do as they pleased, to "get what they deserved".
This was not the first time we had encountered this attitude of entitlement from our staff – when giving them gifts, they had told us it was not enough; when giving the much-awaited Christmas bonus, the same. Perhaps because we're younger than them, perhaps because of perceived inequality the rest of the year, they felt as though they'd been given full lead on this day to do as they pleased, to "get what they deserved".
We decided to chalk it up to another cultural difference we wouldn't understand, certainly not the first in the 5 months we had lived in rural Malawi. I won't even start on the difference in work ethic and what it means to have a paying job here compared to back home, which caused a great deal of frustration in our first months here.
The relationship between our older and younger staff members was also puzzling, our younger staff member seeming to garner an unusually large amount of respect from the elder, contrary to the norm – until we learned that our younger staff member was daughter-in-law to the village chief.
The unwillingness of our handy man (no longer working for us) to listen to myself, a woman, was particularly frustrating – given the same direction in the same manner by myself and my boyfriend, he would get up in arms at me (going so far as to call me a "bad man", correcting himself to "bad woman" on one occasion) and meekly do as told by the white male. This power differential between men and women drove me mad for a while, until I learned to ignore it and realized that women do all the work in Malawi anyway.
It isn't all bad, of course, or we wouldn't plan to be here for another 4 months. Christmas Eve and Christmas Day went off without a hitch, the women willing to work hard for the holiday – and New Year's Eve passed quietly, no lights and no promise of fireworks (a concept I tried to explain with little avail to the villagers) leading to the decision to retire early into the big blue tent.
We have learned a little of the local language, Chitumbuka, so different grammatically and in vocabulary from the Swahili I learned in Tanzania a few years ago that I gave up making comparisons. We have overcome, mostly, the logistical difficulties of living 90km from anything big and 170km from the nearest center of government administration (as well as 10km up one of the worst roads in Malawi without petrol) … and keep the camp stocked on vegetables, up to date on taxes (paid monthly at the amount of 17.5% of our income), and most importantly, the backpackers happy.
On top of that, we've been building new campsites, digging drainage trenches to keep the hill from washing away during the rains, and making friends with the various folk who come to try to sell us all manner of things (tomatoes, coffee, honey, mangos, pineapple, and recently a baby baboon and two tortoises) at exorbitant prices (since we're white) which we never pay (since we're smart).
It's interesting to get to see the backpackers' business from the other side, seeing how often I have stood on the other side of a reception desk and booked myself a place to stay.
We got the chance to take a vacation a few weeks back, heading to the capital city of Lilongwe for a little much-needed culture (in the form of a coffee shop and shopping malls) and a lot of much-needed ethnic cuisine (Korean, Chinese, and the delicious burgers from the extremely exotic… South African Fast Food Chain).
It's all part of the day-to-day life of living in a rural, south-east African country – not the excitement you may assume takes place each day, but more about trying to blend in, locally source what we need to get by, and enjoy the life of a lodge owner. It's interesting to get to see the backpackers' business from the other side, seeing how often I have stood on the other side of a reception desk and booked myself a place to stay.
Makes me encourage others to take it easy on those managers they meet who haven't had a day off in however long they've been there, who struggle to manage local staff from a foreign point of view, who can't guarantee enough electricity to power your laptop because it's been cloudy for 5 days …and whose cheese cravings may lead to some erratic and otherwise inexplicable behavior.
From a cliff face on the Great Rift Valley escarpment in northern Malawi, this is Jess Scott, signing off.
Related Reading
How to Thrive in a Malawian Wedding
Volunteer in Malawi: What Convinced Me to Volunteer Abroad
Volunteering in Malawi: 4 Unexpected Lessons
Amazing Women Role Models in Malawi
Travel Malawi: Cycling Holidays Are In
A Trip to Zomba: Exploring Malawi's Ancient City

Have you traveled to Malawi? What were your impressions? We'd love to know if there's any important information you recommend adding to this list. Email us at editor@pinkpangea.com for information about sharing your experience and advice with the Pink Pangea community. We can't wait to hear from you. Photo by Unsplash.
For more about our daily trials and tribulations as managers of The Mushroom Farm, look me up at jpscott.blogspot.com.