The Most Mesmerizing Site: Salt Flats in Bolivia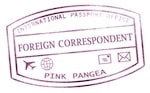 It was not until very recently that I heard about the famous Bolivian salt flats in Uyuni—the largest salt flats in the world! The pictures looked mesmerizing. How had I not realized that this beauty exists? Perhaps I had been missing it because I never imagined I would come to Bolivia. I'm here volunteering with prison children, which I love doing, despite its challenges. But like any job, it's easy to get lost in the daily routine of work. I was excited to plan my trip and to reignite my burning passion for traveling, exploring and discovering.
Deciding the day I would leave was about the furthest my initial plan actually went. The rest I chose to sort out when I arrived in Uyuni. There are lots of agencies in Uyuni and they offer cheaper prices than booking a tour online or from elsewhere in Bolivia. I ended up saving about two thirds of the first price I had been given in Cochabamba, which is great when traveling on a budget as a student and volunteer!
The salt flats look like a magical, white ocean that has never been touched. The rock formations are so mind blowing that you will have trouble believing that they were not manmade.
I took a train to Uyuni, which was an experience in itself and a great way to see remote villages, the landscape and, of course, its many llamas! Being a solo traveler means you often end up sitting next to the locals on public transport. I love this. It's very refreshing to speak to such interesting people, and to exchange life experiences and future plans. They are also the perfect people to get tips from about the area. So embrace the opportunity whenever you can!
I went with a company called Quechua Connections, which I would definitely recommend. We were a group of six plus our driver who was also our guide, cook, mechanic, as well as a generally fantastic person! It was brilliant meeting new people and we laughed all weekend! Times like these really reveal how awesome it is to travel, and in particular, to be a flexible traveler who has no strict schedule and is open to new people and places. My motto is "go with the flow."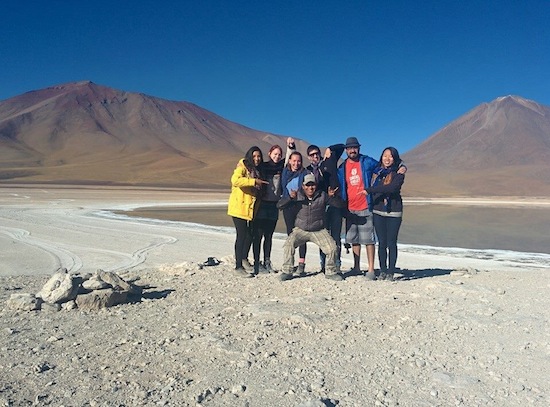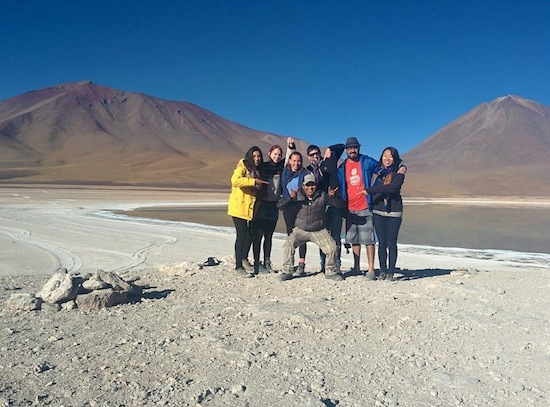 Words, photos and descriptions do not do this natural wonder justice. It really is, as cliché as this may sound, something you have to see for yourself. The salt flats look like a magical, white ocean that has never been touched. The rock formations are so mind blowing that you will have trouble believing that they were not manmade. It is surreal to be shivering with coldness one minute, and to then be bathing in volcanic thermal waters, just as the sun is rising. Even at six in the morning, you will feel wide awake as you stand next to the steaming (and smelly!) geysers. You will find yourself in awe of the capabilities of flamingos that inhabit what seems like "the middle of nowhere" in a natural red lagoon. And gazing up at thousands of stars and the Milky Way above the salt flats will leave you speechless and completely content.
If you come to Bolivia, soak up this opportunity. It is spectacular. There is a lot of time spent sitting in the 4×4 Jeep as you drive for hours through the hauntingly beautiful vastness of the flats, but it's also a great time to be pensive, to take a break from the rest of the fast-moving world, and to absorb this tiny piece of earth.
Top tips for visitingUyuni:
1. Do your research.
Because there are loads of companies to choose from, it's less important to read reviews in order to find the best one to go with.  Instead, it's worth finding out which ones to avoid!  For the salt flats, I found a few good companies online, and took note of a few with poor reviews to be sure I didn't just walk into one of their offices upon my arrival to Uyuni.
2. Pack right.
The trip is chilly, windy and dusty! It gets colder further into the tour as you reach higher altitude. Bring warm clothes, including a hat, scarf and gloves. If you have a decent sleeping bag, bring it. Otherwise, they are available to borrow from the agencies. It's not only useful for sleeping, it's also useful if you take the night train onto a further destination. I was also advised to buy altitude sickness tablets but I didn't end up using them. Still, at an altitude of almost 5,000m, it might be worth having some just in case!
3. Be open-minded. 
Never close your mind to things you don't think you could, or would, ever do. You never know where you might end up, and those doors that were originally kept closed could open up to some unforgettable journeys.