My Eat Pray Love Experience in Bali, Indonesia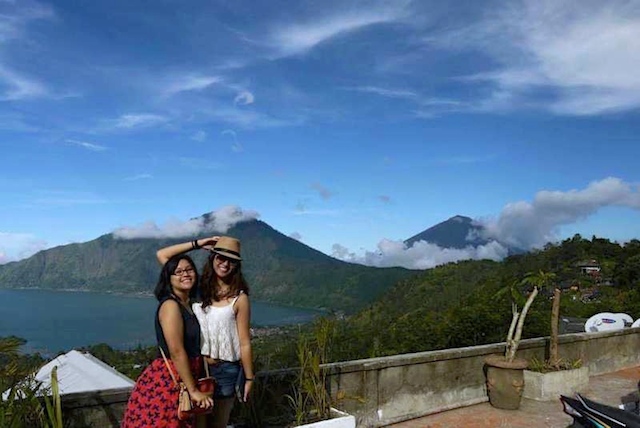 When the film adaptation of Elizabeth Gilbert's book Eat, Pray, Love: One Woman's Search for Everything Across Italy, India and Indonesia came out, I immediately called Edaine, my best friend, and invited her to watch the movie with me. Eat, Pray, Love is a book I have read countless times and it's one of my favorites. Edaine and I fell in love with the film's depiction of the island of Bali and vowed to take a trip there. Our trip was inspired by the book's three major elements: food, devotion and love.
Here is our itinerary that can help guide you in creating your own Eat, Pray, Love trip with friends.
My Eat Pray Love Experience in Bali, Indonesia
Eat
Warung Babi Guling Ibu Oka
Babi guling, or suckling pig, is a recommended local dish on the island. It consists of rice topped with slices of suckling pig, suckling pig skin, fried intestines and spicy vegetables served in a rattan bowl. Edaine and I tried this dish in Warung Babi Guling Ibu Oka, one of Ubud's warungs, or local eateries. We were led to the second level which had open-air seating and a mat-covered floor with low tables for eating. We shared a plate of babi guling over some good laughs and great conversation.
Naughty Nuri's Warung and Grill
The food at Naughty Nuri's does not serve local Balinese cuisine but they definitely have some of the best pork ribs I've tasted. Edaine and I visited their Seminyak branch for dinner and the place was packed so we shared a table with fellow tourists. We ordered a plate of barbecued pork ribs and enjoyed this with cold Bintang beer.
Pray
Hinduism is the predominant religion on the island of Bali and a pura, or Balinese Hindu temple, is a common sight on the island. We visited several temples but there were three that captured our hearts.
Pura Taman Ayun
Pura Taman Ayun was the first Balinese temple that Edaine and I visited. The outer courtyard was a large, grassy field surrounded by flowers and trees. The inner courtyard had several shrines, some of which were replicas of those around the island. The temple was not only a place of worship but also served to manage water allocation among rice paddies in the surrounding villages.
Pura Ulun Danu Bratan
Pura Ulun Danu Bratan is located on the shores of Lake Bratan. Edaine and I entered the courtyard and marveled at the beauty of the spacious gardens. It seemed like a ceremony was about to take place with yellow and white tasseled parasols lining walkways and statues covered in yellow and white cloth. The thick wooded trunk of the banyan tree, considered the tree of life by Balinese, was covered in a checkered black and white cloth. We walked towards the lake and found the pagoda-like tiered roofs of the temple shrine. The shrine was surrounded by the lake and had the mist-covered mountains of Bedugul as a backdrop. It was certainly a sight to behold.
My Eat Pray Love Experience in Bali, Indonesia
Pura Luhur Uluwatu
Pura Luhur Uluwatu was my favorite among the temples we visited. The temple shrine stands on a cliff above the Indian Ocean. There was a path lined with frangipani trees, their blossoms in full bloom. Edaine and I picked up some flowers that had fallen off of a tree and positioned them above our ears.
We took a long, winding trail along the cliff's edge and stopped at a point overlooking the Indian Ocean. I smelled the ocean from above and even tasted its saltiness. I heard the ocean's waters splashing against the rocks below. And, I whispered a small prayer before heading back.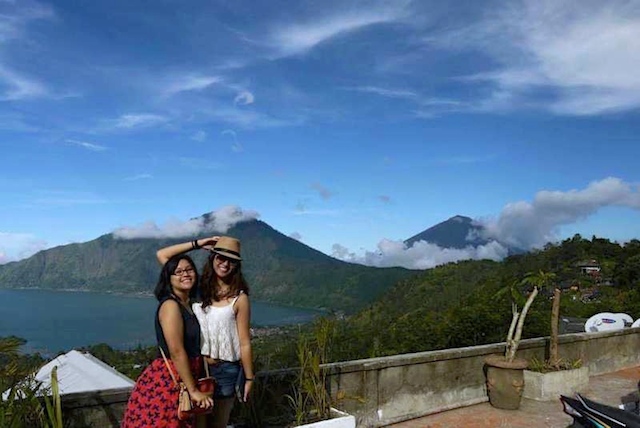 Love
Edaine and I have been best friends since grade school. We went to different schools in college and would only see each other on holidays. During these get-togethers, it felt like no time had passed at all. It seemed like no distance had separated us and our conversations would pick up where they last left off. We still don't see much of each other but we know we've got each other's backs and we'll always be there for one another no matter what. So when we had the opportunity to take a trip together, we grabbed it.
Edaine and I had some grand moments: spontaneously joining a sunset dinner Bali Hai cruise, splurging on an expensive lunch and swimming in the infinity pool of the Klapa Resort, and taking a relaxing spa date at the Ramayana Resort and Spa.
But our most memorable moments were the simplest ones: walking in silence through the rice paddies of the Jatiluwih Rice Terraces, having long talks before sleeping in our tiny room, swimming on the beach and laughing and talking about everything and nothing. More than all of the places we visited, it was the company of my best friend that made the trip special, knowing that we will always have our beautiful Bali memories to keep us together.
Have you traveled to Bali, Indonesia? How was you trip? Email us at [email protected] for information about sharing your experience and advice with the Pink Pangea community. We can't wait to hear from you.
My Eat Pray Love Experience in Bali, Indonesia photo credit: Rina C.