Packing for Jeju Island's Intense Seasons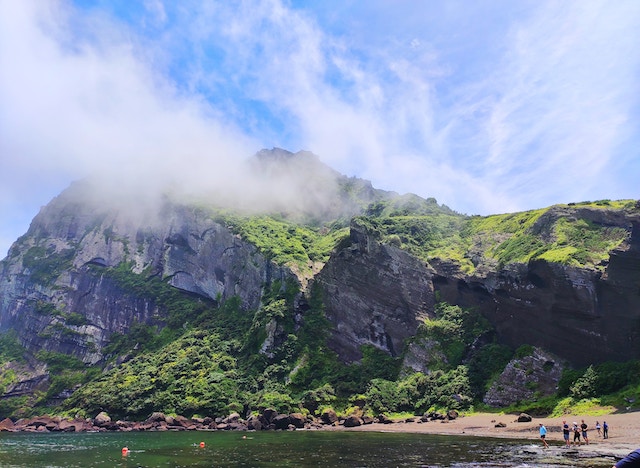 I was desperately lost in the middle of Seogwipo City in a downpour. I was also still in a Kentucky state of mind. There are no downpours in August in Kentucky, so I assumed there wouldn't be downpours anywhere else in the world. I was wrong. I discovered the difficult way that when it rains on Jeju Island, it pours, and you had better be ready.
Before I moved to the island in August 2012, I wish someone would have told me about the weather fluctuations of Jeju. Torrential rains one minute, sweltering heat another, then maybe followed by bitter cold. To ensure that you won't be caught in dress shoes with water up to your ankles, you may want to consider the following packing tips before visiting Jeju Island.
Packing for Jeju Island's Intense Seasons
Rain and Typhoon Season
If you are visiting Jeju Island from late July to mid-September, be aware this is a rainy time and typhoons are likely. I was unaware of this, and I did not bring a pair of rain boots from the United States. On my first day of school, I arrived soaking wet, my hair curled with rain, and my new flats ruined.
If I had a pair of rain boots and a stronger umbrella (along with more familiarity with the city), my situation would have been better. Long story short: bring a pair of boots and a light rain coat in case of rain. Your shoes will thank you.
The Heat
During the summer months, the heat on the island is extremely humid. You can almost feel water in the air. Many Korean homes are very modern, but unlike American homes that typically have some sort of air conditioning, many Korean homes only cool one main room of the house. If you are visiting one of Jeju's many hostels, you may find that your room may or may not have air conditioning.
This is the same for schools that often open the widows as opposed to turning on newly installed units. Be prepared: bring light clothing, hair ties for longer hair, and a portable fan (if you feel this is necessary). Many of my students asked "Teacher, did you exercise?!" when I would sweat while teaching.
The Cold
Just like the heat, the cold is worth mentioning. Just as Korean homes may only cool one room, the same applies to heating one room. I often wore a long-sleeve shirt with a hoodie to bed during the winter months, but I often preferred this to sweating at night.
While it only snowed once during my time, please make sure to bring gloves and a hat. This will come in handy if you are walking outside on the many Jeju Olle trails located along the island. If you are staying in a hostel, there may be a space heater, but bring enough layers just in case.
Packing for Jeju Island's Intense Seasons
Mosquito Season
Springtime in Jeju is mild and pleasant, but thick with mosquitoes. During the spring I spent on the island, I counted approximately 20 bites on my legs within a month's time. I would recommend bringing a small can of mosquito repellant and to spray it before you head outside and to reapply it in the middle of the day. If you prefer, you can also wear a thin pair of pants. Essentially, the fewer chances mosquitoes have to bite you, the better!
In conclusion, the weather on Jeju Island is predictable, but intense. You can certainly count on rain and typhoons, humid heat, mosquitoes, and of course, the cold. Before traveling, be sure to check the local weather. If there's a chance of rain, don't forget your boots. It would be a shame to get your feet wet.
Packing for Jeju Island's Intense Seasons Related Reading
One-Week "Staycation": My Best Vacation in Korea
Have you traveled to Jeju Island? How was your trip? Email us at [email protected] for information about sharing your experience and advice with the Pink Pangea community. We can't wait to hear from you.
Packing for Jeju Island's Intense Seasons photo credits: Jodi Marie K and Unsplash.