Living in Nuevo Vallarta: In Conversation with Laura Bruno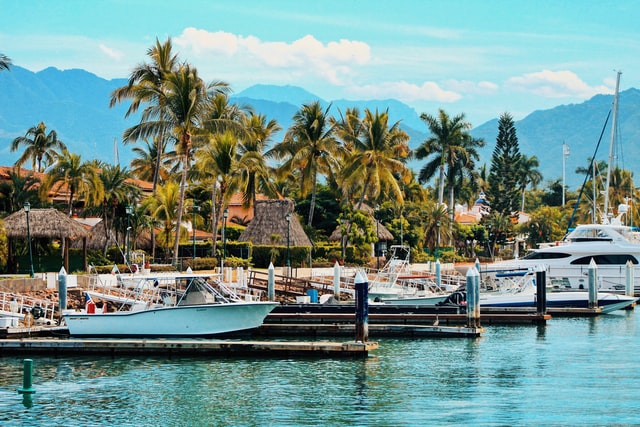 Interested in living in Nuevo Vallarta, Mexico? Laura Bruno shares the highlights and challenges, as well as her tips for an amazing experience abroad.
Tell us about yourself! What do you do when you're not traveling the world? Where are you from? Where do you currently live?
My name is Laura and I'm a Travel Editor-in-Chief for DCA Médias and the proud owner of the new travel blog, Ercole Travel, Tourism's Hercules. I'm also a certified translator (I speak four languages: French, English, Spanish and Italian) and I'm the author of two upcoming books: Passion under the Sicilian Sun and Horse in History.
I've been brought up in a family where tourism and hosting are central. So hosting and tourism run in my veins. I'm from Montreal and it's still my home base where I come back to recharge my batteries.
What made you decide to move abroad? How long did you live there for? Tell us about how you spent your time in your new destination — whether you worked, studied, traveled, or did something else.
I decided to move abroad to Nuevo Vallarta, Mexico, because I had a film festival project I wanted to put together for the destination. It was also important for me to try out working in the family business. That's why I ended up working for Marival Group and their hotels: Marival Resort & Suites, Marival Residences Luxury Resort & Rancho Banderas.
I learned about concierges, real estate and event planning and coordinating. Due to the many languages I spoke and wrote, I was also put into contact with translation, which is now part of my daytime job.
What were some of the biggest challenges you experienced while living abroad? What were some of the greatest highlights?
In 2010, I came to propose this great film festival project to a touristic destination in Mexico only one to two years after the 2007-2008 financial crash. In 2010, the hoteliers had not yet fully recovered from the changes in travellers' travel customs and were not ready to let a young woman take charge of a more-than-a-quarter-million-dollar festival. It was a great source of frustrations. Yet today, with the wisdom of age and understanding, I totally get their hesitancy.
One of the greatest highlights was getting back into horseback riding. I had been injured a couple of years before and had been out for about five years. After discovering the La Patrona Polo Club and Pablo, an amazing equestrian teacher, we slowly (because who doesn't have time in Mexico?) worked on my form and fitness to get back in the saddle.
Five years later, I'm now working to bring up my handicap and playing polo regularly!
What do you wish you knew before you moved?
I wished I knew more about the situation in Vallarta. I would've worked out a different business plan (maybe!) for my project and could've been more aware of the financial crisis the hoteliers were going through and why they weren't ready to invest in such a venture.
Living in Nuevo Vallarta, Mexico: The Real Deal with Laura Bruno
Any favorite restaurants/events/sites that you'd like to recommend? Tell us what made them great!
The Mexican Fiesta! You have to be bold enough to stay at your hotel when they offer you a Mexican night. Be curious and ask questions about the most delicious way to eat a tamale or pozole. They were great discoveries for my taste buds!
When you are in Riviera Nayarit, take one day to drive up to Sayulita and San Pancho. San Pancho is not too well known and it's a beautiful little village that recalls the beginnings of Nuevo Vallarta and Punta Mita.
Are there any tips you'd give someone else considering a similar move?
Learn about the destination where you are considering moving to–the financial situation, the people, the culture, and so on. And just have the courage to take the leap! It's going to be scary before you jump, but it's so rewarding!
Is there anything that women specifically should know before they move to your destination?
Become aware of the culture in your destination! For instance, Mexico is known for having more of a macho culture than North America (or at least more than Montreal). It is important to be prepared for such an environment so that you're able to face it if needed. But don't be afraid–men usually just make comments we are no longer used to hearing today.

Photo for Living in Nuevo Vallarta: In Conversation with Laura Bruno by Unsplash.