Living in Berlin: The Real Deal with Angela Fiore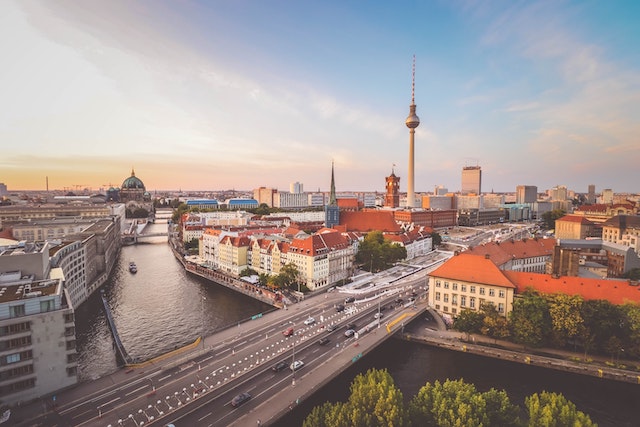 Interested in living in Berlin? Here, Angela Fiore shares the highlights and challenges, as well as her tips for an amazing experience abroad.
Tell us about yourself! What do you do when you're not traveling the world? Where are you from? Where do you currently live?
I don't really know what to say when people ask me what I do. My life has shaped up so that I am never sure where my passions and interests end and my work begins. I am lucky in that respect: by and large, I am paid to do things that I enjoy and that interest me.
I am Italian, I was born and raised in southern Italy, in the heel of the boot, so to speak. When I was 18, I moved to Rome to study and ended up spending 14 years there and starting my own small events agency.
In January 2013, I moved to Berlin and started working as a freelance marketing consultant. I have always loved music, literature and theatre above everything else and I was lucky enough to work with excellent professionals in all those fields. That's why I am never sure that what I do counts as work: I enjoy it much too much. Still, it pays the bills, so I suppose it is work after all.
What made you decide to move abroad? How long did you live there for? Tell us about how you spent your time in your new destination — whether you worked, studied, traveled, or did something else.
Moving abroad was not a particularly happy decision. I assume that's the case for many young professionals moving north from southern and eastern Europe. I suppose I am what is technically termed an economic migrant ("expat" is just a hip term for a wealthy migrant, after all). As I was considering converting my agency into a freelance consultancy, I realised that the cost of living in Rome coupled with the taxation level would have made it simply impossible for me to make a living, unless I could count on a very large client portfolio from day one – which was not the case.
I looked into the different laws and policies that applied to freelancers in different European countries and Germany stood out as the most welcoming country for this particular category of workers. Moreover, it has a wealthy music market and Berlin is an amazing city where accommodation is about twice as cheap as it was in Rome when I left. I used my savings to set up my new business and started working as soon as I set foot in Germany.
Living in Berlin: The Real Deal with Angela Fiore.
I will not pretend it was not hard to begin with: I felt slightly lost and very lonely, I had no friends in Berlin, I didn't speak the language and I was not used to the bitter cold of the German winter. I spent all of my free time exploring the city and going to the opera.
The latter was a life-saving pastime: not only did I enjoy my favourite music performed magnificently in some of the most beautiful venues in the world, but I also felt at home, as most of the repertoire is sung in Italian. It may sound silly, but being the only one in the house that doesn't need subtitles for a change can be really soothing for your self esteem after a week of struggling to buy bread and milk.
After a few months, though, I found myself falling in love with Berlin and with my newly found freedom as a digital nomad. Moving here was probably the best decision I made in my entire life.
What were some of the biggest challenges you experienced while living abroad? What were some of the greatest highlights?
The biggest challenge I faced was learning the language. Nothing else can compare to the struggle of trying to teach myself German while working full time and coping with German bureaucracy at the same time. Berlin can make you lazy on that account: it is relatively easy to find English-speakers and to get by without really speaking the language.
However, official documents must be written in German and, unless you live very close to the center, most everyday conversations will come to a quick halt if you must ask the other person to speak English. To this day, I can't say I have really mastered the German language, as my spoken German is still patchy at best, but I understand it well enough and can read and write it competently.
Living in Berlin: The Real Deal with Angela Fiore.
The greatest highlight of my life since moving to Germany is the freedom I experience since I accidentally became a digital nomad. I initially set up a home office mainly to spare myself the cost of renting a place to work: it was supposed to be a temporary arrangement. Then I realised I could literally work from anywhere, as long as I had a laptop and a wi-fi, so I started traveling, visiting friends in different cities and countries without ever missing a day's work. It's every bit as good as it sounds.
I still cannot believe this is my life: I can decide to go and see a play in London or an opera production in Zürich and not have to take a day off work. I can be with a client on the day of an important interview in Rome and still work for all my other clients. It takes some planning, but once you get it right it's simply the best life anyone can have. Or the best life I can imagine having anyway. I'm not one for settling down. If I was, I suppose I would find all this traveling a bit wearing.
What do you wish you knew before you moved?
I wish I'd known that there was more to freelancing than the music business. It is only recently that I have started working as a content marketer for the event industry: for the first year I stuck to music promotion, which undoubtedly deprived me of the possibility of acquiring bigger clients earlier on in my career.
I also wish I'd studied German properly: I could have spared myself a few frustrating moments during that first, long winter. All told, I suppose I wish I'd known how good freelancing could be: I'd have moved much earlier.
Any favorite restaurants/events/sites that you'd like to recommend? Tell us what made them great!
Sankt Oberholz is my favourite place in Berlin right now. It's a lovely cafe in Rosenthalerplatz where freelancers, digital nomads and students go to work and eat. The food is delicious, the atmosphere is relaxed and pleasant and they don't mind if you sit for three hours with a coffee and a bagel while using their wi-fi. I enjoy being surrounded by other people who are working and creating, it helps me focus.
My idea of nightlife, I admit, is not what most people expect from Berlin. I am not a fan of big clubs and I don't really like dancing. What I do like, beside opera, is live music, particularly punk and alternative rock. I have seen many great bands in venues such as the White Trash Fast Food and Bassy Club.
They are colourful places that usually draw a colourful crowd: you never know what to expect and you might as well be back to the seventies and eighties, when David Bowie, Iggy Pop and Nick Cave could be found in smoky pubs and on night buses.
Another thing I love about Berlin are Kinoclubs — I am not sure wether they exist or trend anywhere else. They are small venues where you can watch independent movies while eating and drinking in what looks more like a living room than a proper cinema.
Are there any tips you'd give someone else considering a similar move?
Know what you want before you move. If you just move "looking for something better," chances are you will be sorely disappointed. If you are looking for a job, you should know the local language and not expect to rely entirely on English. In fact, if you are a freelancer and you already have your client portfolio, things are marginally easier, but you should still have a plan and a set of short- and medium-term goals.
They will keep you going if you are feeling discouraged and tempted to give it all up. Also, you should take some time to learn about the country you are moving to: you should always be aware of the local and national laws. Whatever happens, make sure you have the contacts for your national embassy and consulate handy.
Is there anything that women specifically should know before they move to your destination?
Berlin is a very easy place to live if you are a woman. This does not mean that there aren't areas in which you might not want to be on your own at night, in much the same way as in London, Paris or Rome. It's mostly a safe city, but I suggest always asking the locals before journeying to an area that you are not familiar with.
Photo credits for Living in Berlin: The Real Deal with Angela Fiore by Unsplash.