Travel Mexico and Guatemala: The Real Deal with Jen Jedda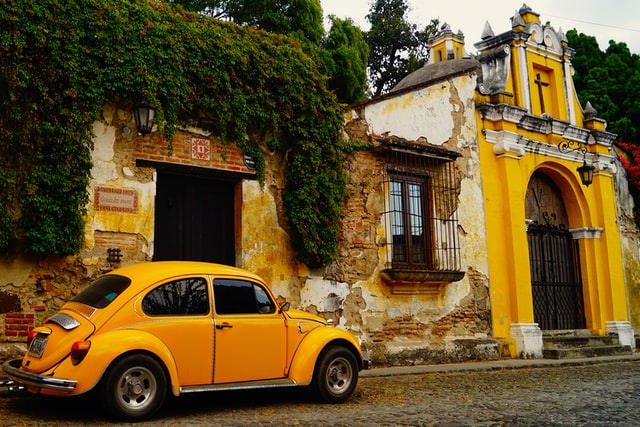 Ready to travel Mexico and Guatemala? Here are the activities and accommodations that Jen Jedda recommends for your trip.
Tell us about yourself! What do you do when you're not traveling the world? Where do you live? What made you decide to go to your most recent destination?
My name is Jen and I live in Bellevue, WA (next to Seattle) in the USA. I am a small business owner of an online boutique named JJ Caprices that features handmade women's accessories that I curate from around the world. When I travel, I go to discover the location as well as local artisans or designers who are doing extraordinary work. On my site, I feature the work that stands out as the most unique, and I tell the story of the artist, traditional technique used or its country of origin to help bring the piece alive to my customers.
I recently set out to Mexico and Guatemala to discover the important hand crafts and "artes populares" of both countries. In Mexico, I specifically chose to go to the state of Oaxaca because it is known for its handicrafts (as well as its food). It is also the state that is home to the Tehuana people. The famous Mexican artist, Frida Kahlo, adopted her fashion style from the Tehuana women because of their matriarchal society. I went to find accessories that were like what she would have worn or inspired by her. In Guatemala, I mostly chose destinations because they looked beautiful to me, and I hoped I would find art along the way (turns out I was right).
As an added note, to date I have traveled to 39 countries and lived in 5. I have a personal travel blog called One Girl's Adventures.
How long did you go for? How did you spend your time?
I was in Mexico and Guatemala for a total of 3 weeks. I flew into Mexico City (spent 2 days); took an overnight bus to Oaxaca City (spent 3 days); took an overnight bus to San Cristobal de las Casas in Chiapas, Mexico (spent 2 days); took a day bus/shuttle across Mexico/Guatemala to Lake Atitlan where I spent 2 days in San Antonio Papolo; took an afternoon shuttle to Antiqua (spent 3 days); flew from Guatemala City to Flores (Tikal) and spent 2 nights in a jungle lodge in a park and one night in Flores; flew back to Guatemala City and spent my final night near airport.
My trip was about discovering the new cities and cultures of Mexico and Guatemala I did not yet know, finding the best artisans, eating exceptional cuisine, speaking as much Spanish as I could and taking the time to relax and blog.
What were your most memorable experiences? What were the biggest disappointments?
Highlights:
Mexico City, Mexico: going to the Ballet Folklórico, eating the best lobster tacos I have ever had in my life at Puntarena (super cool vertical garden inside too) and visiting Frida Kahlo's house for the third time in Coyocan.
Oaxaca City, Mexico: hiking the Sierra Madres and learning about all the local indigenous communities, serendipitously being introduced to one of the best filigree silver craftsmen in the state and his son, and enjoying local cuisine
San Cristobal de las Casas: walking the charming Real de Guadalupe street, and seeing the native indigenous women in "furry" black skirts.
San Antonio Papolo, Lake Atitlan Guatemala: hiking up to a waterfall with the help and direction of men and women in the small community, getting a marriage proposal by one of the local men, and getting a spontaneous weaving demonstration by a local Mayan women when I was brought to her house.
Travel Mexico and Guatemala: The Real Deal with Jen Jedda.
Antiqua, Guatemala: learning to make chocolate from scratch, and exploring a beautiful city where I could relax and shop.
Tikal: staying in one of the Jungle Lodges (I had toucans and monkeys right outside my door), and watching the sunset from the top of Templo IV,
I don't remember any disappointments…if anything most of my time there exceeded my expectations. Except that I wish I had spotted a jaguar in Tikal and that I had tried a chapuline (grasshopper) in Oaxaca. Also, I was overcharged from time to time because I am a "gringo" but even that wasn't so bad.
What do you wish you knew before you went?
When I arrived in the Tikal airport in the evening, I had no other choice than to take one of the $60 taxis to my jungle lodge in the park versus a much cheaper shuttle (apparently the shuttles are only available in the morning and early afternoon). I thought I had read all the important info to get me from the airport into Tikal National Park, but somehow missed that detail. It ended up working out just fine (my taxi driver stopped along the way to have us look at a boa constrictor crossing the road and a tarantula!). But in Guatemala, $60 can go a long way so I was disappointed at the time that I had to pay so much.
Any favorite restaurants/hotels/hostels/sites you'd like to recommend? Tell us what made them great!
In Antiqua, Guatemala, I stayed at Hotel Aurora just a few blocks from the Central Park. It is the oldest hotel in the city center. The colonial style rooms, lush courtyard with fountain, good breakfast and excellent staff made it wonderful. It was very well priced, too!
In San Cristobal de Las Casas, Mexico, I ate lunch at a restaurant called TierrAdentro on the charming street of Real de Guadalupe. I went specifically because it is run by Zapatista supporters (I had done a college paper about this separatist movement). The atmosphere was casual and was full of locals as well as tourists. I enjoyed looking at the photographed images and reading posters with quotes of important populist movement leaders and supporters. The food was delicious and there was even a live band.
In Tikal National Park, I stayed at the Hotel Jungle Lodge. I loved the beautiful grounds just meters from the entrance to get to the ruins, being woken at 2 AM by the guttural sounds of howler monkeys (scary sounding!), the toucans in the trees outside my clean, my charming room and the wonderful food in the restaurant (I loved the beef carpaccio!). If you go to Tikal, I strongly recommend staying in the park for one of the nights.
I also recommend Hotel Nuestro Suenos in San Antonio Papolo. I loved the owner from California and the fire they had going in my room with a lake view when I arrived (it was to cut the chill from the cool evening).
Is there anything that women specifically should know before they travel to your destination?
I was traveling alone and I took the normal precautions I do when I travel alone. I kept my attire modest, stayed in public areas when I was alone and only with escorts/guides did I go off the beaten path (well, minus my hike up to the waterfall in the small community of San Antonio Papolo…there I was just really carefully not to fall off the trail so that the locals wouldn't have disrupt their onion farming to fetch my mangled body), and I never stayed out too late alone at night…or if I did, I had a trusted escort bring me home.
Knowing some Spanish is very helpful (I speak Spanish and my trip would have been much more difficult had I not).
Photo for Travel Mexico and Guatemala: The Real Deal with Jen Jedda by Unsplash.