Travel Uganda: Your Guide to a Fabulous One-Week Trip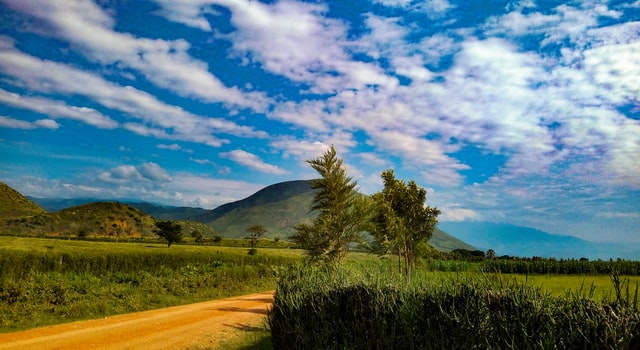 When we think of going to Africa, especially if we want to go on safari, we rarely think of Uganda. Other countries in Sub-Saharan Africa are a lot more high profile – but that means they're also a lot more expensive! Not including airfare, you could spend a week in Uganda, including a wonderful safari, for as little as $500. If you want to see to some really amazing sites, you can still do it all for $2000 or less. Amazing, right? If you're planning to travel Uganda, here are my tips for a wonderful trip.
Murchison Falls National Park
Uganda is Kenya's westerly neighbor, and it has all the same animals as Kenya and Tanzania. The only difference is that it doesn't have the wide open plains of the Serengeti and Masai Mara. However, the Nile River starts in Uganda, in Jinja at Lake Victoria (the White Nile) and it runs through Murchison Falls National Park. While about 7 hours from Kampala, you can spend 2 nights there and see almost all of the things we all want to see while on safari.
Murchison is home to a hugely diverse population of animals and birds. You'll find lions, elephants and giraffes, as well as hippos, kob, hartebeest, crocodiles, baboons, and many others.
Taking a boat trip up the Nile to the base of Murchison Falls is very inexpensive (about $12 at the time of this writing), and is a fascinating way to see the wildlife that calls the river home. They also sell Uganda's award winning beer, Nile Gold, which is a must-buy!
And make sure you take the side trip by car to visit the Falls. It's an amazing sight, and you can walk right up to it if you dare!
There are several places you can stay at Murchison, all of which have a bar and restaurant:
The budget conscious Red Chilli Rest Camp has tents that you can stay in free or bandas which can accommodate 1 person or a family for a small charge. The bandas have en-suite bathrooms and toilets, as well as a cooking area and security lights.
Nile Safari Lodge is located on the Nile River, and is populated with baboons and black face monkeys, as well as hippos down in the river. Its accommodations are very nice safari tents, with a canvas front and wooden back on a raised platform. A shower in the open-topped stone enclosure is one of the nicest experiences you'll ever have! The staff at the Nile Safari Lodge is wonderful – we had a Kindle stolen by a juvenile baboon while my daughter was taking her shower, and the manager managed to get it back, which we thought was above and beyond the call of duty!
The Paara Safari Lodge is luxury accommodation, featuring en-suite bathrooms and balconies overlooking the Nile.
Lake Mburo National Park
If you don't have a lot of time or money but want to go on safari, my favorite place is Lake Mburo National Park. The smallest game park in Uganda, it doesn't have all of the biodiversity of Murchison nor does the Nile run through it. But what it does have that you won't find anywhere else in Uganda are impala and zebra. Lots and lots of them!
In 2015, the Uganda Wildlife department also moved 15 giraffes from Murchison to Mburo. So while you won't see elephants or possibly any lions – though they do wander through from time to time, and we heard a leopard on one safari – this park has plenty to watch and photograph, such as hippos, eland, bushbuck, hartebeest, Ugandan kob, water buffalo, and more.
So while you won't see elephants or possibly any lions – though they do wander through from time to time
Like Murchison, Mburo has a few options for accommodation. There is a tent camp near the Rangers Station with communal toilets. There is a small charge, but it's adequate. The best option is the Kimbla Mantana Lodge, which offers traditional safari tents like those at Nile Safari Lodge.
For $220 per night, you get 2 multi-course meals, a very welcoming and friendly staff, and comfortable beds. The view over the lakes is stunning, and the open boma where the restaurant and bar is located is perfect for watching the animals that wander through as well as the sunsets.
Jinja
My favorite place to visit in the country is Wildwaters Lodge outside of Jinja. This resort was built by hand on a small island in the middle of the Nile. On one side of the island the rapids rage by, and cottages on that side enjoy a view of rapids, otters crossing, and cormorants fishing in the fast water. On the other side, the Nile sweeps peacefully along.
Three years in the making, with everything for construction brought to the islands by zip line or canoe, Wildwaters is unlike anywhere in the world. The pool is separated from the Nile by a foot-wide concrete wall. The blue glass in the dining room was hand made in the country.
All the wooden furniture was created by local craftsmen, trained during the lodge's construction.
All the wooden furniture was created by local craftsmen, trained during the lodge's construction. (They now sell the furniture, which is well worth the price!) The bar and restaurant look out over the river – it's mesmerizing. While not a budget accommodation (it costs about $300 a night per person), this is a once-in-a-lifetime spot that you'll never forget.
The owners of Wildwaters own Adrift Rafting, a tour company that takes you rafting on the Nile. You can do a family cruise, or raft class 3-5 rapids. An entire day, including transport, breakfast and lunch, costs about $60.
Jinja offers a lot of adventure tourism, for a very reasonable price. You can bungee jump from a bridge, take a fast power boat ride or learn to kayak on the Nile. There is also horseback riding, from 2 hours to several days, and ATV tours.
Kampala
Kampala has a number of 4 and 5 star hotels. One of my favorites is Emin Pasha, which is a boutique hotel in Garden City. While in the middle of a very boisterous city, Emin Pasha is quiet and peaceful. The tile pool, large gardens, open and spacious rooms, and fabulous food make it a great place to spend a night or even a day.
You can buy a day package for approximately $25 that allows you to use the pool all day and get spa treatment, which includes lunch. It's a wonderful way to unwind!
The Lake Victoria Serena is on the Entebbe side of Kampala, and is situated on Lake Victoria. It has a stunning pool and spa, and again, you can get a day package for use of them for about $30. The food and drinks are first class – try the passion fruit daiquiri. If you have a late-night flight out of Entebbe, this is a great way to spend your last day. You will also get internet access, so you can catch up on your correspondence.
Tororo
Many people who go to Uganda also go to Kenya. A great trip is to enjoy a week in Uganda and go on safari, and then head to Kenya to enjoy the beaches at Mombasa. If you do drive east, stop in Tororo and stay at Green Meadows. A new hotel, it has a very European flair. The rooms are big and beautifully decorated, and the showers have the best water pressure in the country.
The food is delicious and plentiful, and breakfast is included in your stay. You can stay at Green Meadows for under $20, and climb the big Tororo Rock while you're in town. With ladders affixed to the rock that go straight up, it isn't for the faint hearted!
Uganda has a lot of amazing places to visit, and incredible people. If you can only stay a week, you can still see and enjoy much of what it has to offer. I think you'll fall in love with it!
Travel Uganda: Your Guide to a Fabulous One-Week Trip
Related Reading
I Bought a One-Way Ticket and Moved to Uganda
Have you traveled to Uganda? What were your impressions? Email us at editor@pinkpangea.com for information about sharing your experience and advice with the Pink Pangea community. We can't wait to hear from you.
Travel Uganda: Your Guide to a Fabulous One-Week Trip top photo credit: unsplash.