Sano Touring: A Conversation with Cristina Caluianu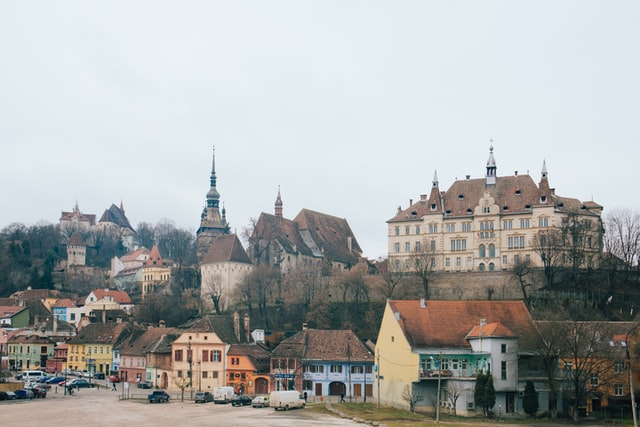 This month, we're interviewing women from all over the world who had started their own tour company. We had the privilege of speaking with Cristina Caluianu about her experience in the travel industry. Here's a glimpse into our conversation.
Tell us about yourself! What do you do when you're not traveling the world? Where are you from? Where do you currently live?
I'm Romanian — but living in Bucharest, and I actually have not traveled the world. I cannot say even I know my own country as well as I should, not as a travel professional, but as a Romanian proud of her country's natural and cultural heritage. Before starting my management consulting business in 2004, I had worked for 7 years in a Romanian top 3 (at the time) business travel company as a marketing manager.
What first inspired you to start your tour company? What's your company's mission?
As business consultant in EU funding, I had the opportunity to get involved in various investment projects addressing tourism – from building hotels and SPAs to rehabilitating historical monuments –initiated by private operators or public bodies. This is how I noticed a fact: most Romanian travel agencies do not sell Romania, and the ones who do it – stick around Dracula's myth and traditional destinations (painted monasteries in Northern side of the country, Prahova Valley and Bucharest).
It was around 2009 when it first crossed my mind to open a travel agency as a second business line of my management consulting company, given my previous experience in the travel industry and the certifications I had in this area. And one thing was certain from that very beginning: it would be an exclusively inbound to Romania travel business, because my country is much, much more than Dracula and painted monasteries and Bucharest, and I knew I could make a difference.
The decision was made 5 years later, when I read a study on accessible travel (I did not know anything about this concept until then), and I started to do some research on how accessible travel is addressed in Romania and I found a huge opportunity: Romania as an accessible travel destination.
Sano Touring: A Conversation with Cristina Caluianu.
In my research, I was very lucky to have discovered Corina, a certified accessible tourism professional, a talented journalist and a very special person who gave me valuable information and advice, supporting my initiative and who is now, through her company IXPR, SANO TOURING's PR and online marketing agent. So, by the end of 2014, I had all the permits required by Romanian regulations and officially opened SANO TOURING, as a business line of my consulting company, and in August 2015 we officially launched our website.
The mission of SANO TOURING is to provide tourism for all services and turn a virtual guest into a customer willing to actually live the Romanian spirit by joining one of our tours. We want to share Romania's beauty in a responsible, balanced manner by offering the young and seniors, the active and contemplative, the all independent or persons who need accessible tourism the opportunity to enjoy lovely tours covering both traditional and lesser-promoted destinations and to live a beautiful, unforgettable Romanian experience.
What are some of the challenges you've experienced in running a tour company? What are some of the highlights?
In my opinion, the constant challenge of a tour company is identifying the customer needs and expectations, and meeting them with professional, flexible and customized services. Coming up with creative travel products that are equally affordable and exquisite is key to differentiating on a very competitive market. Fortunately, Romania has it all: various UNESCO heritage sites such as the unique Danube Delta, the continent's youngest land and habitat of last wild horses in Europe, the last virgin forests, brown bears who grow freely without constraint, 1/3 of Europe's spa resources, and also vestiges of the Great Roman Empire and traces of the early Christianity monasteries and churches unique in the world.
One of the most important challenges was finding suitable staff, who could understand my vision for SANO TOURING and be 100% dedicated to achieving it. I really wanted to give young graduates the opportunity to start their tourism careers with the active support of experienced tourism professionals, ex-colleagues who embraced the SANO TOURING idea and joined me on this journey. Being an online tour operator, we offered our new colleagues flexibility with regard to the place or time of work, as long as deadlines were met.
It was a recruitment process that was partially disappointing, as we received about 30 applications (though the job descriptions received 1,000 views) and we only had the opportunity to meet 10 candidates. But it was also very successful since we met our colleague Irina, a passionate young travel professional and a remarkable Romanian person, who is now SANO TOURING's Travel Manager.
How have you spread the word about your tours?
Our English website is the core engine for our promotion. Our tours are listed under 5 sections, "Rural", "Accessible", "Wellness", "Seniors" and "Special Romania", and we constantly come up with new proposals that reveal the many facets of our beautiful country. Romania does not have the best image due to lack of awareness, biases, press articles or actions taken by some of our co-nationals who decided to live outside the country.
Some connect Romania to Dracula, Nadia or Hagi sports performances, Ceausescu's hard regime, or the Romanian revolution and orphans. Lately, the great interest showed to rural, authentic Transylvania by His Royal Highness Charles, The Prince of Wales or the British TV show Top Gear, where Jeremy Clarkson proclaimed that our Transfagarasan was "the best road in the world" put Romania in a better spot. But there are still many things about my country that the world needs to know.
This is why our website has a dedicated section called "Romania at a Glance," where we tell stories about places, famous Romanians that brought their valuable contribution to science, culture or sports, and local traditions that define us as a special, blessed country.
SANO TOURING is listed in The European Accessible Tourism Directory Pantou, which makes us known as an accessible tourism supplier with tours designed for seniors, and to a certain extent, to travelers with special needs. Also, Facebook supports our promotional efforts, as does our newsletter.
What do you wish you knew before starting your company?
I wish I had understood the importance of networking to find customers interested in our services.
What are some of your company's upcoming tours/trips?
"Tourism for all", "tailor made" and "originality" are the key elements of all of our travel experiences, tours and holiday packages. There are places in Romania where both legends and scientists were revealed to have extraordinary and mysterious energies. We invite travelers to tour locations where esoteric meet spirituality. We also look forward to continuing our "Bizzare Romania" tour.
Are there any tips you'd give someone else considering starting a tour company?
Find out what your customers' needs and expectations are, focus on the uniqueness of your travel products, build strong relationships with the suppliers and don't forget that opportunity is everywhere. Most important: be patient and pay attention to small details that can make a difference!
Photo by Unsplash.