The Girl's Guide to Carnival in Brazil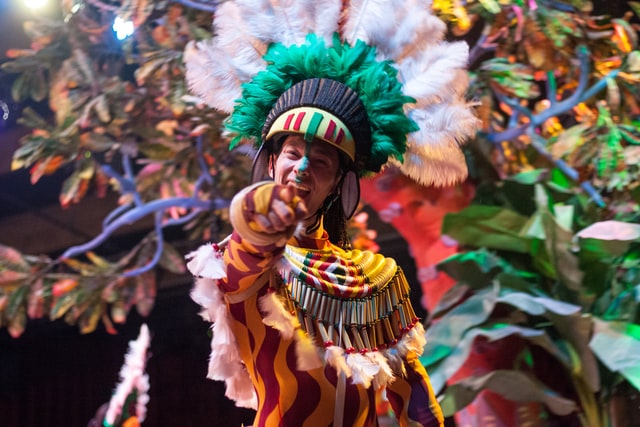 Have you ever heard about the largest, most popular festival in the world? In Brazil, we know it as Carnaval, or Carnival as you prefer. It's the most expected and celebrated moment of the year in the country, and you can believe the pictures: it is as beautiful, big and incredibly fun as it looks.
Carnival is such a broad festival all over the country that it became different from one city to another as time went by. You could have completely different Carnival experiences depending on the city you choose to go to on the five days when happens.
So, if you're curious about Carnival in Brazil—and you should be!— and would like to know a little bit more about it before planning your trip, here's what I can recommend to you:
Carnival in Brazil: The Girl's Guide to Carnival in Brazil
If you want to see a spectacle…
Then there's no other place to go other then Rio! The most famous and luxurious Carnival parade happens there at Marquês de Sapucaí, an "avenue" built specifically for the parades. Each "team" has its time to parade its members, cars and allegories, presenting a theme. The most beautiful, technically perfect and enchanting parade is the winner of Carnival in Rio. But, trust me, everyone who gets to watch the parades personally is a winner, since all the teams put together an amazing spectacle. There's nothing like this anywhere in the world!
But you should also know that, because of this, it's not very easy to watch it live or to get into the Carnival parade in Rio de Janeiro. The tickets get sold out pretty fast—and the best seats can be very, very expensive. Don't worry though—if you plan your trip in advance, you can get cheap tickets or even a costume to be part of the parade. Take a look at the city's official guide to Carnival for further information.
If you want to party hard…
Rio is not only about the parades at night. During the day, there are thousands of options to have fun, totally for free! I'm talking about the "blocos," or what we call the small or big bands that play typical Brazilian music such as samba, axé, marchinhas (traditional and old school Carnival songs) and popular Brazilian music in general. These bands walk around the streets and gather followers behind them, sometimes millions of them. A lot of people wear funny costumes, but feel free to wear whatever you want and enjoy it the way you want!
In São Paulo, there are also lots of great "blocos," making it another great option for Carnival in Brazil. By night, you can choose to go to a party and get to know the amazing nightlife the largest city in Brazil has to offer.
Another great option for Carnival in Brazil is, of course, Salvador. The parades there are also different: some of our most famous singers and bands such as Ivete Sangalo, Daniela Mercury and Claudia Leitte play their set lists of dance music know as axé on the top of huge trucks that drive around the city's historic streets. Yes, it is as crazy and enormous as it sounds! But be aware: to be part of these parades in Salvador, you should also buy tickets in advance to get access. Check the city's website for more information.
If you want tradition…
Carnival in the countryside of Brazil is just great! In smaller cities, people tend to keep the traditions very much alive, as evidenced by the music, the costumes, the decoration and even by the historical streets and houses that seems to get into Carnival mood too.
There are many, many fun options for Carnival in the country, but I'd suggest Ouro Preto, in Minas Gerais state (if you're looking to party hard and if you have a lot of energy for it mountains!) and Paraty in Rio de Janeiro state (where you can follow the "blocos" at night and enjoy beautiful beaches by day).
Finally, don't forget these precautions
If you're a total stranger to Carnival, there are a few things you should know to make sure you have a great experience and don't have any problems in Brazil.
As I always like to remind people, don't forget to be aware. Keep your belongings close to you and try not to walk around with a lot of money in cash. Mostly every restaurant or store in any city takes credit and debit card, so that's always a better way to carry your money.
The streets can get really crowded when you're in a bloco—I mean, really, really crowded. Again, keep your belongings close to yourself, try to establish a meeting point with your group, and, if you feel bad and needs help, a police officer or any government officer around will be able to help you. Brazilian people are also very hospitable and understand the concept of empathy, so everyone will always try their best to help.
Carnival happens in the middle of the summer in Brazil, so yes, expect it to be very hot and sometimes very rainy too. Never forget sunscreen and to take a bottle of water with you! If a storm breaks when you're on the street, try to go to a safe place—which is never under a tree!
In Brazil, we are used to see women dressed in really small, short, tight clothes during summer and Carnival. It's not a big deal for us—it's a free country and everybody is entitled to wear whatever they want, right? But that doesn't mean women are "easier" in Carnival or that men have the right to do whatever they want. It's common for people to see meet each other right there in the "blocos" and kiss during the parades, so don't be surprised. But, if someone is making a move on you and you don't like it, don't be afraid to show you're not interested and to seek police help if necessary. Harassment is a crime in Brazil, and you should stand against it always.
Other than that, just remember to keep the Brazilian emergency phone numbers with you and to follow these other tips about safety for women in Brazil. Carnival is the largest, most popular and completely free festival in the world. Come and be a part of it too!
The Girl's Guide to Carnival in Brazil photo credit by Unsplash.