Of Work and Wine: Vineyard Volunteering in Puy-l'Eveque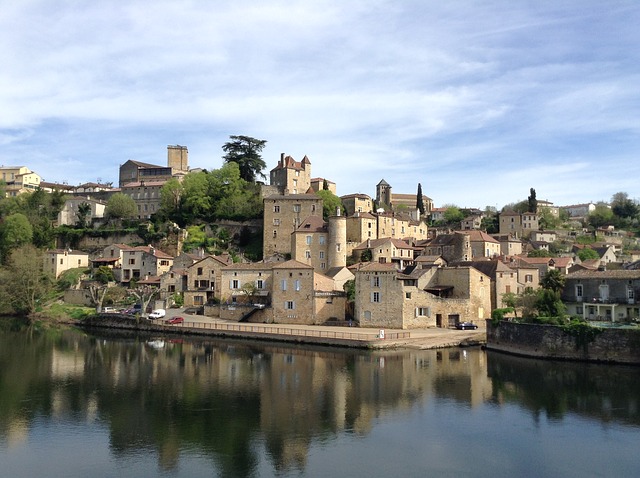 I stepped off the bus in Puy-l'Eveque and hauled my backpack to the bus stop to wait for my host. Not two minutes later a man I thought was unmistakably a farmer briskly approached me and called my name. "Philippe?" I answered. He smiled genially and greeted me with a swift kiss on each cheek.
I met Philippe through Workaway. He needed a volunteer to help out on his organic vineyard, and I wanted to experience the French countryside (not to mention find a place to stay and meals for a few weeks).
Philippe invited me to take in the view while he ran an errand in the post office. As I leaned over the stone wall, I felt an overwhelming sense of comfort. The Lot River meanders around the medieval village of Puy-l'Eveque, located in the Midi-Pyrenees region of southwestern France. Beyond it, the valley of farmhouses, vineyards, and rolling green mountains welcomed me.
Walking there feels like stepping into a fairy tale.
One thing I'll say about this village is that it was not easy to get to. I was in Milan and was planning on riding with some friends to Paris where I could just hop on the train from there. Of course that fell through an hour before we were supposed to leave because Italian rental cars are tiny. There was no room for me and my backpack. There were no direct or affordable train lines or bus routes running from Milan to Puy-l'Eveque, so I was on my own.
I ended up using BlaBlaCar at the last minute to catch a ride with an Italian guy. He didn't speak any English, but we bonded over his CD collection of American hits from the 80s. He dropped me off in Nîmes, France, and I couchsurfed for the night with a lovely girl named Vanessa. The next morning, I said goodbye to Vanessa regretfully, wishing I had planned to stay in Nîmes and hang out with her and her friends a little longer.
I took another rideshare to the outskirts of Toulouse, where I got on the metro, then a train, then finally the bus. It's a miracle I made all of those connections on time. I took it as a sign that the universe knew I was meant to be back in the slow, steady pace of rural life.
The French really know how to have lunch.
When Philippe and I arrived at the house, lunch had already been eaten. But his wife, Marianne quickly whipped up some leftovers for me and sat me down at the kitchen table. There was homemade ratatouille with poached eggs, crusty bread, and a cup of merlot. When I had finished she brought camembert and Roquefort cheese, and a cup of merlot. When I was done with the cheese course and completely full I had a slice of gateau, and a cup of merlot. The French really know how to have lunch.
I started work on the vineyard the next day. It was the beginning of May, and the vines were just beginning to reawaken from their winter sleep. My task was to prune and secure them to their stakes before they started to blossom with fruit. Perhaps not as exciting as harvest time, but I actually found it to be quite therapeutic. Just put me in the soil in the sunshine and I will prune/plant/pick/weed, whatever—I'll be happy to do it.
On especially rainy days I worked in le cave helping Phillipe label and pack seemingly endless bottles of wine. There were merlot, cabernet, rosé, and a white one I'd never had before. Phillipe was quite proud of it, and called it Blanuit.
The Lot Valley is wine country, and I highly recommend that you take advantage.
The property was beautiful and had been in the family for generations. It had a large vegetable patch and a yard with chickens, ducks, and geese. I marveled at their self-sufficiency. There were also several large cherry trees. I was lucky enough to be there when the fruit was ripe. "Cherry time is happy time," Phillipe told me. When my lunchtime ration of wine and the bright sun had me feeling especially lazy, I would shirk my pruning for a while to climb into a tree and feast on dark cherries until my mouth and fingers were stained red.
There are plenty of places like Puy-l'Eveque in France, and in the world. Walking there feels like stepping into a fairy tale. They are the small places, easily overlooked. But if you take the time to find them, they can give you beautifully authentic experiences.
If you ever visit, you should stop at the patisserie for something sweet and take it with you to the café. A server will bring you a café au lait and a small plate for your pastry. Take your time. Then, continue to the main square. If you're lucky it will be a market day (Tuesday). Friendly vendors display fresh veggies, homemade cheeses, baked goods, locally made crafts, and, most importantly, wine. The Lot Valley is wine country, and I highly recommend that you take advantage.
Photo for Of Work and Wine: Vineyard Volunteering in Puy-l'Eveque by Pixabay.