Top 4 Hot Springs in Arenal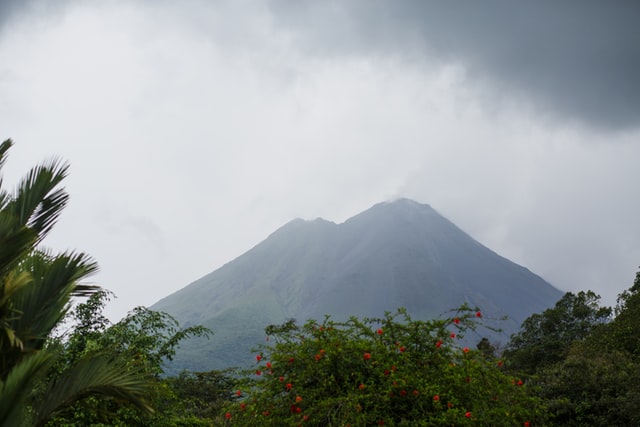 One of the main attractions of the Arenal/La Fortuna area in Costa Rica are the hot springs. There's nothing like soaking the muscles and relaxing after a big day of hiking, bird watching, ATVing, zip-lining, or horseback riding. Sit in natural hot springs surrounded by the rainforest and soak in the ambience while letting go of all the stress and tension that sometimes accumulate on holiday (or that you brought from home).
Like Goldilocks testing each bowl of porridge, I sampled many of the numerous hot springs in the area, which come from the nearby Arenal Volcano. They are completely natural and are unlike other hot springs in Iceland or Canada that smell like sulphur or leave you with a crusty feeling on your skin.
No need to "test the waters" yourself! Here are the top four hot springs in Arenal:
Top 4 Hot Springs in Arenal
1. Best for budget conscious – Little Tabacon
Cost: $0
This hot spring is popular with the locals and backpackers, as well as for those who just want the experience of sitting in a naturally warm river surrounded by forest. It's the same water that feeds the high-end and well-known Tabacon hot springs. But the natural version is without the manicured grounds and service or the $65 entry fee ($95 if you want a meal).
Little Tabacon is slightly outside of La Fortuna and requires a taxi or rental car to get there. Park at Tabacon and then walk across the road and down a gravel track for 30 seconds until you reach the river. Your first impressions won't be great. You'll see a graffiti-covered cement bridge but if you head up or down stream, you'll soon find the place's natural beauty.
The flow of water is surprisingly strong, so it's not for those who might be unstable on their feet or who have mobility issues. Also, be sure to wear shoes as the rocks at the bottom of the river can be sharp. Because there's no changing or bathroom facilities, I recommend heading upstream. Those downstream might experience warm water for a different reason.
With lots of crowds and no secure place to store your belongings, it's best to leave your valuables at home. If heading there at night, never go alone and take a head torch. There are lit candles, but there is no artificial lighting and the forest is dark at night.
Cost: Changes according to the specials available. Currently it's $60 for a two-day pass
As the name suggests, this is a 5-star resort and spa. Many people choose to vacation here because of its family-friendly activity options, such as the wildlife preserve or for romantic getaways with fine dining options and spectacular views of Arenal Volcano.
A day pass will give you access to the entire grounds including all of the thermal pools as well as the casual dining restaurants. Towels and lockers are provided and included in the cost.
There are three separate hot spring areas here:
1. Las Lagunas (The Lagoons) pools: Located directly in front of the reception/entry area, these look like conventional resort swimming pools.
2. Los Perdidos Springs (Lost Springs): A short walk from the lower level of The Lagoons, these consists of seven spring-fed pools set amongst a forest.
3. The hot/cold springs along the Arenal River: Getting to these requires a short hike.
Most of the hot springs around Arenal are closer to the volcano and therefore surrounded by forest. However, The Springs Resort and Spa is unique in that it is set further back at a higher elevation than other places and can therefore offer unspoiled views of the Arenal Volcano while you soak your aches and pains away.
Like Little Tabacon, The Springs is located outside of La Fortuna, and requires a short drive on a gravel road. Hire a car or taxi to access it.
3. Best for families – Baldi
Cost: $36 + an additional $10 for towel and locker deposit. Showers and change facilities are provided.
This is probably the most famous and visited of all of the hot springs in the La Fortuna/Arenal region. There is a designated kids' area, numerous hot pools, cold pools, swim-up bars for the adults, waterfalls, and waterslides ranging from the soft and gentle to the injury-inducing kind. Music plays from loud speakers, creating a party/waterpark atmosphere.
A 5-star hotel, Baldi comes complete with accommodations, a spa, and a couple of restaurants. Like most other hot springs in the region, it is located slightly outside of La Fortuna, right off of the main highway. You can't miss it–there's large signage and even a fake waterfall to draw your attention.
Cost: $36 ($55 with lunch or dinner). A towel and locker are included in the cost of entry with change and shower facilities available.
If you're looking for seclusion and romance, these are the best springs. Located directly across the road from Baldi, the atmosphere could not be any different. Instead of water slides and swim-up bars, Eco Termales opts for a natural rainforest setting and amazing ambiance. Trees hang over the pools and the only sounds you'll hear come from the surrounding rainforest, including waterfalls, cicadas, monkeys, and birds.
Entry to these hot springs is restricted to 100 guests during each of their three sessions throughout the day. This rule ensures that there is no overcrowding in the five hot pools and one cold pool or in the restaurant or bar areas. It is best to book ahead and reserve your place for the evening sessions.
In Arenal, there are hot springs to suit every budget, style, and taste. So no matter what you are in the mood for, check out at least one of the hot springs in La Fortuna. Be sure to refrain from showering once finished so the homeopathic benefits of the minerals in the water stay in your skin and leave you with that healthy spa glow long after your visit.
Photo for Top 4 Hot Springs in Arenal by Unsplash.