Traveling in Kenya: A Conversation with Susan Portnoy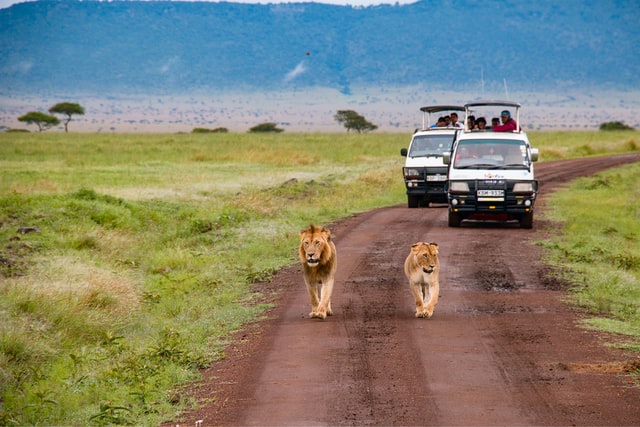 This month, we're interviewing women from all over the world and asking them about their travels to Africa. We had the privilege of speaking with Susan Portnoy about her travels to Kenya. Here's a glimpse into our conversation.
Tell us about yourself! What do you do when you're not traveling the world? Where do you live? What made you decide to go to your most recent destination?
I am a Communications and Brand Strategy Consultant and the creator of The Insatiable Traveler blog. I'm an avid traveler and photographer and a bit of an Africa / wildlife addict. I've been exploring the continent a couple of times a year for the last few years. My last trip was to Kenya, in September 2015. I'd been multiple times before but in the past I concentrated my time in the Masai Mara for the wildebeest migration, and in Amboseli to photograph its many herds of elephants. On this trip, even though I did visit the Mara, I wanted to start my adventure in the north. Its desert climate, jagged escarpments and thorny acacia are incredibly beautiful but harsh and more rugged than the wide open plains of the Mara. The north is also home to indigenous wildlife that you won't see anywhere else in Kenya such as the Grevy zebra, reticulated giraffe, gerenuk, Somali ostrich, and the Oryx among other species. Being an animal lover, I couldn't resist seeing them with my own eyes. Lastly, I love photographing African tribes and in the north the Samburu, cousins to the Maasai, are found. They're a beautiful people and I wanted to spend time with them as well.
How long did you go for? How did you spend your time?
The trip was 18 days not including travel time. My main focus for the trip was photographing wildlife, so the majority of the time I went on 3-4-hour game drives, twice a day, at all of the camps/lodges (there were five in total) at which I stayed. We'd set out before sunrise and return for breakfast, a little relaxation, lunch and to mingle with the other guests. The second game drive started around 3:30pm or 4:00pm and would end shortly after sunset. During my down time, I edited photos, went on bush walks with my guides, or took a long luxurious nap.
What were your most memorable experiences? What were the biggest disappointments?
Sitting on my private deck and watching elephants, giraffes, waterbuck, Oryx and other animals grazing nearby. Spending time with members of the Samburu tribe. On one evening, I was invited to watch a small group of them dance. On another night, I was able to photograph a man, two of his five wives, and some of their children as they milked their goats and tucked their manyatta (the term for home or compound) in for the evening. Seeing Scar, the Cecil of the Masai Mara.
He's a legend; a bold and beautiful lion. He's lived through terrible battles with other males trying to usurp his leadership, and a spearing when he tried to kill a Maasai warrior's cow. Watching hundreds (sometimes thousands) of wildebeest cross the Mara River through a gauntlet of hungry crocodiles the size of canoes. Watching a leopard momma drag a wildebeest out of a tree and 100 yards into the woods for her cubs. A female cheetah resting at sunrise while her babies chased and tackled each other in play. Gorgeous sunrises and sunsets that made my heart ache. Meeting new friends along the way that I still talk to today. The only disappointment I felt was having to leave.
What do you wish you knew before you went?
I've been many times before so there wasn't anything that happened that was unexpected. What I would recommend to those who are thinking about going on their first safari is to have patience and enjoy the mystery. There are wonders and surprises around most corners, but it can also be quiet. Animals can't be found nor will they react on cue, but it's worth sitting back and letting things unfold. Sightings can change on a dime and what may start out with a sleepy lion can easily turn into an exciting hunt. You just never know.
Any favorite restaurants/hotels/hostels/sites you'd like to recommend? Tell us what made them great!
I loved the family-owned Ol Malo Lodge, because it's look and feel was completely different than camps I've stayed in before. Built into a towering escarpment, the suites and adjoining private deck and terrace, are equal part Game of Thrones, and Lord of the Rings but still lux all the way. On clear days I could see all the way to Mount Kenya and the sunrises were absolutely spectacular.
It was through them that I met the Samburu, road camels and saw a wonderful elephant, river crossing. I had a lovely time at Angama, a new luxury camp also perched high on an escarpment that overlooked the Mara Triangle, one of the best regions to view the wildebeest migration.
At over 1000 feet in the air, the view over the Mara was akin to being in a small plane—it was out of this world. I had the pleasure of a lovely morning nature walk with John, a Maasai who showed me how he tracks animals and learned about the various plants in the area that are used for cooking and medicine. Mara Plains is also insanely beautiful. The last part of my trip, I joined a photographic group called Wild Eye. We camped a few feet from the Mara River and it was awesome.
Lastly, most trips require a night in Nairobi. I recommend the Eka hotel. It's near both the Jomo Kenyatta international airport and Wilson, the local airport where you'll grab your flight into the bush. Traffic can be bumper to bumper on a good day so proximity is a blessing. The hotel is modern, the rooms are small but nice, and they have a great buffet breakfast.
Is there anything that women specifically should know before they travel to your destination?
African safaris are great for women who are interested in traveling solo but who are new to the idea and perhaps nervous about exploring a destination completely on their own. There's all the privacy you want but also the benefit of being around other guests if you choose.
Itineraries are taken care of which is great for people who don't like doing hours of research and planning, but there is a lot of flexibility depending upon what you'd like to experience. Safaris are very safe as long as you follow the simple rules they have regarding behavior and wildlife.