7 Stunning Malta Beaches You'll Want to Visit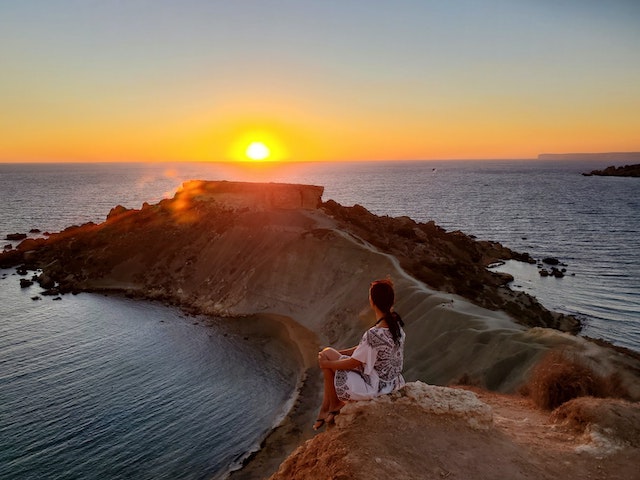 Malta and Gozo, the small but gorgeous island in the Mediterranean may have a beach around any corner, but not all sandy spots are created equal. Here is a round up of seven of the best beaches of Malta, perfect spots to either dive into the cool, clear water or into a book and do what comes naturally on the island, relax.
7 Stunning Malta Beaches You'll Want to Visit
Blue Lagoon
It may be one of the more famous spots in this little country, but the Blue Lagoon is renown for a reason. During the high seasons, this place is really crowded and rightfully so, because it's heavenly. The tip is to get there as early as you can, snag a seat far away from the pier and just take in all of the crystal blue beauty. The Blue Lagoon is only accessible by boat, so it makes this one of the more annoying locations to access. The extra time is worth it. This area has some of the cleanest, clearest waters. Comino is the smallest in the trio of islands that make up the country of Malta; there are no permanent residents here and there is only one hotel on the island, making it a great place to hike, photograph and explore.
Be sure to walk as far away from the dock as you can; it is less crowded the further you get from the food stands and shallow beach area, and by mid afternoon, you will be thankful you took the time to break away from the pack. Also, be prepared to rent a chair; most of this area is rocky terrain.
St. Peter's Pool
More of a swimming hole than a beach, this is another secluded spot on the island that offers an amazing summer oasis from the crowds. Like some of the other better swimming and sunning locations, it's not the easiest to get to, but the reward is jumping into that refreshing water once you arrive. It's located right near Marsaxlokk Bay, and you can take a taxi to there from town or you can simply walk. The crystal water combined with the flat rock formations make this one of my favorite places for sunbathing!
Go over on a Sunday afternoon from Marsaxlokk and make it a full day excursion. Head to the famous fish market in the morning, pick up some snacks and get to the pool by the early afternoon for a picnic and a swim.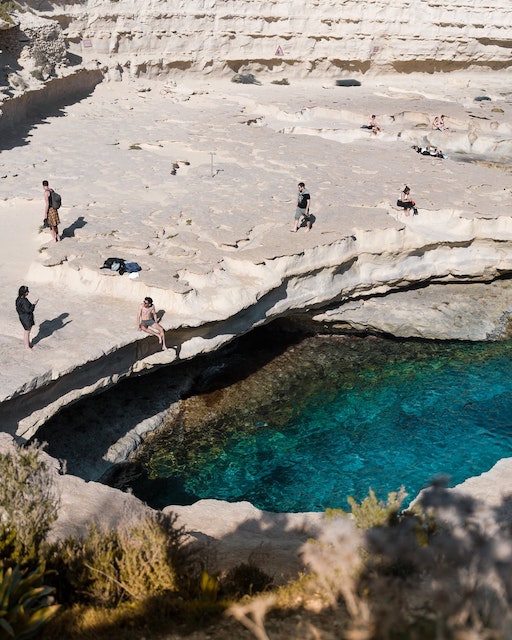 Mellieha Bay
North on the island, this is one of the more touristy beaches — for good reason. It's flat and sandy with calm waters and it is one of the largest beaches on the island, making it perfect for a family vacation spot. This is one of the places where you can rent equipment for wind surfing, kite surfing, or kayaking.
Ghadira Nature Reserve is in close proximity so if you wanted a break from the beach, you can walk there to check out local wildlife. If birds and animals aren't your thing, there are plenty of restaurants and bars surrounding the beach. The town of Mellieha is less than a mile away, so this makes for one of the more convenient beaches on the island.
Paradise Bay
From the country's biggest beach right to the tiniest, don't confuse size with quality. Paradise Bay is one of my top choices for a relaxing day trip getaway. If you get there early, you're likely to have a lot of the beach to yourself. This is the perfect spot for swimming and snorkeling and it's located not too far from the ferry point to Gozo, making it a good stopping point for a quick break between islands.
Unlike some of the other beaches in Malta, Paradise Bay has a restaurant. It also has chair rental and full facilities at your disposal. There's plenty of parking at the top of the hill or you can take a bus that will drop you off not far from the entrance point. There is only one hotel located at this beach area, the Paradise Bay Hotel, and it's a nice secluded spot, perfect for relaxing.
San Blas Bay
On the smaller island of Gozo, San Blas Bay is a beach that can be secluded on even the busiest of sunny days. The main reason is that it's not easy to access so I think a lot of people skip over it. There isn't real vehicle access so remember that after that long, steep walk, you'll come upon a quiet, red sand beach. The closest town is Nadur, but it's not in walking distance. I vote this "best place for an afternoon snooze."
Ghajn Tuffieha
The "Apple's Eye," this beach neighbors Golden Beach, so it has all of the same fabulous views without the crowds. The beach is hugged by cliffs so there is a bit of a walk downhill to reach it. It's absolutely worth the short climb down (and up!) the 100 some odd steps to the water. Rent a chair and an umbrella, hang out during the late afternoon. Be sure to stick around for the sunset while you have a snack at the café overlooking the beach.
Although taking stairs to the water can be a bit of a work out on a hot day, this beach is accessible both by car and public transportation. So it's easy to reach from nearly any place on the island.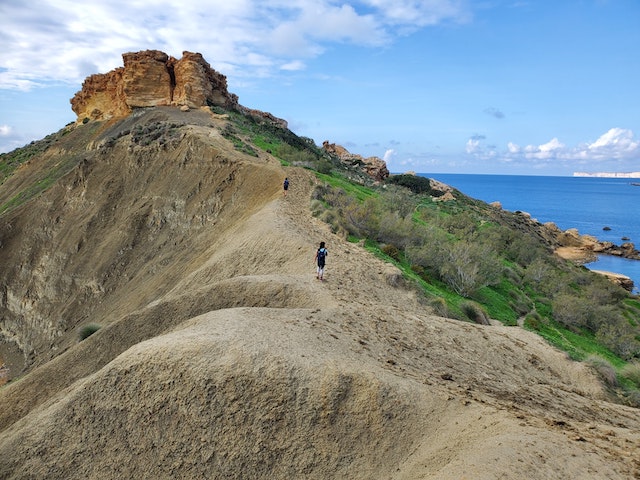 Dwejra Bay (Azure Window)
The Azure Window is probably the most iconic image from any of the seashores in Malta. A popular stop along the tourist track, this area can get really crowded during peak season but for good reason. Be prepared to head here on a day when you don't mind sharing a spot with some other vacationers.
There isn't much of a sandy beach here at all so pack light if you want to take advantage of the pristine waters that surround the rock formations. Diving or swimming in the famed Blue Hole is also something to try here. Both are natural wonders that are spectacular to witness in person. Be sure to explore by land and by sea. There is a short, inexpensive boat ride that takes you through and around the Azure Window that offers a unique perspective that you won't get by standing cliffside.
Related Reading
6 Important Things You'll Want to Know Before You Visit Malta
7 Stunning Malta Beaches top photo credits: Unsplash. Have you traveled to Malta? How was your trip? Comment below and share you experience!