How to Plan a Destination Wedding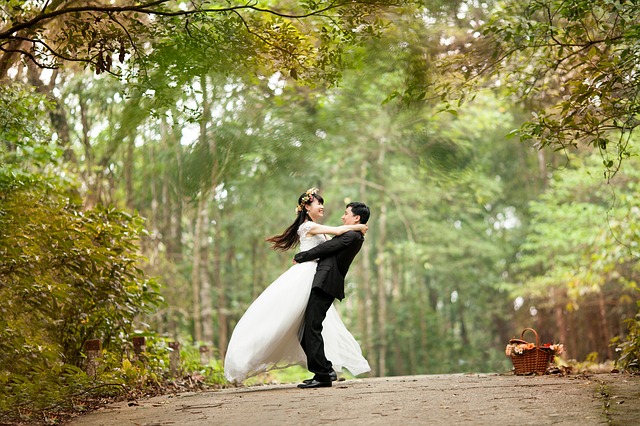 Imagine this: you've found the most gorgeous wedding dress, picked out the ideal hairstyle, your loved ones are standing around you and you gaze into the eyes of your soul mate. How about adding a few more things: a breathtaking view, a warm breeze, palm trees, the splashing of the ocean and the heat of the sun. If this sounds ideal, here are a few ways to start planning a destination wedding.
Destination
You should find somewhere that both you and your partner find special. However, it's all about compromise. You might want to get married on a beach in the Caribbean and your partner might want to get married in a castle in England. You also have to factor in cost and the people you want to invite. If you want your grandma to be there, you probably don't want to make her take a 12-hour flight. You may also want to consider staying at your destination for a few days before the wedding, to fine-tune things. If you can afford it, it's a good idea to visit the destination before you even start planning. You don't want to plan an entire wedding and then arrive and discover it's not what you imagined.
Timing
If it's peak wedding season in your destination, it's going to be a lot harder for your guests to get hotel rooms and affordable flights. Your destination could also be overrun with tourists. It'll also probably make things more expensive because you have to compete with other weddings. If you're planning something outdoors on a beach, you might especially want to look into hurricane season. You don't want to put your wedding at risk of ruin by a severe storm. Visiting the location and doing the proper research will ensure that the destination has everything you want.
Who do you want to be there?
Destination weddings don't last for just a few hours. Your guests are usually there for a few days at least. They aren't going to fly a decent distance and not get a little vacation out of it. Your guests should be people you genuinely want to spend several days with. If you were having a wedding at home, you'd probably invite that childhood friend you don't talk to much anymore, but you probably don't want to spend too much time with them at a destination wedding. Prioritize. If you have people who absolutely must be there, talk to them first and see what their opinions are on a destination wedding. If your wedding wouldn't be complete without them there, you don't want to plan something and then find they can't attend.
Consider how involved you want to be

Resorts usually offer wedding packages that you can choose if you don't want to make too many decisions. If you want to be more involved, look into wedding planners who know the area you want to get married in and who can recommend options to you. If you have certain vendors from home that you really want to use, see if they'll travel to your destination. You may even be able to have your favorite restaurant cater for you even in Hawaii!
Set things up online

Putting your registry and RSVPs online will make things so much easier. You won't have to wait for things in the mail. Having your gift registry online also lets you pick the exact things you want. Making a website for the actual wedding is also really helpful for your guests. It's the easiest way for you to communicate the information to everyone, and you can connect the RSVPs and registry to it. This also gives you a place to show off your love story and the people in your wedding party.
Send invitations early

It's crucial to send your stuff out earlier than you would with a wedding at home. People have to plan flights and make hotel reservations. They need to save up some money, too. Prompt them to send you their flight and hotel information so that you know when they're going to be there. This is important for people involved in your wedding party.
Destination weddings are definitely magical, but they take some planning. Keep your head on straight and you can have the wedding you've always wanted!