Day-trip in Sedona, Arizona: What You'll Want To Know Before Your Trip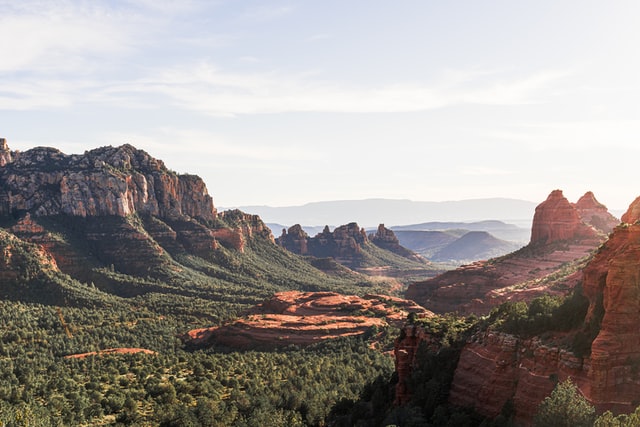 When I think of Sedona, I picture giant rocks of different colored layers, under the big blue sky. The cacti, bushes, oaks, junipers, and twisted branches all grow out of the red earth. I'm fortunate to currently live in Flagstaff, a mountain town in northern Arizona. It is located at the foot of the San Francisco Peaks and a short drive to many world famous landmarks such as the Grand Canyon to the north and the red rock city, Sedona, to the south.
Sedona never disappoints, no matter how many times I visit, because there is always something new and exciting awaiting me there. Here are some of my favorite things to see and do in Sedona.
Day-trip in Sedona, Arizona: What You'll Want To Know Before Your Trip
Tlaquepaque Arts and Crafts Village
The history of Tlaquepaque is fascinating. It all starts with a man named Abe Miller, a successful Nevada businessman. He often visited Sedona on vacation, and fell in love with the city. His great love for Mexican culture inspired him to build a Mexican art village in Sedona. He named it "Tlaquepaque," which means "best of everything" in the Nahuatl language. He explored many villages of Mexico searching for materials and inspiration for the village.
The main buildings are modeled in the Spanish Colonial style, and the grounds include massive sycamore trees, making the village feel more connected to mother nature. The trees, Spanish style patios, courtyards, fountains, colorful flowers, rose gardens, sculptures, balconies, and the bell tower all come together to form a welcoming place. As well as the architecture, there are many galleries, fancy clothing stores, and luxury jewelry shops to browse. The best season to visit is fall, when the leaves turn golden, orange, and red.
Bell Rock
I have been to Bell Rock several times. It is an easy trail but offers the most stunning scenery. One of my best hiking experiences of Bell Rock was on a sunny April day. I went with my husband and his biking buddy. We took a strenuous trail. Climbing the slippery rocks added a challenge. We had to crawl to the top, but the view was worth the effort: red rocks, high roads along mountain ridges, dark green trees, pink clouds, and a bright sunset.
We sat on the big rocks, talked about the future and waited for the sun to go down. We came down the mountain after dark and walked past two mysterious figures furiously beating on drums under the full moon.
Day-trip in Sedona, Arizona: What You'll Want To Know Before Your Trip.
Oak Creek Canyon
In late November, on our way back to Flagstaff from Sedona, we stopped along the road and walked down to Oak Creek. Even though Flagstaff was cold and snowy, Sedona was still showing her beautiful autumn scenery. The rocky trail along the stream was covered with autumn leaves and yellowing grass, surrounded by oak forest, red boulders and slides.
Whenever we visit a place my husband likes to sit and appreciate the view, while I prefer to explore the area and try to see it all. We have walked down to Oak Creek many times. On summer days we lie on the big rocks near the stream and bathe in the warm sunlight. The water makes its way through the rocks and the plant life.
Photo for Day-trip in Sedona, Arizona: What You'll Want To Know Before Your Trip by Unsplash.